Clemson Football
Trevor Lawrence on Spring Practice: "It's good to be back"
---
We are giving away a LIMITED EDITION Clemson National Championship football to one lucky subscriber on February 28. Sign up today for just $1 and help us continue to grow.
---
Opening Statement:
"It's good to be back. We've got a good group. The first spring practice is always kind of weird because you see all the guys that are gone and then the guys who just got here. It's a lot of fun though, getting back to work, especially after last season-- great season. It didn't end the way we wanted it, so it's good to get back out here."
Did it take you a little time to get your equilibrium back after the LSU game? Or did you put it behind you right away?
"Anytime after a game like that it takes a little while to sink in and kind of move on. So it took me a little while especially just the way it happened in the national championship. You work all year to get there, it's hard, especially knowing you're not gonna play with some of those guys again. Probably a couple weeks and then you start to kind of back and get started again."
What did you learn that adversity? Do you think maybe you needed to learn or maybe help you going forward to be a better player?
"It makes you want to go back and work even harder and get back there and have a chance at that moment again."
"I feel like through my two years I've just been through every different situation you could be in just getting more and more perspective is the biggest thing. Going through some adversity, I hadn't gone through much, that's the only game I've lost since I've been here. So it definitely gives you some more perspective and you appreciate all the little things. It makes you want to go back and work even harder and get back there and have a chance at that moment again."
What have you done to work harder so far?
"In the weight room, I keep getting stronger gaining weight. That's always something for me that's important. I think just leadership, just being a better leader. I think I did a good job last year but just upping that role a little bit for an older guy. Just being a better leader. I've always worked hard to try to be an example, but just be a little bit more outspoken and all those things."
What was your reaction when you heard Travis was coming back? A lot of people were a little surprised by that.
"Obviously, I was happy. We talked a little bit. I can't remember exactly when, you know, we just kind of had some private conversations before he decided what he's gonna do. So I kind of thought he might come back, but I wasn't sure I thought he'd end up last second deciding he was leaving, but, man, it's awesome to have him back. He speaks for himself, what he's done and just a great guy, I think it's a good opportunity for him to build his leadership. Everyone's looking at him now especially on this team, he's a big leader for us and I think it'd be good for him to come back grow a little bit more, work on his game, and then also get another chance to go win a national championship."
You're officially hitting the restart button. Any different feeling coming off a national championship as opposed to now coming off not only a loss, but you know, a poor performance really, for you individually against LSU.
"It makes you want to go out there an earn it even more. It all starts over which is a good feeling to know. Everyone's looking at next year. So we feel like we're back in the fight and you can kind of work to get where you want to now. Taking it day by day though., it's going to be a long offseason and a lot of time to get ready. Just taking it one day at a time and really maximizing each day."
What did you see from DJ today and your relationship with him over the last seven weeks?
"Yeah, he looks good. I mean, I think just kind of the way he carries himself I feel like we're similar in that way. We've got a good relationship and obviously he's a great player. He's picking it up quick. That's the one thing I can tell is just, he knows football. He gets it. It clicks quick with him, even though he doesn't know all the plays yet. When he sees them once or twice he's already kind of learning them and getting them down. So really smart just a natural, he's got a knack for the game. So he's gonna be good."
You're a big guy yourself. What did you first think of him when you saw him for the first time as an 18-year-old kid at 235, 40 pounds.
"Yeah, I mean he's huge. He doesn't have to put on any weight or anything., it's a little different for me but a mean obviously he's a great player, great guy."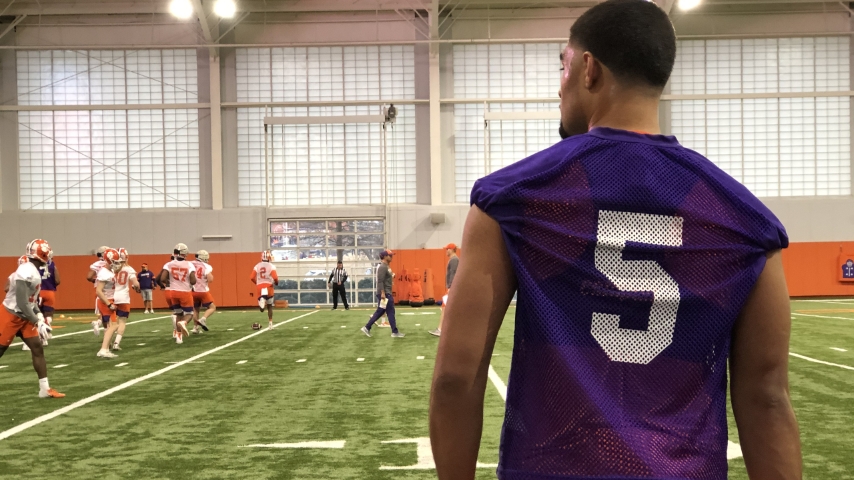 Clemson Sports Talk
Have you followed any of that Joe burrow stuff at the combine and do you allow yourself to think that one day you're going to be picked over like that.
"I don't really think about that. I don't watch most of stuff in social media, I see a lot of, I guess, like, articles or whatever. I don't really pay too much attention to it. I like to pay attention to the guys that were here, you know, I'll watch them at the combine and obviously drafting but I don't really pay too much attention. So you haven't started to think about your own future beyond Clemson. I think about a little bit and you know, the possibilities of the future, but especially not now. Not too much that's something you like about when the season is over. For me, I mean, I still got at least one more year. I'm still a ways away, you know, you kind of have to start thinking about things, but also being smarter. Just being in the moment. I really enjoyed it."
What's your academic status? You on track?
"Yeah, yeah, I'll graduate in December. So that'll kind of leave it open for I know, whatever is the best for me.
Going into the season? How do you guys I guess tell me the balance of putting last year behind you?
"We're proud of what we did. It sucks the way it ended. A lot of time spent here preparing and I feel like we gave it our all, we did our best. It's tough with a game like that. We're still proud of what we did. But definitely, but the next thing, we want to build on it and give us that extra edge to make sure we're not leaving anything on the table like it did last year."
Never miss the latest news from Clemson Sports Talk!
Join our free email list