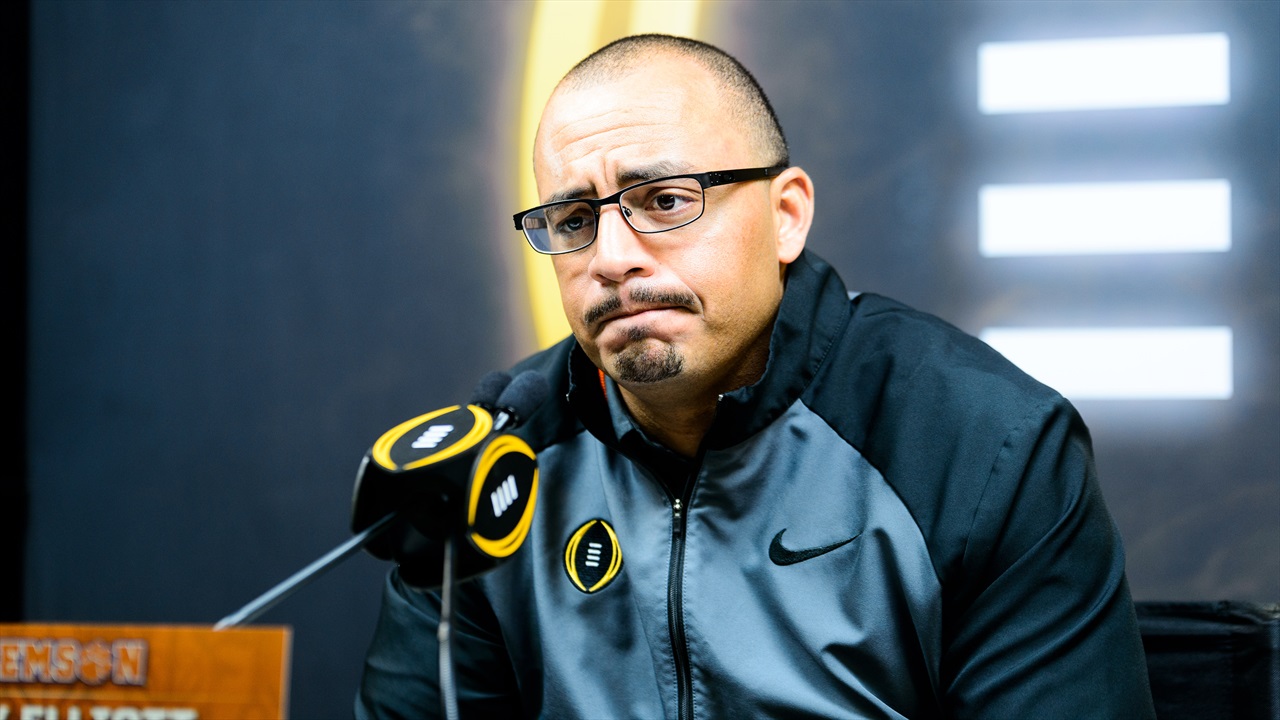 Photo by © David Grooms/Clemson Sports Talk
Clemson Football
Tony Elliott on going solo with the offense, self-scouting, and D.J. Uiagalelei
---
For the first time since the end of the 2014 season, Clemson enters a new year with changes in the offensive coordinator room. With former co-offensive coordinator Jeff Scott taking over at South Florida, Tony Elliott will run the offense by himself for the first time in his career.
The media had a chance to catch up with Elliott for the first time this spring and here are some of our top observations from the session.
How much has the job changed with Jeff Scott gone to USF?
"I'll say in terms of the job, not much has changed. I think the real impact is when we get to the season with Jeff's responsibilities there. I'll tell you what, it's refreshing, you know what I'm saying because again, I just watch Tyler Grisham, his enthusiasm, his passion, just his appreciation for his opportunity kind of put things in perspective for me too. Not a whole lot has changed and with (Brandon) Streeter becoming the passing game coordinator, he's kind of absorbed some of those responsibilities that Jeff would have in the spring. We're excited to have Grish on board, to be structured the way we are."
On the biggest concern offensively:
"The biggest thing for us is we don't want to disrupt the chemistry. I think what's made us successful is when Jeff was here, we had good chemistry among the entire staff, so it wasn't just me, it was Danny (Pearman), it was everybody in a support role as well. The chemistry, that's the biggest thing I'm worried about. Just making sure the chemistry is there so that means I can't make it about a new job for me because we're going to operate the same just some of the responsibility will transition."
The situational scrimmage:
"Just trying to get the guys thinking about football. Certain scripted things where, ok, we're first and 10. We're just trying to get four yards and then we've maybe got a second down and then third down so it was more situational and as we go and progress then we'll completely get off the field and let it be more like a game."
Looking back and self-scouting after the season:
"We weren't very good those last two games on third down, in particular, 3rd-and-3 and overall, our percentage was there and then you dive down, we weren't as good as we needed to be. 3rd-and-5, we were really good on 3rd and 6 so that 3rd and medium area and then short yardage. We didn't hit our goal of 75%, we were 68% and then when we broke it down, we were really good at running the football. We learned we probably need to hand the ball to Travis a little bit more in those short-yardage situations, we want to convert but you want to mix it up. You don't want to be one-dimensional."
On what they liked looking back:
"When you dial it back, our touchdown percentage in the red zone is really, really good, but we had a turnover in the red zone, we missed a couple of field goals and then we had a couple of end-of-game situations where we didn't convert. Those are some of the biggest things and then we have some tendencies that naturally you would when you're pretty good on offense you're going to have some tendencies but we've got to work hard to make sure that we break some of those tendencies. When you step back and we didn't finish the way we wanted to finish offensively but man, we accomplished a lot of things. Those are the areas we're really going to hit hard and then tempo, playing fast. Around here we've always tried to get 80 plays. In the last couple of years, we've been around 72. Now, we're a lot more explosive when we have those 80 plays so we want to find that happy medium where we can get that snap count up without jeopardizing our efficiency and our explosiveness."
On something he wished he could have back in the National Championship Game:
"Probably just in the second half. (We've) Just got the ball in Travis's hands a little bit more. Maybe sticking with the run game but they got on fire and they were scoring and we were trying to score fast and we went up 17-7. The biggest thing was if we scored touchdowns on those early drives, I think that you might have been able to distance yourself to where they go into panic mode but then we were kicking field goals and not converting for touchdowns. We had a couple of third downs that were batted (down). We had one screen play, I think it was a one-score game, we had a screen out there to Travis. If we make that block, Travis is going to go score so the biggest thing is scoring those early touchdowns and then in the second half just probably keeping the ball in our hands, putting together some drives and then try to get it close in the fourth quarter."
On D.J. Uiagalelei:
"It's unbelievable the way these young quarterbacks are coming in just from a poise standpoint. He's so poised in the pocket. Now, he's still got a lot to learn. We didn't know how it was going to go. Taisun Phommachanh a year ago in this situation was struggling with some of the motions and whatnot, but D.J. just looks calm and collected and when that ball comes off his hand, it comes off."
Never miss the latest news from Clemson Sports Talk!
Join our free email list