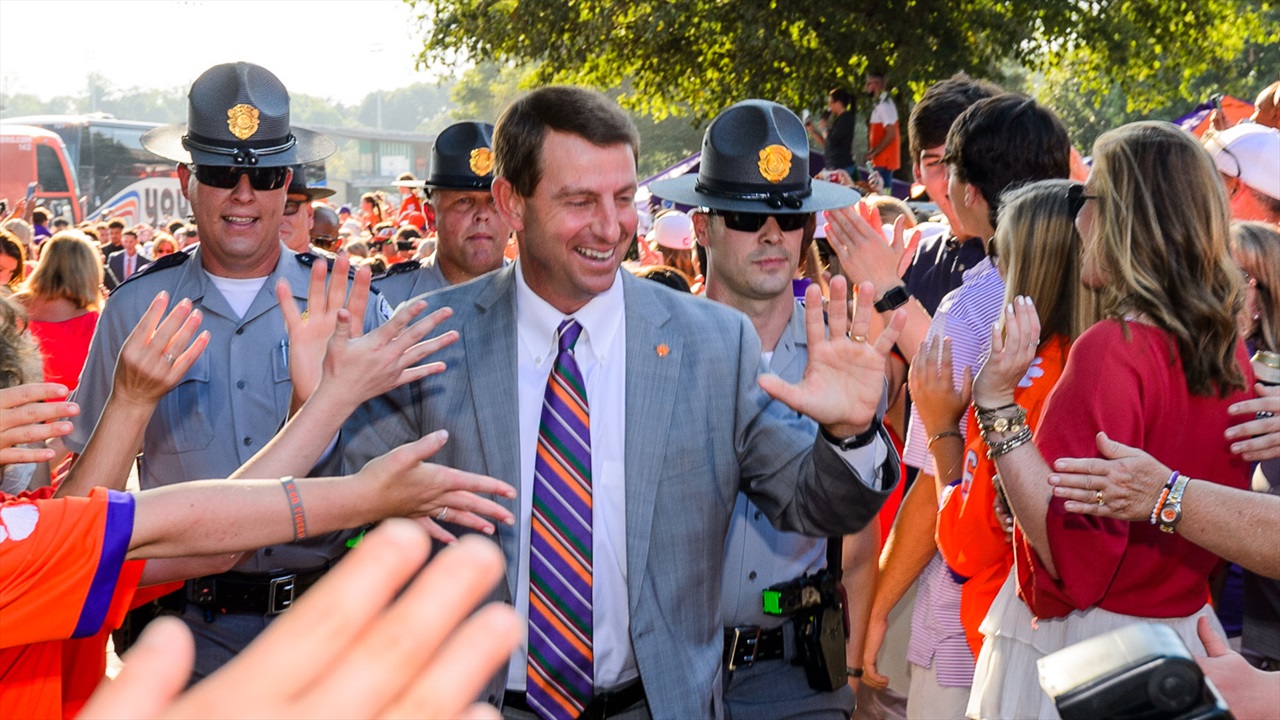 Clemson Football
Everything you need to know from Dabo Swinney's Clemson Football update
---
---
The past two weeks have been a wild whirlwind in the sports world.
As we continue to digest and take the necessary precautions amidst COVID-19, many college football coaches have begun to take to social media to update the state of their programs as the end of March grows near.
And, in Dabo Swinney fashion, he sat down in front of a computer and recorded a 42-minute Zoom meeting with Clemson Football SID Ross Taylor. A lot was covered in the lengthy video as Swinney addressed more of the important questions surrounding the overall health of his team.
Clemson Sports Talk watched the 42-minute video so you don't have to. Here's everything you need to know from the update:
- Swinney is feeling healthy and the entire team is doing well after leaving campus for Clemson's spring break. As different professional leagues and NCAA sports began shutting down, the team was already packed up and on their respective trips or going home. There has been daily communication between Swinney, his staff, and his players.
- The staff as a whole got back to work on Sunday. Swinney said the most important thing during all of this is try to keep that sense of "normalcy" in a daily routine.
- Every single year for spring break, Swinney has a sign-out sheet for his players so he is able to keep tabs on where everyone is going for the week. Swinney said that was already a part of the spring break routine because of the compliance that is involved with everything going on, not just during this time with COVID-19.
- There were a few players that went to south Florida beaches, so "technically" Swinney said that there were players that were in "high risk" areas. So far, there have been no issues with any of those players.
- The staff met for two hours on Sunday and two hours Wednesday morning so the staff can make sure everyone understands what the expectations are for the rest of the semester. Swinney wanted to let players know the protocol to keep players safe and the expectations within the program and how the team should handle itself through an extended period away from campus. Said most players are used to taking at least one online class a semester so it was not that big of a deal when all classes moved to e-learning.
- There have been 130-plus tutor appointments since Sunday. Swinney said that was one of the bigger concerns academically moving to e-learning at all times.
- Swinney said there have been a few technical glitches with the players, like learning how to use a wi-fi "hotspot," which Swinney had no idea what that was. But through this experience, Swinney believes this has helped his staff become more "technologically savvy" using software like Microsoft Teams and Zoom.
- With technology, Swinney said the team and staff are still able to have regular meetings and stay engaged as if the team was back in Clemson. "Business as usual for us," Swinney said.
- Swinney wants his team to finish out the semester well. The 2018 and 2019 team had two of the highest GPAs in program history. Can 2020 keep the momentum?
- Joey Batson and the strength staff have been creative with strength and conditioning. Most players have access to weights and have a plan for the day while others have to figure out an alternative plan. Coaches have filmed themselves demonstrating the alternative plan.
- The ACC is not allowing teams to conduct "football meetings," but coaches can still send them football stuff. All football-related items are pushed to the team on a non-required basis, but Swinney hopes that will change soon because other conferences are allowing teams to conduct meetings.
- During staff meetings on the computer, when someone talks on Zoom their face usually pops up front and center on the screen. Offensive line coach Robbie Caldwell's face didn't show up on the screen when he talked because he was naked and "always wanted to come to a staff meeting naked." The staff erupted in laughter.
- Clemson is more fortunate than most. Luckily, the Tigers were able to have nine spring practices, including one scrimmage, under their belt before cancellations ensued. With 15 midyears coming in, that was extremely important in their development. Swinney feels good about where the team is right now and it's business as usual going forward.
- The majority of the players are at home now that Clemson's campus is closed. There are several players that are from the area around Clemson like Anderson, Seneca, and Greenville.
- The biggest change is not being able to practice, but other than that it has been business as usual with staff meetings, position group meetings, etc. Swinney will start exit meetings after next week and all will take place on FaceTime.
- There is a lot Clemson can still do in recruiting. Swinney is not allowed to host any prospect on campus, but there is still constant communication with recruits. Usually, during the spring, Clemson would use that time to host prospects on campus for a practice and the spring game is a big deal. Coaches were supposed to be on the road recruiting during the May, but Swinney does not know if that is going to happen. You can't talk to players anyway during that time, but it was always nice to get some evaluation.
- Swinney does not know the current status of what his camps will be like this summer or if he will have the camps at all.
- Swinney said he is excited to get a head start on some of his summer work. Swinney has also challenged members of his staff to work on individual projects that they may not get to do on a regular basis.
- Swinney was asked how fortunate Clemson was to start as early as it did in the spring and if he viewed that as a competitive advantage: "I just view being at Clemson as a competitive advantage, to be honest with you. Whether we had any spring practice or not." The Tigers did not get all of their installation in and had to slow down a little bit due to the 15 midyear enrollees. Some of those players hit a bit of a wall.
"I thought we got better, especially the younger guys, as spring went."

"I thought we got better, especially the younger guys, as spring went."
- Swinney updated the health on some of the players. Nolan Turner is doing well back in Birmingham, Alabama and Bryton Constantin is doing well back in Louisiana. Andrew Booth is "progressing very well" and Mario Goodrich is "making progress." Goodrich is a player they have high hopes for if he can get back to full health. Swinney reiterated that they are in a good place as a team. They have eight more signees coming in this summer, which will add to roster depth.
- Swinney said B.T. Potter was 35-for-36 on field-goal attempts this spring.
- Swinney noted that there's nothing like the value of the spring game, an environment where the younger players get to experience Clemson's atmosphere for the first time. Was looking forward to seeing the quarterbacks in the environment.
- Swinney would like to see a possibility of every team get something like 12 on-field sessions, which means Clemson would get three more to make everything fair. No pads, no tackling, just teach and get on the field. Doesn't think extending camp is the right approach.
- There is obviously concern about whether COVID-19 will impact the 2020 college football season. Swinney noted that he is 50 years old and has never seen anything like this in his lifetime. He even mentioned that his mother lived through having Polio in the 1940s and how scary and unknown that time was.
"God is good all the time. His light will shine through in this darkness for everyone. As far as football goes, I am hopeful that we will be back it, but who knows? There's certainly concern."
"God is good all the time. His light will shine through in this darkness for everyone. As far as football goes, I am hopeful that we will be back it, but who knows? There's certainly concern."
– On Trevor Lawrence and his girlfriend trying to raise money for COVID-19 victims: "That's what servant leadership is all about. That's servant leadership at its best right there, trying to use his platform to help others."
In closing, Swinney said he misses all the Clemson fans and apologized for not being able to do the things his team wanted to do this spring.
"I know that this is a time of uncertainty, but it's also a time where we all have an opportunity to grow. I'll have an opportunity to reconnect in different areas of our lives, but also just keep all these people in your thoughts and prayers that have been very negatively impacted. Think about the waiters and the waitresses and the supply chains - it's just a domino effect, people losing jobs, and so forth. (We) Just lift them up, keep our focus on the right things, football will take care of itself."
Swinney reminded everyone to do their part in stopping the spread of COVID-19 by practicing social distancing, washing your hands, and stay home if you are sick.
"God bless you all, love you, and I hope to see everyone real soon. Hopeful that we will all be back in (Death) Valley celebrating this September, another great game day, but 'till then, stay safe and follow the protocols that have been put forth by a lot of smart people out there. Let's do our part. God bless and Go Tigers!"
Never miss the latest news from Clemson Sports Talk!
Join our free email list