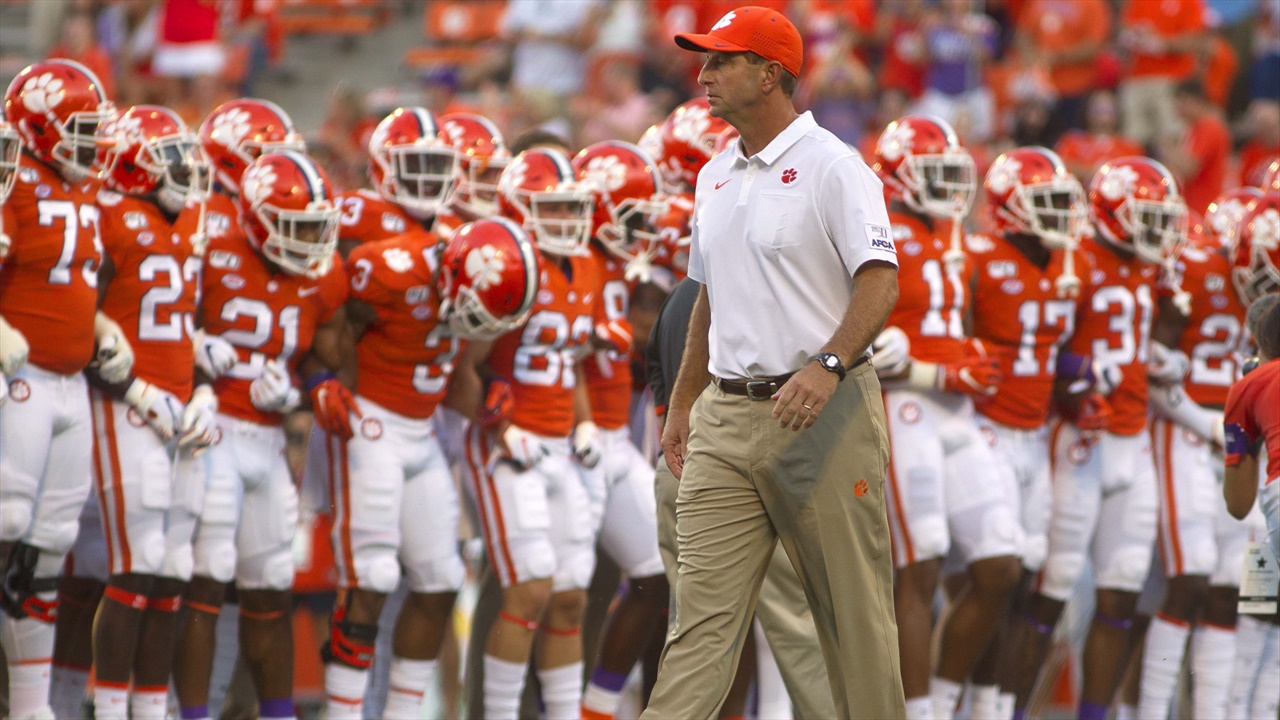 Clemson Football
Dabo Swinney has 'zero doubt' college football will kickoff on time
---
---
Anyone who has watched Clemson football become a powerhouse in college football knows that Dabo Swinney is an optimist.
Clemson's head coach sat down with the media yesterday via a Zoom meeting on what would have been the eve of the Tigers' 2020 spring game.
Recently, major sporting events like Wimbledon and The Open Championship have been canceled. The 2020 Olympics, which were set to start July 24, will now hold opening ceremonies on July 23, 2021.
Not all that long ago, ESPN's Kirk Herbstreit said in an interview that he would be "shocked" if we played college football or NFL football this coming season. Several coaches and media members scoffed at that notion.
When pressed to give his thoughts on if the season would begin on time Swinney said, "I have zero doubt. I mean, this is America man."
Swinney's statement could be perceived as nieve if taken as a statement of American freedom, but his intent was to show American ingenuity and the rapid rate in which we've been able to solve previous issues.
"We've stormed the beaches of Normandy. We've sent a car and drove around on Mars. We've walked on the moon. This is the greatest country and the greatest people in the history of the planet," Swinney noted. "We've created an iPhone that I can sit here and talk to all you people in all these different places. We've got the smartest people in the world."
From that standpoint, Swinney feels great about things, and he is confident that his players are getting ready for the season as well.
---
---
"These guys are all training, so that's my preference is that we have camp in August and get on and play the season. I don't have any doubt that's going to be the case."
Swinney said that when he first got the job, people told him he had to have two plans for after every game, but he quickly realized that coming up for a plan if the Tigers fail was a waste of time.
"It goes back to when I first became head coach, and a lot of people told me that I need to have a plan to win and a plan to lose. I did that early on; I hadn't done that in a long time. I got one plan, that's a plan to win. If it doesn't go that way, well, I can figure that out in about three minutes. So that's just my mindset."
Now looking forward, Swinney's only drafting that one idea, and in his mind, fans will be in Death Valley this fall.
"My preference is, let's get to work, let's go play. That's the best-case scenario, and I think that's what's gonna happen. That's the only thought I got," Swinney stated.
"All the rest of that stuff, I don't think about any of that. I don't have any doubt-- I mean, I have zero doubt that we're gonna be playing. The stands are going to be packed, and the Valley's gonna be rockin', and we're gonna be back at it. I don't have any doubt."
Before wrapping up his thoughts, Swinney hit back on the American Spirit.
"Listen, we're gonna rise up, and we're gonna kick this thing right in the teeth, and we'll get back to our lives. That's a long time away, man. I mean, this is April 3rd, so I've got one focus, and that's getting the Tigers in camp in August and getting ready for Georgia Tech and getting in the Valley in September. I can't wait to celebrate with all the Tiger fans."
Swinney closed his remarks, dropping an acronym on the Clemson faithful.
"We've got us an acronym for T.I.G.E.R.S. It stands for This Is Gonna End Real Soon. That's the only mindset we got. All the rest of that stuff, I'll let all the other smart people figure out all them doomsday scenarios. I got one scenario, and that is running down the Hill and kicking it off in the Valley."
Never miss the latest news from Clemson Sports Talk!
Join our free email list