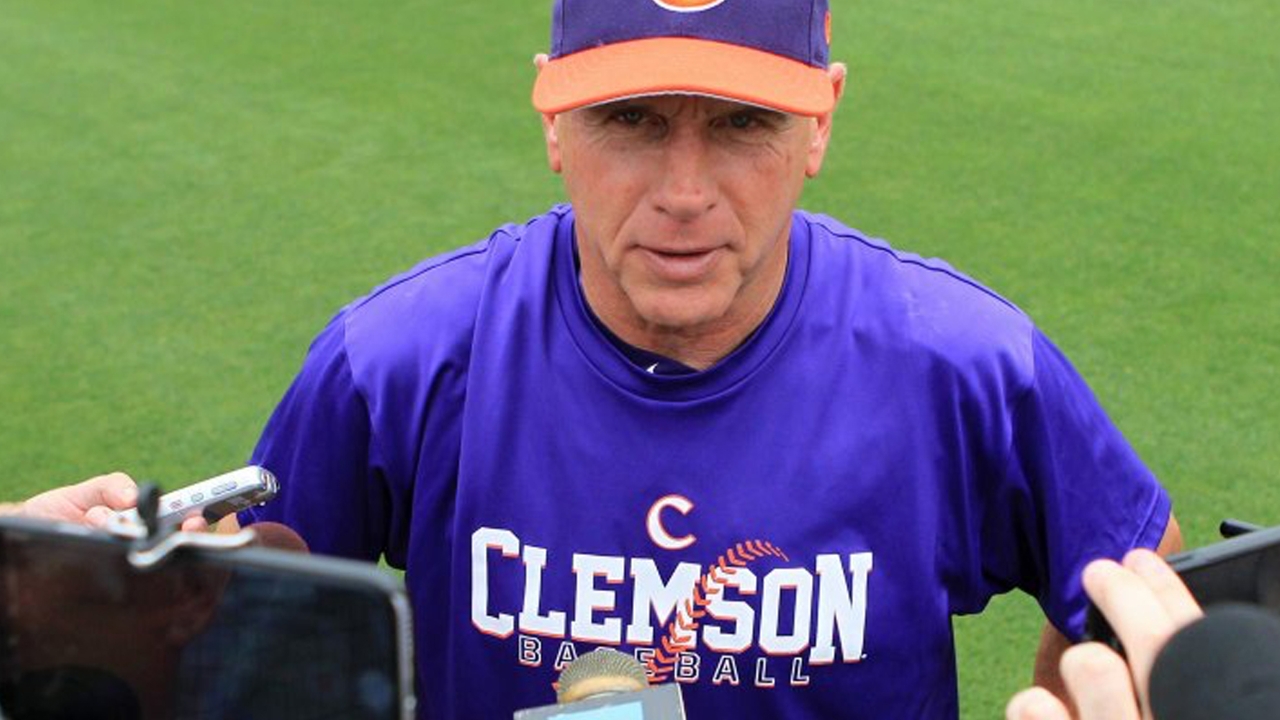 Clemson Baseball
Jack Leggett: A Hall-of-Fame Legacy
---

---
Former Clemson baseball coach Jack Leggett is no stranger to success. Leggett took two of his first three teams to the College World Series after he was promoted in 1994. Leggett would lead Clemson to four more appearances in Omaha in his 22 sterling seasons at the helm. Even more amazing is the fact that, under Leggett's direction, Clemson only missed the postseason one time in 22 years.
Inducting the legendary coach into the Clemson Athletics Hall of Fame was a home run, and Leggett noted that he was excited about the announcement. He also said it gave him time to reflect on all the people that helped along the way.
"It was awesome," Leggett told ClemsonSportsTalk.com. "I was very pleased and certainly it gives me time at that point to reflect on all the people that helped get you there, your coaches, the players that you've had along the way, family and any other players that I had at the other programs that helped to get me here to Clemson at the University of Vermont, Western Carolina University and so forth. It's a true reflection on all the players and the coaches and guys that have been able to hang around with over the course of the time for 40 years of coaching, the 22 as a head coach in 24 overall at Clemson: the support people that I had in the weight room and Vickery Hall, the secretaries and the people in the training room. All of these people who were involved were a part of this, and I surely appreciate them all."
After Leggett was replaced by current manager Monte Lee in 2015, the 22-year skipper decided to move about 40 miles north to the Greenville, S.C. area, and he admits that he hasn't been able to stay connected to the program like he would want to.
"I haven't been back [to Clemson] all that much to be honest with you," Leggett said. "Most of the games I watched, I did the first year or so. I watched a couple because some of my players were still playing. So I followed them that way. It's tough for me to get back right now, and I don't stay in touch with them all that much. I wish I was connected a little bit closer."
Leggett does have a good reason for not being able to stay in touch with the Clemson baseball community.
"I haven't been back but I got involved with USA baseball, so that took me to Panama, Taiwan, South Korea, Los Angeles, Chicago and other places like that," Leggett said. "So I have been traveling a little bit with that. That has come to an end, probably. It has probably been a two year deal with USA baseball, I think, but hopefully, I'll stay involved somehow because I still got the juice, got plenty of energy and still love the game. I still love being around people and coaching and teaching the game and competing."
"I still love being around people and coaching and teaching the game and competing."
While he wishes he could have continued at Clemson, Leggett prefers to remember the great players and teams he was able to be a part of.
"I had a great experience at Clemson, and I wish it was still going on, but, at the same time, we had some great memories and great teams," Leggett said. "We had some really good teams and some success, going to the College World Series six times and the Super Regionals nine times. Those types of things are all great accomplishments for our program and for the players that we had. I'm hoping that the Clemson fans remember that because it was a great era of baseball we had those 22 years and, it's something we're proud of."
Of the 24 seasons that Leggett was at Clemson, he spent the first two as an assistant coach to the legendary Bill Wilhelm, a man that Leggett is eager to credit with giving him a chance.
"He's someone I have to thank for giving me the opportunity at Clemson," Leggett said. "I worked at his camps when I was coaching at Western Carolina University. We would come down and play him, and we had a lot of mutual respect back and forth."
With over 950 wins in his Clemson head-coaching career, Leggett has a proven track record of winning. He established that track record in the face of one of the main challenges that face a college baseball coach: recruiting.
"It's tough because you have to really work at it hard," Leggett said. "You have to get some good players and you have to recruit hard at it. You got to teach when you get them. They've got to believe in you and you got to believe in them."
The one challenge that Leggett never had to face in his collegiate career was the adversity that every team in the country is facing right now in the COVID-19 pandemic.
"It's really tough, tough time," Leggett said. "I was watching college baseball, and I have so many coaches and friends out there that are still coaching. I've been in contact with most of them, and they've called or I've called them. It was tough; they were taken off the field or taken off the bus. They never got a chance to really finish out the season."
Leggett understood that players and coaches are disappointed, but he did have a message to the student-athletes who had their season cut short.
"You can control what you can control," Leggett said. "Go back, work on your game, finish up the semester strong in school and reboot, and it's all you can do. Come back in the fall, and be ready to go. There's nothing that we all can do about this except we can control our attitude. We can control how we go about handling in this adversity, and if we do it in the right way, most challenges of adversity turn into something pretty good before it's all over."
Leggett also offered some perspective borne out of how the virus has affected college sports and sports in general.
"We all miss athletics," Leggett said. "We miss watching it. We miss competing. We miss being out in the crowds. We miss all of that kind of thing, but at the same time, there's a lot of things that we take for granted and maybe we don't think are really out there. But now we're realizing that some of the things out there that are important to us, it should be more important to us. Sometimes we get so wrapped up in what we're doing that we forget there's another world out there."
---
Part II of our interview with Jack Leggett, including the full audio, will be released tomorrow!
Never miss the latest news from Clemson Sports Talk!
Join our free email list