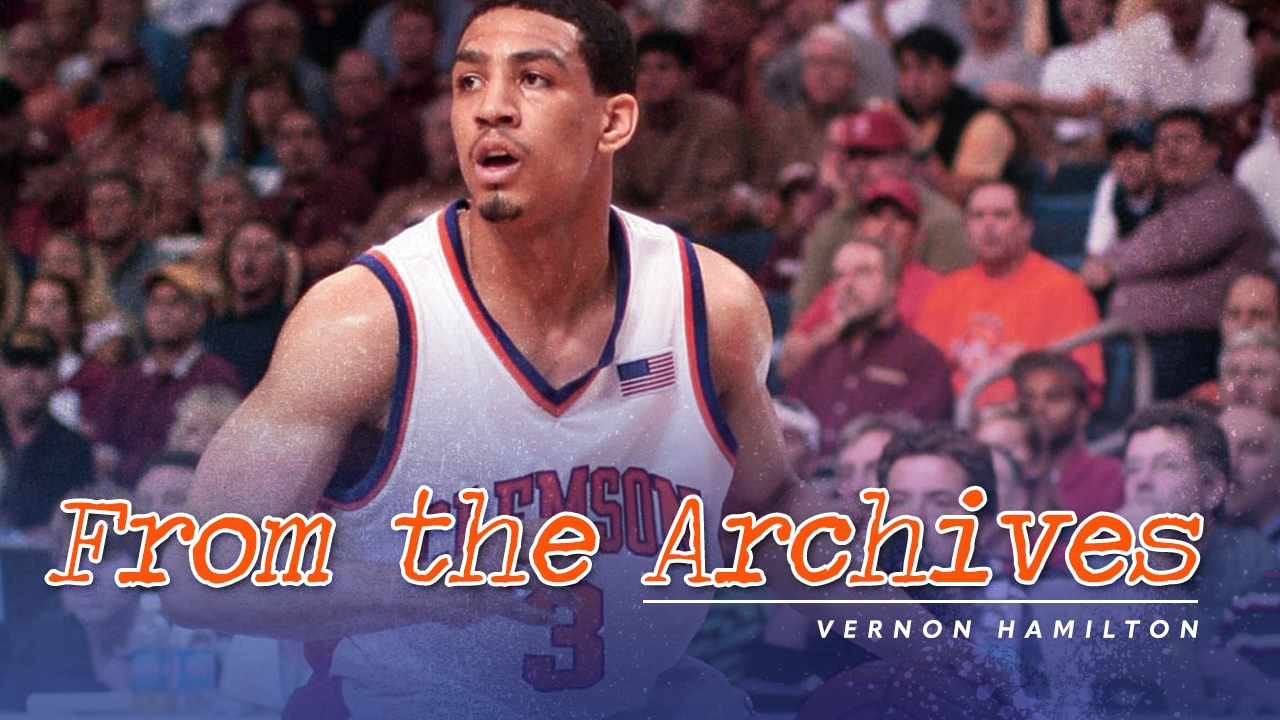 Clemson Basketball
From the Archives: Vernon Hamilton
---

---
We went back into the archives to February 10, 2014, when we spoke with former Clemson point guard Vernon Hamilton who played for the Tigers from 2003 to 2007 and is the all-time leader in Clemson basketball history in steals with 271.
Here's the Q&A from our conversation.
Your final season was a very special year. What sticks out about that year for you?
"Just really coming together as a team and down the stretch and getting to the NIT and all the way to the NIT championship, you know, being able to have memories such as playing in Madison Square Garden … we started that year 18-0, you know, a couple good home wins, good road wins. And, you know, that just carried us over into later in the season to be able to the NIT Championship."
You're talking about Clemson, as you said being 18-0. What was that like for you guys and trying to get yourself up every game?
"It was a very exciting time. I think we were the last team in college basketball to remain undefeated. To have a stretch like that going to go get a win at Florida State to start the ACC event to get Georgia Tech at home. I mean, it was just a great year and we also won the San Juan shootout that year and then we won the tournament and things just started to snowball for us and it built a lot of confidence."
This basketball team that Brad Brownell has put together, they play tremendous defense. Would you have liked to play in this style? A little bit different than what you played in but would you like to play in this style as much as he get up in people?
"Absolutely. every time I get a chance to watch the guys play, I went back for the home game against South Carolina and those are the first things that I noticed about them. You know, there's all the players and you know, once they checked in even the ones are already on the floor, they you know, they really got answers on defense. And you know, from Rod Hall to K.J. McDaniels, they're just playing above the rim, blocking shots. I was looking at some of the K.J.'s stats the other day and some games he had like seven, eight blocks a game. And just to be able to get blocks, get out on the floor get running, you know, it really shows the dynamics that the defense brings in order to fuel their offense. They only had beat Georgia Tech by only scoring 45 points. That's rare that that happens."
When you're playing with a guy like that he can make up for a lot of mistakes that people make defensively and you had a guy like that out there with you, Trevor Booker, who could make up for any mistakes people might have. What was it like having the big guy back there protecting the basket?
"Oh, it took a lot of pressure off you. You'd be able to guard your player9 a little bit more aggressively because, you knew, even if you got past that he wasn't going to get past Trevor. Just having that type of force in the middle, it allowed me to play guys tougher which ultimately allowed me to get more steals so it was just all on one accord and you know just the string every time that we played together, we had each other's back."
Coach Oliver Purnell obviously liked the up-tempo style and you go back to the winning streak that you guys had your senior year. So much of that was predicated off the ability to when you were down six to be able to get a couple steals, maybe get on an 8-0, 10-0 run. Do you sometimes think when you watch this Clemson team, do you ever wish they played a little more up-tempo?
"I think at times, they get out on the open floor but I think that you have guys that are just athletes, like some of those guys are. I saw (Jordan) Roper you know, just drop step and dunk the other day, you know, that really surprised me. I knew he was athletic, but you know, we have guys like K.J. that can steal the wings and run, you know, that ultimately they'd be playing to their strengths you know, by being in the open court and, you know, catching lobs, you know, kind of just use a little bit of athleticism. You know, sometimes I wonder the guys that you know, they just fit within the offense or are they more so guys that are just able to play and go get a basket?"
What's one of those losses that sticks with you and you say, man, I thought we had that one?
"I still to this day, kind of have a shot clock and a game clock situation played out at Duke University that year. I hit it three to tie the basketball game and somehow I managed to get the steal and get a shot off all in I think in like .8 seconds. And that's not even possible to be able to catch the basketball, look back, take the shot and it go through the basket and they put that time actually back on the clock so, Duke ended up going down and scoring and getting the win so that was that the one that hurts but outside of that, my entire career (and) Clemson was the best four years of my life."
Never miss the latest news from Clemson Sports Talk!
Join our free email list