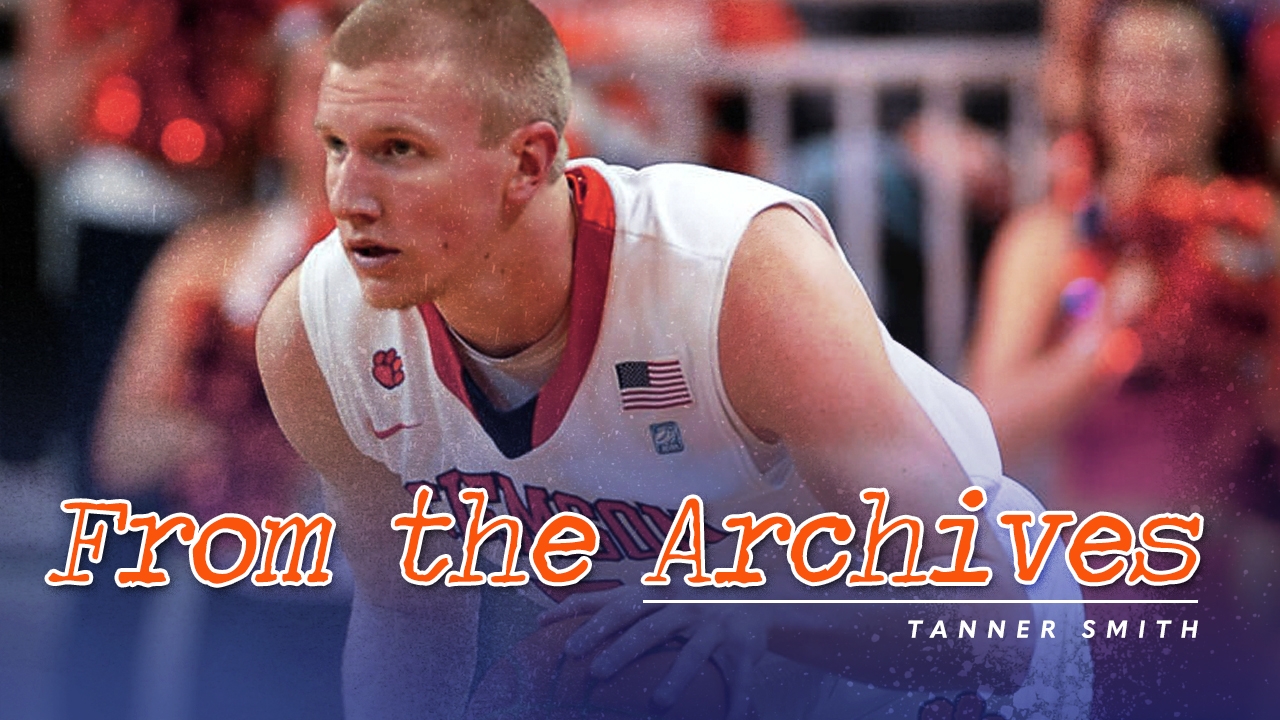 Clemson Basketball
From the Archives: Tanner Smith
---

Don't forget to enter to win a LIMITED EDITION Clemson football by getting a FREE account or PREMIUM account. You can also win a FREE shirt! → Learn More
---
We spoke with former Clemson basketball star Tanner Smith shortly after his playing days ended in Tiger Town and we had a chance to catch up with him at the time about what he'd been up to and his ongoing Tanner Totes' initiative. Tanner is currently an assistant coach at Kennesaw State University. Sadly, his father, who was mentioned in the interview, passed away on February 11, 2018.
On his two years away from Tiger Town:
"For the past two years, I've been playing basketball professionally overseas in Europe. My first year was in Holland and had a great season over there really enjoyed it. I was about an hour east of Amsterdam, and I lived there for about nine months, which was amazing. I came back here for the summer and then signed a contract to play in one of the top leagues in Europe, which is Germany, and was there up until Christmas Eve when I decided to come home and help my father out with his second leg amputation."
On making the decision to return home:
"It was a difficult decision but definitely the right one. He had the surgery Dec. 11. And was struggling, he got an infection in the wound. And as many people know, he had his first amputation on the left leg the year before when I was over in Holland. And so we kind of knew that this one was coming for the right leg. And, you know, it's been a little bit more difficult, you know, due to the infection, we feel like we're about a month behind where we should be just because the body's been having to fight the infection instead of actually healing the wound. These past couple of weeks have been really good, the infection is gone."
On how much what his father was fighting drove him on a daily basis:
"I think just every day that he decides that he wants to get up out of bed shows me his fighting spirit. I mean, he could very well just lay in bed all day and kind of take it easy, but you know, he puts on that prosthetic on the left leg and he hops out of bed and he hops in his wheelchair and, brushes his teeth, combs his hair, and rolls his way into the end of the kitchen and starts his day. It's an amazing tribute to the man that he was before all this happened. And the man and he's continued to be through all the struggle."
On Tanner's Totes:
"Tanner's Totes is a nonprofit organization that I started in the sixth grade. What we do is we deliver tote bags full of items for preteens and teens that are going through long term treatment in the hospital. Those tote bags are full of about $70 worth of new items. We have a guy tote and a girl tote. For the guy totes, we put Clemson baseball hats, nerf basketball hoops, nerf football, playing cards, drawing pads stuff like that, and for the girls, we put pipe cleaner flowers, some jewelry, some journals and all the stuff girls like I don't really know that much. My mom does most of the shopping for the girls."
On the response to his organization:
"It's been amazing as many people know, being at Clemson really helped to take off. It was big in high school. HGTV came out and did a big thing before I got to college. And then when I got to Clemson, you know, every time we were on TV the announcers were talking about it. College GameDay came down and did a big piece. ESPN's Dana O'Neil came down and did a big article during my freshman year. So being at Clemson put it on a platform that I never imagined it would be on. Now we've delivered over 5,000 tote bags to, gosh, over 40 states and 6,070 hospitals around the country."
Never miss the latest news from Clemson Sports Talk!
Join our free email list