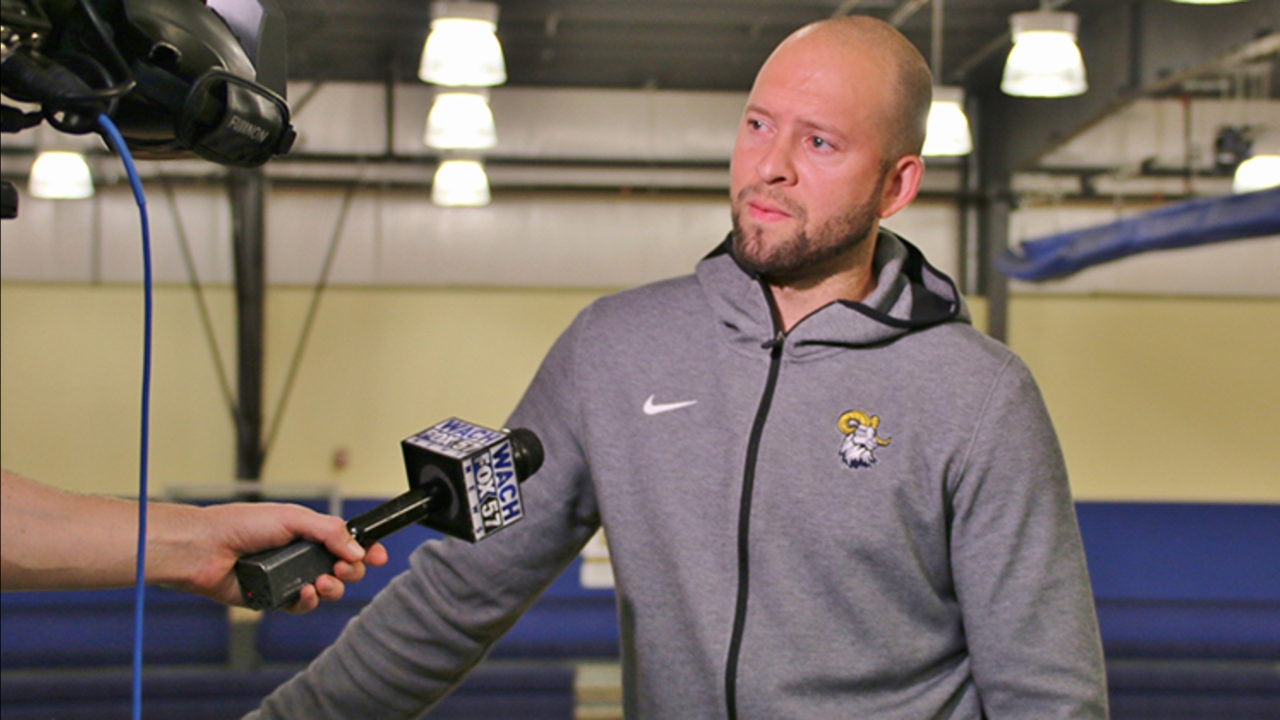 Photo by CIU.edu
Clemson Basketball
My Life in Sports: Tony Stockman
---

---
Both as a player and as a head coach, Tony Stockman is a close companion with success. In his two seasons as a guard at Clemson, Stockman averaged double-digits points per game and took home an ACC All-Freshman honor to boot. Now back in South Carolina as the head basketball coach of the Columbia International University Rams, Stockman led the team to its first winning season (18-16) in school history.
While the hardwood is where Stockman currently calls home, it was the gridiron, with the influence of his older brother and sister, that commanded his earliest affections.
"Definitely, it's football," Stockman told ClemsonSportsTalk.com. "When I was young, I want to say when I was eight, is when I first got to play football, but before that, my brother played it, and everybody around the neighborhood played football. I tell people all the time that all the way up to about eighth grade I thought I was going to college football. It was such a big deal. You only play people within probably like an hour of your city, but it felt like it was the biggest thing in the world at the time. The first thing I remember in sports is going to my brother's football games, and my sister was a cheerleader, both older than me. I just remember going there and enjoying those and wanting to be in that life. They played at night and all that stuff, so peewee football is definitely my first memory of sports."
"I tell people all the time that all the way up to about eighth grade I thought I was going to college football."
As younger siblings often do, Stockman followed the path of his older brother, and that path led him to find his love for the game of basketball.
"My brother actually broke his ankle playing football in ninth grade, and he just did basketball," Stockman said. "I was chasing him, being older than me, and having success in the sports."
As soon as Stockman made the full transition to basketball, he was confident that he was on a collision course with college basketball.
" I think in eighth grade my brother was a senior in high school, and they were pretty good," Stockman said. "The whole community was coming out to the games. That was when I was like basketball is what I want to do, and I just really went after it that way. Thinking about college, I don't know if I was thinking I was gonna be able to play college until later on, maybe my junior year or so, playing in AAU and playing kids that had been getting offers that I was like, 'I compete with these kids.' Eighth grade was the year where I stopped playing football, and I really put everything into basketball."
Stockman's journey to Clemson was a rocky one; the Medina High School guard had "no letter, no interest, no anything" after his junior year. Then, as a player in the AAU circuit, Stockman's performance at a camp at Robert Morris University turned his fortunes.
"When I got there, the guy who was running it, he goes, listen, 'I hear that you want to go to school,' and I said, 'I want to play an ACC.' He said, 'Well Clemson and Wake Forest both need guards. I'll get them here. You got to do the rest.' For the all-star game, he gets them there, and they're there to watch. I start the game off with five threes in a row, and I have like three or four assists. We go up 19 and we end up losing by one at the into the game..."
After Stockman visited Clemson's campus, he made the decision to become a Tiger without even taking a visit to nearby Ohio State. At a time when Clemson basketball was not at the forefront, Stockman, among others, helped improve the notoriety of the program.
"I thought we did get some some some really good support because I think we had an exciting team," Stockman said. "I think we played with a pretty good pace, we played well, and we competed at home. I thought we had some pretty good games at home and played well in the ACC. We had a little trouble on the road, but our experience was great. I loved it, and I thought the fans were great. I thought we put a decent product on the floor."
"I loved it, and I thought the fans were great."
Two years into his college career, Stockman made the decision to move closer to home and play for the Buckeyes as a point guard. Stockman said the decision was largely influenced by his mother's desire from him to play in the state of Ohio and by the potential turmoil within the coaching staff.
As a professional, Stockman bounced around in several countries, including Argentina and Mexico, for around seven years, and then he turned his eye to coaching. Stockman began his coaching career at the small Ohio Christian University where he won back-to-back national titles in six seasons as the head coach. The reason he made the jump from OCU to Columbia International largely rests with the president who initially hired him after his playing career.
"Then the president who hired me there [Ohio Christian], who now is the president here at CIU, Dr. Mark Smith," Stockman said. "When he got here, he said, 'Hey, you gotta at least come check it out because the coach was resigning.' I came down on campus, and I loved it. I thought it'd be a really good place that I can be successful in. You got to have the leadership of your school behind you. I know Dr. Smith, he enjoys basketball. He understands that basketball is my ministry, and I use that to spread the love. We decided to move out here, just finished year two, and we enjoy it."
For Stockman, basketball is the great conduit through which he can spread his faith and his values to both his player and the community at large.
"It started with my oldest son being born, having to get brain surgery," Stockman said. "That put me on track to kind of find it, find my relationship with God and build my faith. In the position now as a basketball coach, the first people I get to help are the basketball players that I have on my team, just trying to help them to grow in their faith and reach their goals on and off the court. Like I said, you get to use basketball to do that. One thing I do understand is the more success that we have, the more people that we can affect and be around and love on."
Whether it's through teaching his players or organizing a basketball camp for local children, Stockman's goals as a coach and a man reach far beyond what goes on between the painted white lines.
Never miss the latest news from Clemson Sports Talk!
Join our free email list