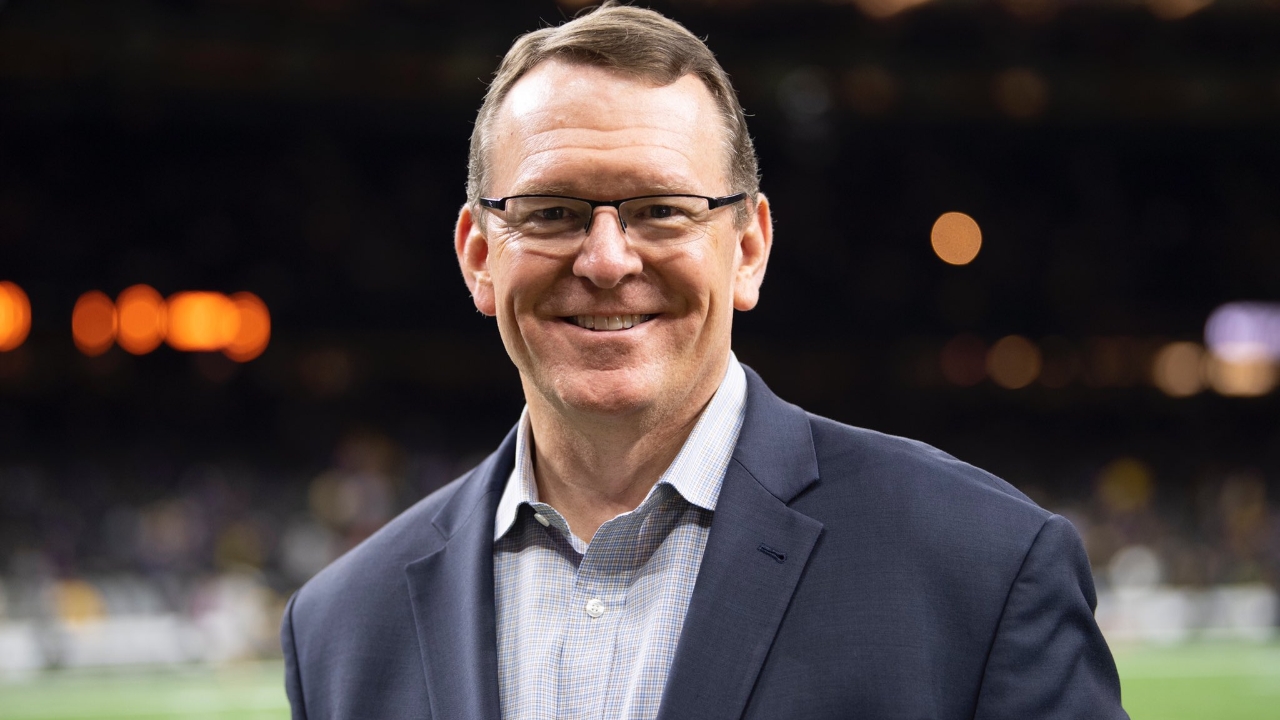 Photo by @Phil Ellsworth / ESPN Images
My Life in Sports: Wes Durham shares his memories living in ACC Territory
---

---
(The following are a few notes from the story and are unedited transcriptions. Enjoy the full audio above.)
On the most unique job he's ever had:
"Well, the dirty little secret of my working career, outside of doing games and being in sports, is I was a roller rink DJ for about four months. Everybody says there's no way that's right. It showed up on a Wikipedia page because when I came to Georgia Tech, the student newspaper did a story about me doing the games, and they asked me the most unique job I ever had. My mom always likes for me to tell the story about me being a waiter at a country club for 30 days, and that tells you how well it went. I was there for 30 days. But the roller rink disc jockey is the one that everybody just gets the big kick out of, because if you're a certain age, like I'm in my 50s, if you think of the roller rink disc jockey, you know about the Friday night and Saturday night skate. You're trying to chase the girls and all this other stuff. And invariably, that's kind of what that was. There's a certain demographic of people who think that's absolutely hilarious, and they're right. It's hilarious. But Marvin Lewis, who played on Georgia Tech's final four team in 2004, and he knows I tell this story. He made fun of me when the article first came out. And he was in school playing for Paul Hewitt. And a year ago, not even a year ago, last February, I had Georgia Tech at Boston College on TV and Marvin's on the trip. And he looked up and comes across to see me before the game, he goes, look, the roller rink DJ is doing our game on television tonight! I mean, so there you go."
On playing against Michael Jordan's high school teammates at camp:
"This is the one that let everybody laughs about. Michael Jordan was not in the camp because he was getting ready to be a freshman at Carolina in 1981. But his high school team was in the camp. All of his high school teammates from Laney were. I'm telling you now they had a squad. I mean, it was unbelievable. Michael was clearly the best player but they had a guy named Reggie Johnson, who was a player. Kevin Malloy, who was, Lawton you'll laugh, but he was the first ambidextrous player I ever saw play basketball. He could shoot it left or right-handed up to 16 feet. It was it was ridiculous. And you're thinking Michael Jordan is supposed to be a really good high school player in North Carolina. And this is before Michael Jordan became "Michael Jordan," right? But you know, here's Kevin Malloy, ambidextrous up to 16 feet, how in the world is anyone going guard that guy? He could go left and right, it was bananas."
On his unique travel experiences:
"Well, the first plane ride I ever had. This is hilarious. The first plane ride ever went on was in December of 1972. I was six years old and Carolina went to Hawaii to play in the Rainbow Classic. I got to go on the trip. I mean now you're six years old and you go from North Carolina to California to play a game at Cal and then on out to Hawaii and you get to sit with George Karl and Bobby Jones and you know all these guys at a luau in Honolulu and all that. I mean, where are we going from there? Right? I mean, what? 'Hi, Wes. Guess what, you get to go to [NC] State?' Okay, thanks. I just went to Hawaii now you're gonna let me go to [NC] State? You know, people say well, you're fortunate and spoiled. Yes, yes, yes and yes, I was very blessed. I went to the '81 Final Four in Philadelphia. I did not go to '82 in New Orleans, because I was in high school and had some classes. I went in '81 when they lost Indiana and figured better not press my luck because they needed to win one."
On his inability to sit in the stands
"I went to every ACC school from the time I was 14 till the time I was 18. In football and basketball, I went to every ACC school. So I mean, I got to travel with my dad to do that. Now, when I was playing high school basketball, it was strictly weekends, right? Like if it were a game at State, Duke or Wake I'd go with my dad on the weekend. But if it were a game, midweek, obviously I wouldn't go. But then the football games. I don't know how it is to sit in the stands, man. I mean, because from the time I was 14, and I'm 40 years later, I can count on one hand the number of times I've sat in the stands at Keenan Stadium. On one hand. I mean, I just didn't do it and I don't do it. I can't do it. You know, my wife laughs at me because now we go to a high school football game here in Cartersville. And I go stand on the sidelines. And she says you're really gonna go down and stand on the sidelines. Yeah, because I don't want to sit in seats and I'm not good in the seats. For me, that's not enjoyable. You know, we moved here five years ago when Joey King was still coaching the high school team here. I used to try and see a game every year and Joey would be like, okay, don't get in my way when I'm calling plays. So it was funny at the time and to a degree, it's just that's kind of my comfort zone. When I go to football games. I'm not very good in the seats. If I can sit in the press box, I'm okay. But if I got to sit in the seats or in a suite or something like that, it's better, but if I'm in the stands, that's not good. It's just not comfortable because that's not the way I traditionally go with if that makes sense."
On the financial impact of COVID-19 at Clemson:
"A place like Clemson is so fortunate because Dan [Radakovich] is so good at understanding kind of the dollars and cents and the numbers side of college athletics, might be the best in the country, and I think the world of both he and Graham [Neff] from that perspective, because I think they've done a great job along with President Clements of understanding kind of how the bigger picture works at a place like Clemson. Where football, obviously everybody understands it. But you just started softball there too, right? I mean, you have to understand, when you add something like that, it's not just the personnel, it's not just the scholarships, what's the facility and the resource value of it too? Sometimes those discussions are a little more difficult than a place like say UCONN where things aren't going as well in the bigger sports. But when they're going well like they are at Clemson those conversations sometimes are not as painful for sure."
Never miss the latest news from Clemson Sports Talk!
Join our free email list