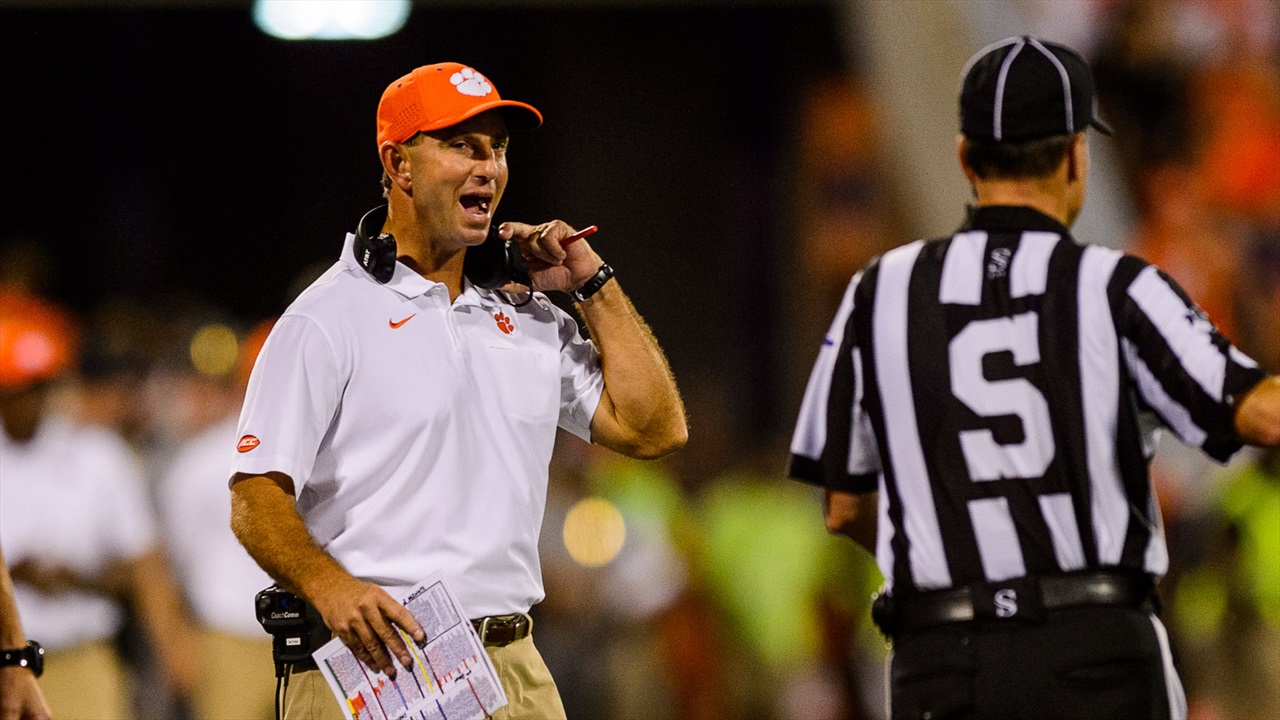 Photo by © David Grooms/Clemson Sports Talk
Clemson Football Recruiting
Two leagues down, questions surrounding recruiting need to be addressed
---

The MOST DIGITAL CONTENT covering your CLEMSON TIGERS. Sign up for your FREE account today!
---
There is no blueprint regarding how the college football season should be approached during a pandemic, but as administrators, coaches, players, and fans alike try to navigate the insane labyrinth of recent decisions that may lead to the demise of college football in 2020, there has been little conversation surrounding recruiting, and the pressing questions that high school athletes need answered.
Now, I absolutely hate "what ifs". I attribute this hatred to my seventh grade P.E. teacher, Al Calce. Whenever a student asked a "what if" question, he would respond with a look of disappointment and say, "What if a frog had wings? It wouldn't drag its butt in the mud."
He was right, at least up until March 12, when the world stopped and "what ifs" went from a way to rationalize, to the only way we could appropriately approach norms of life that have been disrupted to make the best decision possible.
The "what if" scenarios have proven prevalent in high school sports as well. The high school football landscape is incredibly inconsistent as states are left to their own accord on whether they should play in fall.
According to Maxpreps, 35 states have decided to play high school football as scheduled, ten states, and D.C., have pushed back the season to late-2020, and five states have delayed the season until 2021. This should not have mattered if college football planned to start on time, but now big questions are emerging that will likely trigger a paradigm shift in recruiting.
The beginnings of this shift have already begun, as the "what if" mindset trickles into the decision making of big-name recruits as they decide whether to pursue their final year of high school based on all the stipulations surrounding the high school and college seasons.
Yesterday, we may have gotten a step towards some clarity on the situation when Brett McMurphy from Stadium tweeted that the NCAA Division I Council voted to allow fall sport student-athletes to compete in any amount of competitions this year. McMurphy also noted that the season will not count as a year of eligibility for the players.
While the decision still needs to be voted on by the NCAA Board of Governors, that is expected to happen on Friday.
Nobody knows what it all will look like, but the only way to prepare is to understand what big questions need to be addressed.
Here are some questions to keep in mind:
Should college athletes be granted another year of eligibility?

This appears like it will work much like the "super senior" deal that college baseball allowed. If you choose to opt-out or play, it's looking more and more like you will get another season.

Will teams with all 85 scholarship spots be granted more to accommodate for incoming recruits?

By far, this is the biggest hurdle for college football. Trying to figure out how to keep it equitable and eventually level things off is key.

Will high school athletes who graduate in January be given immediate eligibility to join their teams and start their careers?

If this gets pushed through on Friday, the best guess is yes, and those players will continue to be true freshmen in the 2021 season as well.

Will high school players be granted another year of eligibility? Will colleges be flexible enough to retain scholarship recruits if they choose to play an extra year in high school?

The high school eligibility issue is a great thought and one to keep in mind. Could high schools allow for players to choose to return, sort of a reverse method of reclassifying. I will be interesting to watch and could help the scholarship issue mentioned above.
In fact, we are even beginning to see players move to different states in order to play their senior seasons. ESPN recently highlighted quarterback Jake Garcia‍, the 18th ranked player in their 2021 class rankings. When California announced that the high school season was postponed, Garcia, who is enrolling at Southern Cal in January, moved to Georgia to play at Valdosta High School.
I, nor anyone else, has these answers right now, but there is not even a whisper of conversation regarding the above questions. With some states beginning their high school seasons in merely a week, these decisions need to be made. As unprecedented as these times are, we need adults to start being adults and bringing assurances to these kids that they will not only be safe and healthy, but also that their athletic futures are protected.
Never miss the latest news from Clemson Sports Talk!
Join our free email list
PRESENTED BY