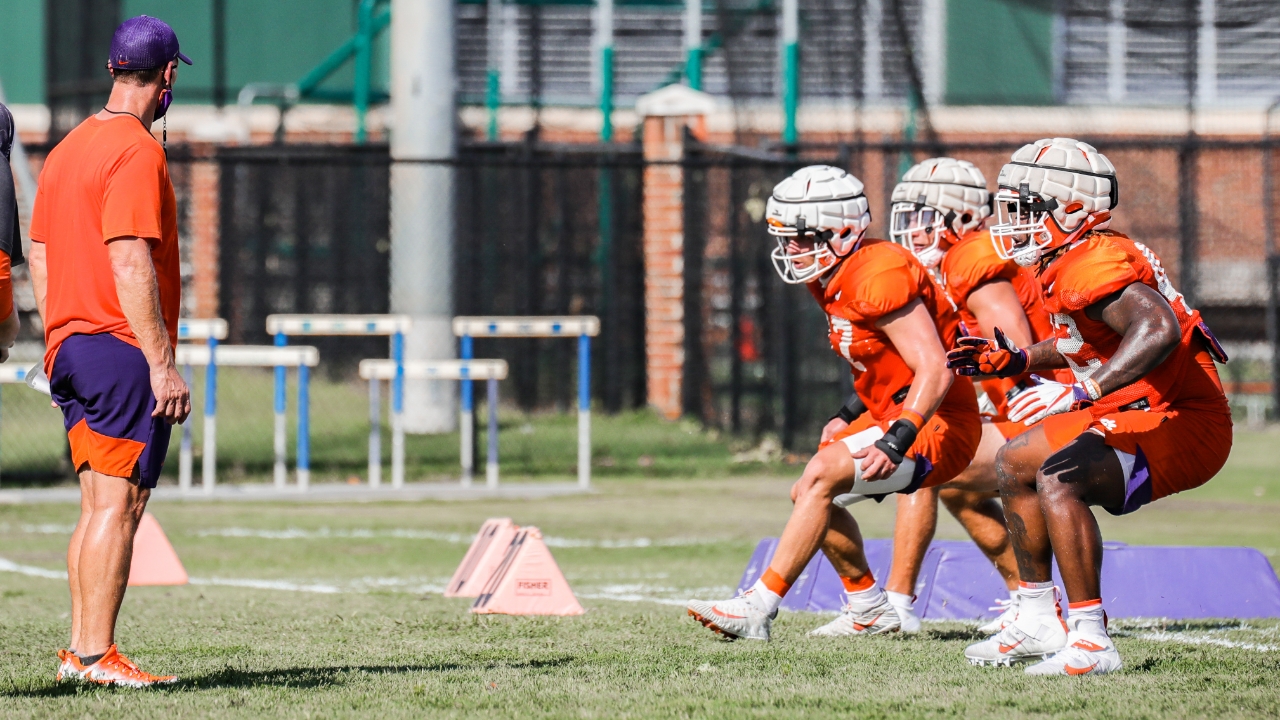 Photo by Courtesy of Clemson Athletics
Clemson Football
Dabo Swinney on 2020 team: "a bunch of good looking football players out here"
---

---
Here are a few notes from our time with Dabo Swinney as the Tigers hit Jervey Meadows one day after the Big Ten and Pac-12 opted-out of the 2020 season due to COVID-19.
Quick Notes:
Joe Ngata was back today for Clemson. Frank Ladson still in protocol/quarantine.
"Nowhere to hide over here at Jervey Meadows. Good to be out here, good tough day."
"Today was really good. The first time we really have a one on one type of situation OL vs. DL, tight end verses backers, receiver, DB, and a little bit of competitive work like that."
"We've got a bunch of good looking football players, man. It's a good looking football team out here that loves to play. Loves to compete and I can't say enough about this freshmen group. Pretty special group. A group that you can tell just loves every bit of it."
Playing spring football would be "very difficult".
"We will be full pads tomorrow, Friday, and Saturday. Then we'll take a day off on Sunday and just have meetings, then finish up Monday. Have a situational scrimmage Tuesday morning, and then break camp Tuesday night. Get ready for class on Wednesday. We started our meetings last Tuesday, so a little over a week. Guys have progressed very well, so, definitely ready to get into full pads tomorrow."
On Nyles Pinckney:
"Nyles is doing great. We didn't know if he was gonna be ready for the first practice, but he was ready to go. He's looked really really good. Obviously a very knowledgeable player. He knows how to play the game. He looks like a fifth-year guy should look. So really proud of him. No health issues at all. Good to see him out there bouncing around."
On the third cornerback spot:
I will say this, I think we've got more options than we've had in a long time. We've got several guys that I think it's going to come down to how it shakes out at corner. Where we go from there, it could be Mario, it could be a young guy like Malcolm Greene. There are lots of guys that could go in there and do it. We've got a couple of safeties that I think could really do it well.
I just think we got to let it battle out. Brent's got a good feel for, where we are with the candidates. I do think that's a position that we're gonna have a lot of flexibility."
On Mike Jones:
Mike Jones is making great improvement. I mean, really, really, really good improvement. So I'm excited about where we are from a base standpoint, but with that true nickel guy, in some real passing situations, would be great if we could get a guy. Isaiah [Simmons] brought us a little bit of everything but if we could have a guy that could allow us to do some things a little bit more in coverage disguise wise. Be able to play man coverage with whoever's out there, I think that would go a long way for us. Especially against some of these high power type of teams."
On Malcolm Greene:
He's just a baller. I mean, he's like Bresee. You notice him every play. His energy, his attention to detail. His competitiveness. You'd never in a million years think he's a freshman by how he carries himself. I mean he's really not, he's got an associate's degree already. He's a junior in college right now and he's gonna be a freshman in college. He's just a really unique kid. He's powerful. He can run, he's compact. It's amazing how he's learned already. There's no question he'll help this football team. So really, just, just everything about him. Just easy to see."
On when Northwestern players tried to unionize:
"I don't really remember a whole lot about that, to be honest with you. I just remember there was some talk about a union itself. Again, I am all for Players Association and a union, that's a different conversation."
Dabo Swinney on Trevor Lawrence speaking with President Trump:
"He didn't share any details of any conversation with me."
Never miss the latest news from Clemson Sports Talk!
Join our free email list