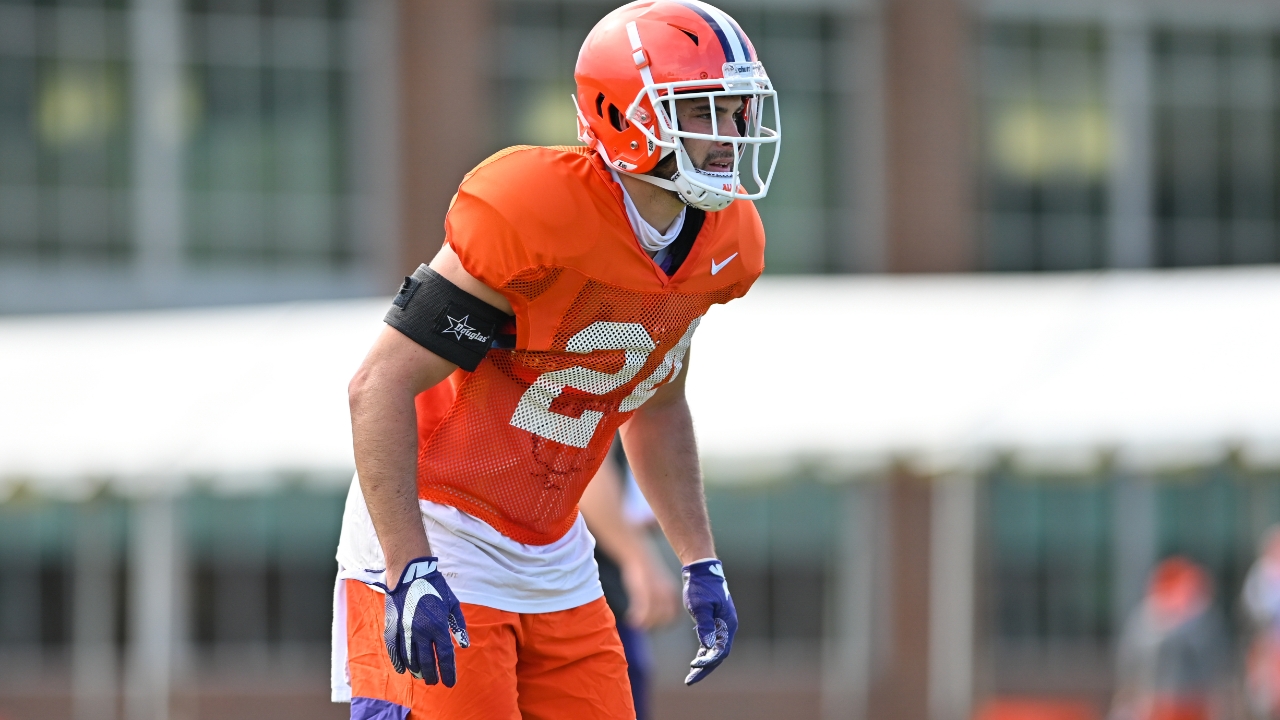 Nolan Turner
Lannden Zanders
Clemson Football
Fall Camp: Thursday PM Notes
---

---
The Tigers had an early practice today and we got to hear from both Lannden Zanders and Nolan Turner. Here are a few quick notes, but you can watch the videos above. There is some great irony that it was my connection that happened to be bad.
The following are unedited transcripts from earlier today. We will continue to add to them.
Nolan Turner
On your recovery from surgery:
"Throughout the spring I got to kind of sit back and coach up the young guys, be with them to practice and giving them tips. The whole COVID quarantine deal was probably the best thing for me just gave me plenty of time to rehab on my own and get that strength back."
On the leadership of the team:
"As far as leadership goes, you know, it's been great. These guys are super bought in. We've got a great group of young safeties and DBs, just super athletic and really bought in. Really bridged the gap of inexperience throughout this quarantine with meetings and everything. So it's been a good time."
On the young DBs who have caught his eye:
"I mean they've all done a great job. Lannden [Zanders] has obviously stood out. He is very rangy makes a lot of plays...freaky athletic. Joseph Charleston, Ray Thornton both of them along with Jalen Phillips. They've all done a great job learning the defense, and getting a bunch of reps and making plays out here you know, Joe's [Charleston] really caught my eyes too....a "thumper" likes to hit. We've got some physical dudes back there. So, you know, it's been good, good to see."
Lannden Zanders
On his growth:
"Just compare myself to last year to this year it's a big difference more confident. Same for me and Joe and all the safeties were just more confident. We know our plays. We get to know the system better and everything's you know, just another step ahead like a big, big step ahead."
On where he has improved the most:
"I feel like I've grown in the playbook. Just Coach V and his playbook, it varies, it's different. You got to know everything you're doing. I know multiple positions you know, I know free I know strong, and a little bit of nickel now but just knowing the playbook that's where I think I've grown the most."
On the spirit of the team:
"Oh, yeah, everybody's out here is having fun. We're glad to be playing football. We're just going to trust what we're being put through, and we're just gonna keep having fun."
On the young defensive backs:
"All our young DBs, Fred [Davis], Malcolm [Greene], RJ [Mickens], everybody. Malcolm, he's bringing a lot of juice, kind of like K-Von. Him and K-Von went to the same hospital. They're very similar. He's got a lot of juice that he brings to every practice. So I give it to Malcolm, he's definitely doing his thing."
On replacing Isaiah Simmons:
"Honestly, no, we just keep doing what we're doing. We're not changing up things. The only thing that's different is multiple guys learning the dime. I'm learning the dime-strong. Everybody's just learning everything. You know, you get that one guy like Isaiah that just can play you can trust him. But now we're getting more deep with our with our secondary. As for him leaving, I think we're fine. Were very young but we're getting better and better."
On the young wideouts:
"E.J. [Williams] and the Ajou Ajou, they're what they're as advertised. Ajou Ajou is very long he can take the top off. E.J. his route running is similar to J-Ross. You know, they're both great guys. I think they're gonna do a lot of things this year."
Never miss the latest news from Clemson Sports Talk!
Join our free email list