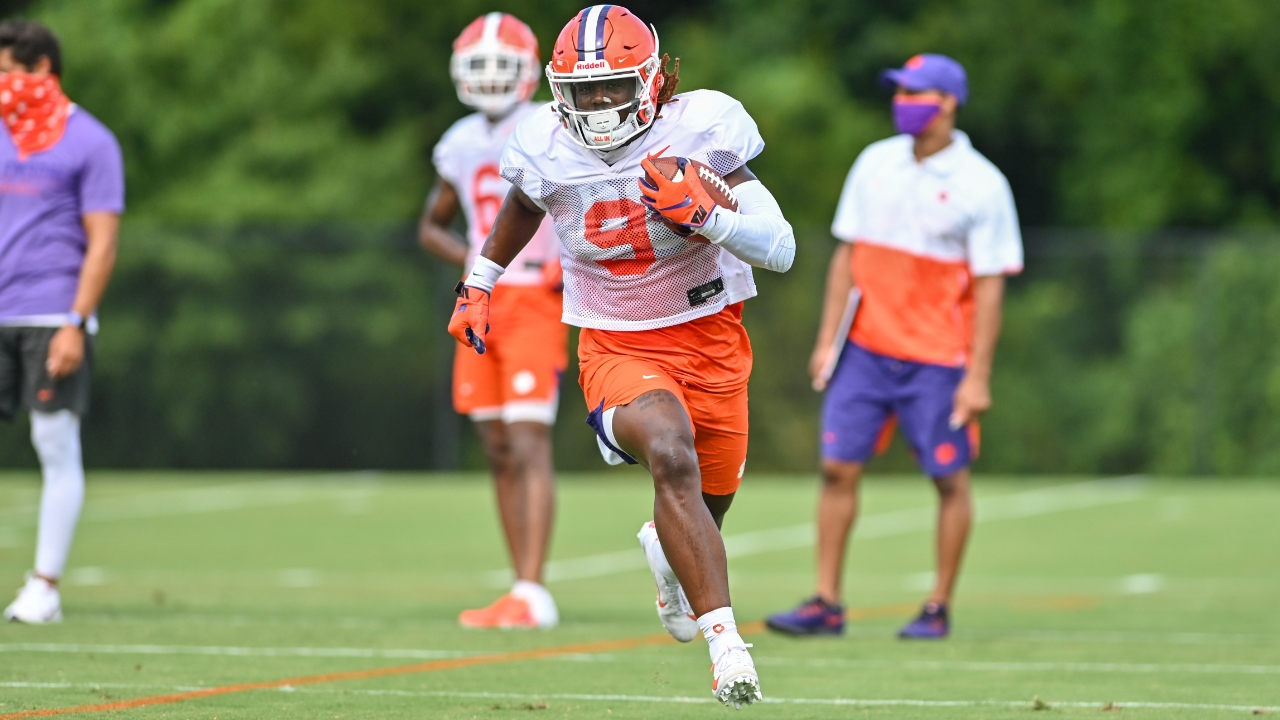 Travis Etienne
Jordan McFadden
Clemson Football
Travis Etienne '100% opted-in' on the 2020 season
---

---
The Tigers had an early practice today and we got to hear from both Travis Etienne and Jordan McFadden. We will get up some notes later today.
Travis Etienne:
On checking in at 199 pounds:

"Just getting back to where I feel most comfortable being able to be explosive, but fast as well. Just getting back to my normal self, where I feel that I'm the best on the field. Where I'm able to run freely and just be able to play the game within a game and not be focused on too many outside factors."

On his decision to return:

"For me, it was just easy just going back home and seeing my nieces and my little brother, just them play sports and seeing how pure the game was. The reason why we get into sports, just remembering why I started playing football, and why I fell love of the game. Seeing my brother just there grind and it just forced me to want to get better grind with them be the best player that I can be."

On the fall season:

"I'm 100% opted in. I'm here with my brothers every day. We're taking it one day at a time, that's all you can focus on right now. So every day we wake up, we're all-in. We don't know what's gonna happen tomorrow. We're done try and figure out what's gonna happen tomorrow. Every time we step on this field, we're all-in."

On the possibility of spring football:

"I will not really focus on that right now. I'm fully immersion in this team and us building, us growing. And that's becoming a brotherhood. Being in tune with each other each and every day. So we're not even focused on the spring because we're here enjoying the time. We're not worried about the spring."

On if the reshaping of his body was about what the NFL wants in a running back:

"I definitely want to be an all-around player, to be able to help the team in any way that I can. Whenever my number is called, being ready, and not worried about what the job is, just being able to go out there and be able to do the job."

On the new-look offensive line:

"Everyone's doing great. Everyone's just stepping into positions. Like my coach always say, we don't rebuild, we reload."

On freshmen running backs Demarkcus Bowman and Kobe Pace:

"Demarkcus [Bowman] and Kobe [Pace] are both great running backs. Demarkcus really showed some explosive speed today. Being young and coming here and being able to grasp the knowledge and just be able to be himself around everybody. Kobe's a bigger back. He's very explosive, a great back, great guy. They are just two all-around guys, great backs. It is up to them to determine their future success because they can go as far as they want to."
Jordan McFadden:
On how camp is going so far:

"I guess it's going pretty well. I'm excited to be back. Excited to get going. Ready to play ball but overall I'm enjoying it. I feel like I'm doing pretty well."

On anyone that's standing out:

"Definitely Kobe Pace. Freshman running back, he's a big body. He likes contact, he's very physical so he definitely stood out to me. Mikey Dukes stands out and then some of the freshmen lineman like Walker Parks, Mitchell Mayes it takes a while to get in the playbook and know everything like the back of your hand. But physically those guys are doing pretty well."

On where he is now as a lineman:

"I feel like personally that I'm a guy who is always willing to learn. I feel like I work pretty hard. When I first got here, understanding the playbook wasn't something I was really good at. But over time I got with some of the older guys like Tremayne [Anchrum], John [Simpson], Jackson [Carman], who really helped me just get knowledgeable about what I got to do and how to do it and things like that. I feel like that through my time here, I've put in the work. I feel like they have a lot of faith in me because I've seen how I've worked over the years. The things I can do and I'm knowledgeable too. So I think that helps a lot."

On his first impressions on Myles Murphy:

"He's a dog. Myles Murphy, I got to go against him in the spring a good bit and he's not a regular freshman, I would say. I don't know how much he knows and the playbook and things like that but physically, he's already a really good player and I think he's only gonna get better. He's physically big, quick, very strong to be a incoming freshman things like that. So yeah, Myles Murphy is gonna be a dog."

On the chemistry of the offensive line:

"I feel like the chemistry is very well. you know, I got to learn a lot from Jackson last year. Me and Jackson were already close. Being that we were roommates freshman year and then I feel as if the guys who are stepping in, me, Matt Bockhorst, Cade Stewart, Will Putnam all played together last year pretty much all the time at practice and things like that. So I feel like the chemistry is going very well up front with the offensive line. We're making calls. We're talking a lot. So I think the chemistry part is definitely down for sure."

On the importance of Saturday's scrimmage:

"I think the scrimmage is very, very big, it's very important, honestly. At practice, the coaches are right behind you so I guess they can kind of guide you through things like that plays and such and such but the scrimmage tomorrow, they're gonna be out the way, everything's gonna be full speed, live. We're gonna be playing full speed. And it's just a matter of showing if each player is showing what you can do, especially some of those freshman offers, while I'm showing the coaches, that they can be trusted that they know exactly what to do they know how to do it, and physically that they can do it. So I think that's very important, especially for this offensive line."

On what he's seen from the freshman like Walker Parks and Mitchell Mayes in fall camp:

"Walker Parks is pretty good physically, he's very strong, he's athletic. But there's just some things like technique that you got to work on come in as a freshman, getting adjusted to the speed of this level and things like that. And I mean, I feel like all the freshmen are doing a good job trying to get adjusted. They're working really hard to get in that playbook to know things like that. But I think there's just a learning curve just take time to learn like that. But especially those guys like Mitchell Mayes, Walker Parks, they're physically there. I think they're doing really well. They're just trying to get adjusted to speed and trying to get more knowledgeable. Yeah, those guys will definitely be great players one day."
Never miss the latest news from Clemson Sports Talk!
Join our free email list