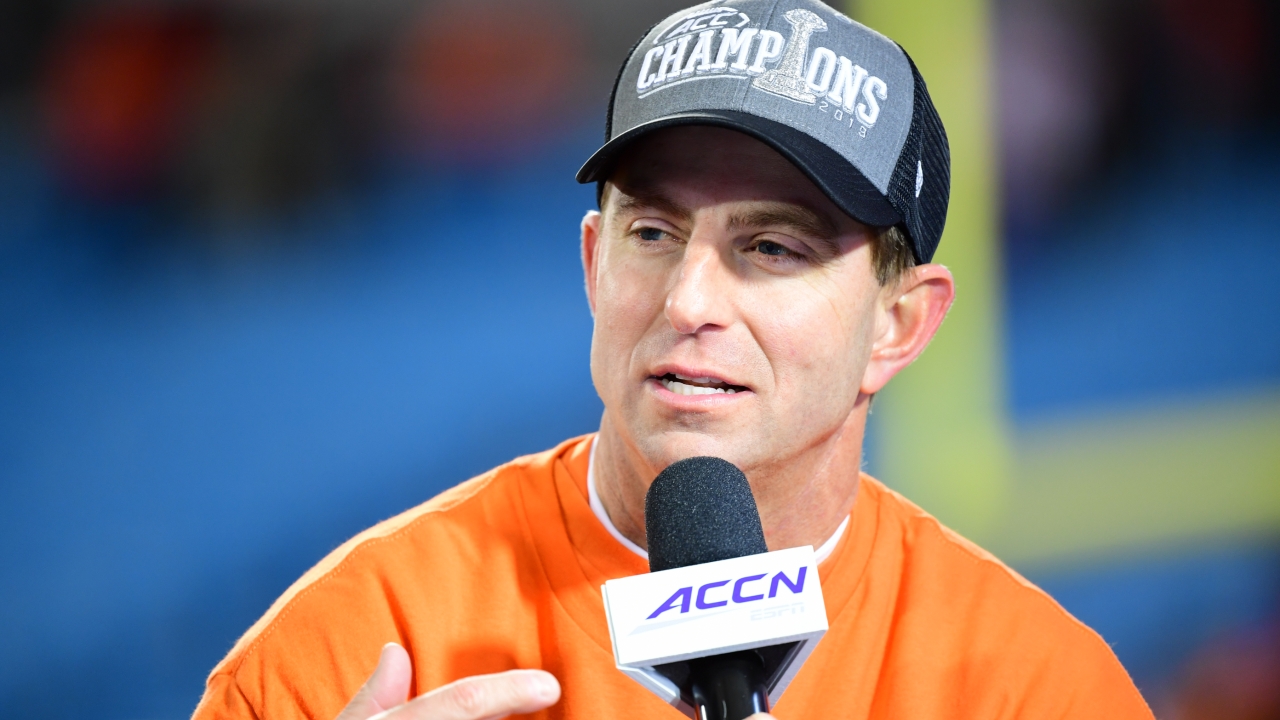 Photo by Scott Clarke / ESPN Images
Clemson Football
Clemson's Dabo Swinney ahead of opener: "We're made of the right stuff."
---
Dabo Swinney made his weekly visit with Mark Packer on Off Campus and said that the COVID-19 situation has helped the Clemson Tigers appreciate the opportunity that 2020 has presented.
Below are unedited transcripts from the conversation.
On the 2020 season getting started:
"Man, I'm so happy to hear from you on this day, this week, because that means we're getting ready to play some football. I look forward to it every week and getting your great wisdom that you always have for me. A couple of your play suggestions that you give me every week so appreciate that. But it's usually the halfback pass every week but we'll keep that under wraps but man we're happy to be here, and the team's worked really hard, our staff, everybody in the entire organization. We have faced challenges that we've never faced and certainly mostly never thought of before. So, (I'm) really proud of everyone involved in our whole program to get us here and just can't wait to kick it off. I feel like Dave (Clawson) and I are long lost roommates or something. We literally have been on the phone with each other, like twice a week since March, sometimes three times a week. So (I've) spent a lot of time with Dave and got just even more respect for him. And I know that both of us are just excited that we've gotten here and get an opportunity to help these young men get out there and do something that they have worked so hard to do and play some football."
Before we get to the game against Wake Forest on Saturday night, I do want to give a shout out to not only you, the staff, the players but everybody in college football, that has decided to say you know what? We're gonna mitigate this bad boy navigate through this crazy path just to get to a starting point.
"Yeah, no question. And same thing with the pros. (There were) no preseason games but man hey, listen it is what it is. Everybody's trying to make the best of the situation. And not let the situation get the best of us. And I think that's a mindset that we've embraced and again, everybody's worked hard. I'm very thankful for the administration, all of our leaders, the ACC, everyone. All the coaches in this league, and everybody's worked really hard to give us the opportunity to go play in a safe way. And, it's been great man, it's been the most unique and one of the funnest camps that I've been a part of. And so now I'm just excited to go kick it off in our approach is hey, it's a best one man it's not a seven-game series, it's the best of one because we've all learned anything can change tomorrow, so we just want to just make the most of each and every day and you try to win the day. That's all we're trying to do and go from there. But our guys have done a great job, and we're in a good place and can't wait to see them play."
Coach, given what everyone has gone through since the middle of March when this pandemic hit our country. And I know I talk to you all the time about chemistry of a football team and it changes year by year because your team changes year by year, do you get a sense that the tightness of this team because of what these guys have had to commit to maybe more unique than maybe any other team again you might not be able to answer this question yet but I would think given the commitment on the practice field, in the locker room, away from the facility where your mental discipline had to be better than ever before, that I would think that the chemistry of a football team, this particular year might be better than it ever it is, that's true for whether it be Clemson University or anybody else for that matter.
"Well, I don't think there's any question. The chemistry and the leadership changes every year but the culture stays the same. And because that's really what drives everything in our program from recruiting to our staff to just our daily decisions. Everything is culture-driven here has been for a long time and that's what has sustained us for such a long time. That's what brings these young people here, is they know the culture that they're coming to be a part of. But every year you have to start over and you and that leadership and that chemistry has to come together so it's hard to do that when you're on Zoom meetings the whole time. But there were a lot of positives too because we were able to have more football meetings than we've ever had. Coming into a camp and and and then certainly with all the challenges that on top of the virus and everything that is going on in our country. It created some very deep and thoughtful and caring and raw conversations that maybe your team would not have necessarily had. And that's been great so I agree this team is close. They have excellent chemistry and I told him back in May and late April that hey look, this whole thing is going to either be an advantage or a disadvantage. And it's going to be what we're made of. And you know, I know we're made of the right stuff. If there's ever been a program that's built for challenges like this it's us. And we have to trust that you're going to do what you need to do whenever we get back. It's going to be obvious that you've been working when nobody was watching. And our guys took that to heart and I always tell them that I feel like that, the culture we have gives us an edge anyway. And in times like this, I think it gives us more of an edge, and that's what I hope to see from this team. I think they've displayed that. I've seen their heart. I've seen them handle the adversity."
"I mean these guys literally fought for their season."
"And there's a lot of things that are going on outside, but inside this program, man, I've seen some beautiful things. And really, things that would make the whole world better. And just seeing great leadership from these young men. And we forget hey, they love to play the game, you know? They love to play the game, and to see these guys deal with all that they dealt with, and then fight for their season, you know? I mean these guys literally fought for their season. And us coaches as well because it's what we love to do."
"Nobody has to be here. Nobody has to be here but every single kid on our team is here, every staff member is here, because we love each other and we love what we do. And we're excited to have the opportunity to go display that even though fans can't be there, we know that this will probably be the most-watched Clemson Wake Forest game in the history of Clemson Wake Forest and probably the most-watched college football season."
"As I told our guys somebody's gonna win this thing and it's probably whoever wins is probably going to be maybe the greatest champion ever. Because no champion has ever had to deal with what this year's champion has had to overcome from a daily basis, a week to week basis, you name it. And so, man, I'm excited about it. It is a challenge but it's exciting to have a challenge like this, and it's given us all opportunities to learn new things, to grow. And just figure it out. So, here we go."
All right, a couple things about the game Saturday night and I want you to help me understand this. You and Dave Clawson, you mentioned Coach. He's done a great job in Winston Salem with the Deacs. So you're going to exchange information regarding not necessarily injury news, not necessarily COVID information but in terms of rosters, when does that transfer of information take place for a game that's scheduled for 7:30 at night.
"Yeah, well from just an available, unavailable list that'll probably happen, sometimes not too far before the game. But the medical information will happen a long time before that between all of our medical people with all the COVID (stuff), anybody that's in protocols and all those things, all that information will be shared. Because everybody's being tested on Friday and you get the results back no later than Saturday morning so certainly if somebody is positive or anything like that all that information will be shared with the medical people. They'll handle all that but as far as just who's available for us to coach, we'll swap that information sometime shortly before the game."
I've asked the question regarding crowd noise on the PA speaker. Is that something that's actually negotiated between coaches and how does that work?
"Yeah. Well, listen, that's one of those things for me, I just try not to get into the weeds of some of these things major in the minors, I could care less. Man, they can crank it up, play Funky Cold Medina, whatever. Beyonce, Marvin Gaye, Travis Tritt, I don't really care. Alright? I just want to play ball, and so apparently the ops people get together whatever but yeah Dave we actually had a good laugh this week, he actually called me because, I guess he and I are gonna get out there and say, okay, that's good, like that's the minimum level."
"I think during the play, you can play as loud as you want but like apparently when the quarterback is approaching, or the center or approaches the ball or whatever you have to take it down to an agreeable level."
"I think during the play, you can play as loud as you want but like apparently when the quarterback is approaching, or the center or approaches the ball or whatever you have to take it down to an agreeable level, which that's great. I'd rather have that and crickets, to be honest with you, kind of like golf, I'd be a lot better golfer I think we'd have, you know, just a lot of noise and pull up to each hole yet your own genre playing an all that stuff so I don't know, we'll see. I don't know if they're gonna just play noise or if there's actual music or whatever but yeah we got to get together before the game that has some type of thumbs up."
You know you're gonna play in Winston Salem. It's in the state of North Carolina. No fans allowed anywhere whether it's the Carolina Panthers game the NFL or or anybody in college football for that matter. What do you do from an energy standpoint we know the kids want to play, we know you guys want to coach, but it is going to be different. I mean, you're going to have to generate your own energy and enthusiasm. Is that a concern or are they ready to go?
"Yeah, no question, you know? We got to bring our own energy for sure, and we've got to be excited for each other. That's all we got. And, but it'll be different from a scrimmage. When you're (in) a scrimmage situation, half your team's on the other sideline, you're going against the defense and it's different. There will be a vibe in the stadium, you know it's on TV, those type of things and, and you're all together on the sideline. You're doing it together so it will be very important but let me just tell you after what these young men have dealt with since March. I don't think energy is going to be a problem at all. I really don't. I think they're super excited to go play, somebody other than themselves. And we just embrace the challenge of all of that stuff. And not focusing on any of that. It shouldn't matter, that's what we always say anyway, whether there's a big crowd, or no crowd, whether it's raining or not raining, it's hot or cold, regardless of what uniform we wear, you know, none of those things should affect how we play. We're gonna play to a standard. And if those things affect that, then you're probably never going to be very consistent. That's just something we built our program with for a long time and hopefully, that will serve us well this season."
Never miss the latest news from Clemson Sports Talk!
Join our free email list