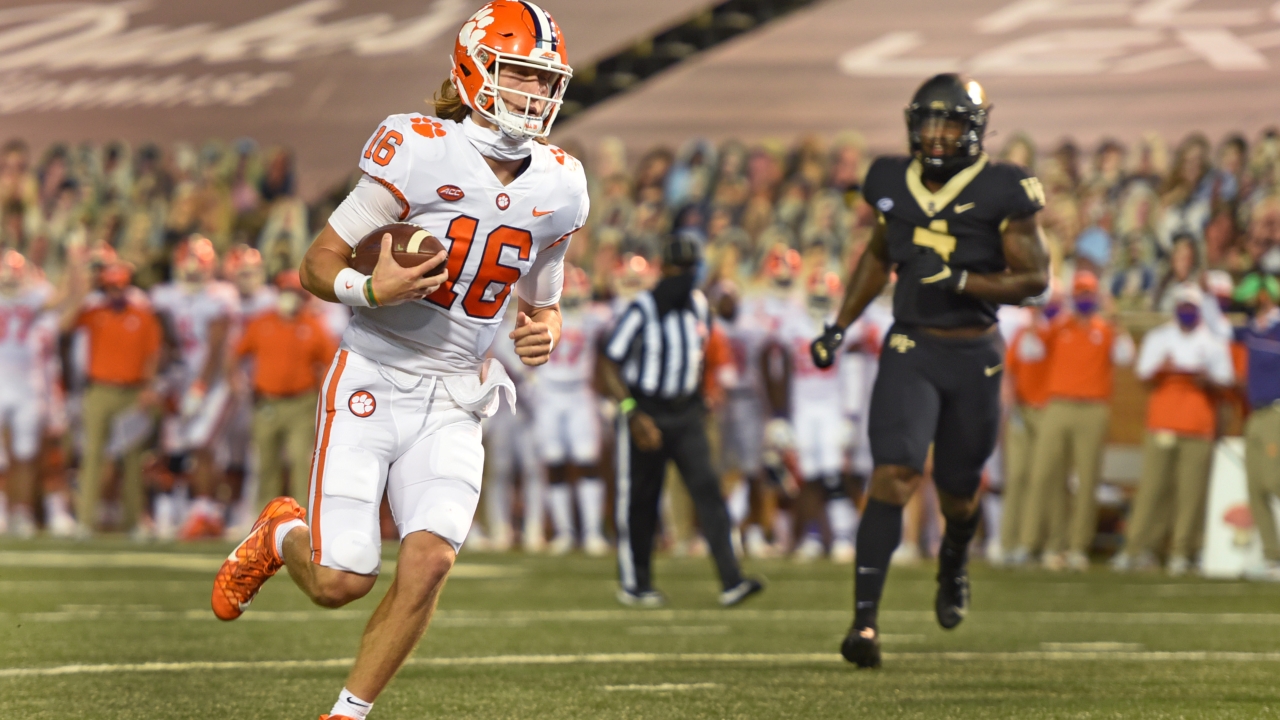 Dabo Swinney
Tony Elliott
Brent Venables
Clemson Football
The Morning After: No. 1 Clemson 37, Wake Forest 13
---

Feel the difference - The MOST DIGITAL CONTENT covering your CLEMSON TIGERS! Avoid clickbait and sites bloated with advertising!
---
Death, taxes, and Clemson beating the brakes off of inferior conference opponents.
Normal never felt so good.
Sure, half of college football wasn't playing this week. And maybe there weren't any fans residing in the stands at Truist Field.
But you know what? The way Clemson (1-0, 1-0 ACC) performed on the field Saturday night, that's the only sort of football-related normality that truly matters in the eyes of Tiger fans.
Let's take a look at some of the highlights of Saturday's contest vs. Wake Forest (0-1, 0-1 ACC):
TREVOR AND TRAVIS: BUSINESS AS USUAL
Would it toe the line of blasphemy to say that both quarterback Trevor Lawrence and running back Travis Etienne Jr. looked better than ever Saturday night?
It's difficult to imagine either of them improving much more on their usual stellar play, but Clemson's dynamic duo looked to be midseason form against the Demon Deacons.
Lawrence got the ball moving down the field quickly, save for an opening drive three-and-out.
Wide receiver Amari Rodgers and tight end Braden Galloway both found favor in the eyes of Lawrence early and often, with Rodgers hauling in five receptions for 90 yards while Galloway racked up 60 receiving yards on five catches of his own.
The one aspect of Lawrence's performance that might have been the most impressive, however, was his composure. He stayed calm in the pocket after the first drive, continually made all the right decisions and didn't force anything down the field unnecessarily.
"This whole offseason that's been one of my goals," said Lawrence postgame. "Take what the defense gives me. Don't overcomplicate it, don't try and do too much. Eventually, the big plays will come."
Overall, Lawrence was extremely accurate with the ball Saturday night, placing the football on a platter for his receivers in a manner that exhibited his near NFL-ready talent. Lawrence finished the evening with a superb statline: 22 completions on 28 attempts (78.6 percent), 351 passing yards and a touchdown in slightly under three quarters of work. Lawrence utilized his legs early on also, scampering in from near the goal line twice in the first quarter.
"I just felt like we were locked into the details tonight. I feel like we executed our plan."
"I just felt like we were locked into the details tonight. I feel like we executed our plan."
As for Etienne, what is there to say? He did exactly what was expected, coming out of the gate looking just as explosive as years prior. He had his way with the Wake Forest defense, finding his lanes quickly and with purpose en route to 106 yards and a touchdown on 17 carries.
"Travis was just Travis," said head coach Dabo Swinney. "It was a really good night for him. He was involved in the passing game and had some good yards after contact. It was good to see him get a good night's work in. Both those guys [Lawrence and Etienne] were awesome."
Etienne's third-quarter rushing touchdown was a monumental one for the senior running back, putting him over 100 yards in a single game for the 18th time in his career, breaking a school record set by former Tigers running back Wayne Gallman.
The two offensive studs had incredible performances, fueling the Tigers offense to 37 points by the time the coaching staff decided it was time for both of them to call it a night.
DOMINANT D-LINE
The Tigers' front four on defense will be a force to be reckoned with all season long.
The young defensive line allowed just 37 rushing yards on the night, and made life less than pleasurable for Wake Forest quarterback Sam Hartman. The Tigers recorded six sacks, getting to Hartman swiftly throughout the game and giving him very little time to find open receivers.
Another interesting tidbit? Against Wake, it was the freshmen within the unit who stole the show against the Demon Deacons.
Specifically, the standout performance of the night delivered by Myles Murphy.
The first-year defensive end is listed at 6-foot-5 and 275 pounds, but played like he was twice that size. The youngster racked up seven tackles to go along two sacks of his own. Murphy made his presence felt on seemingly every snap he lined up for, and could be a driving force for Brent Venables' defensive unit this season.
Honorable mention for the evening goes to defensive tackle Bryan Bresee. The freshman giant did most of his damage during the first quarter of play, recording a sack on Hartman before blocking a Wake Forest field goal attempt just a few minutes later.
"I'm excited for him," defensive coordinator Brent Venables said of Bresee. "He's like a big puppy dog. Let him outside for the first time and he's wetting all over the place. But he was great… Bryan's done well."
O-LINE HASN'T LOST A STEP
Coming into the 2020-21 season, the offensive line was perhaps one of the most significant question marks for this Clemson squad. Having to replace four former starters - all of whom were All-ACC selections the season prior - is no simple task.
But on Saturday night, it would have been difficult to even notice the difference.
The inexperienced offensive line was ruthlessly effective, creating running lanes for Etienne with ease while allowing only two sacks against Lawrence, one in which the blame can be placed upon Trevor Lawrence failing to throw the ball away on third down of Clemson's opening drive.
Courtesy of ACC Media Portal
Aside from a few exceptions, they offered Lawrence plenty of time in the pocket all night long, giving the star quarterback the chance to showcase his precision with the football.
While most of the credit and all of the glory will go to the skill positions on offense, the job this offensive line did maintaining the Demon Deacons is commendable. Many of the preseason concerns about the lack of playing time the unit has collectively should be put to bed, at least for this week.
ADDITIONAL NOTES
-The Tigers used freshman D.J. Uiagalelei as the second-string quarterback over Taisun Phommachanh after Lawrence's night was done. It will be interesting to hear more about the thought process behind that from QB coach Brandon Streeter ix/when we get the chance.
-Fifth-year senior tight end J.C. Chalk caught his first career touchdown Saturday night, a 12-yard pass from Lawrence with 1:21 remaining in the first half, putting the Tigers up 24-0.
-Clemson kicker B.T. Potter did not skip leg day this offseason. The junior looked solid against Wake Forest, going 3-3 on field goal attempts. As time expired in the first half, Potter drilled a 52-yard field goal that appeared to have the distance to cover 70. It tied Potter's personal record for longest field goal, matching the distance of his kick vs. LSU in last season's National Championship.
-13 different Tigers caught a pass during the game, as Dabo Swinney was able to unload some of the reserves on both sides of the roster late in the game, a trademark of Swinney's idealism as head coach.
-Andrew Booth Jr. was tested early in the absence of standout corners Derion Kendrick and Mario Goodrich, and looked a bit shaky to start. After the first few throws his way, however, he picked up the pace and hung with the Wake Forest receivers the rest of the way.
-This was Clemson's twelfth-straight victory over Wake Forest, and 23rd straight victory over ACC opponents. Dabo Swinney has never lost to Wake Forest as head coach of the Tigers.
UP NEXT:
The Tigers return home on Sept. 19 to take on the Citadel Bulldogs.
Memorial Stadium won't be rocking quite like usual, but unlike Truist Field Saturday night, there will be a designated amount of fans allowed to attend. Death Valley will be operating at a 23 percent capacity for the Tigers' home opener, which will be played next Saturday at 4 P.M. EST.
Citadel will be coming off a loss this week at South Florida, falling 27-6 in former Clemson co-offensive coordinator Jeff Scott's first game as USF head coach.
Never miss the latest news from Clemson Sports Talk!
Join our free email list