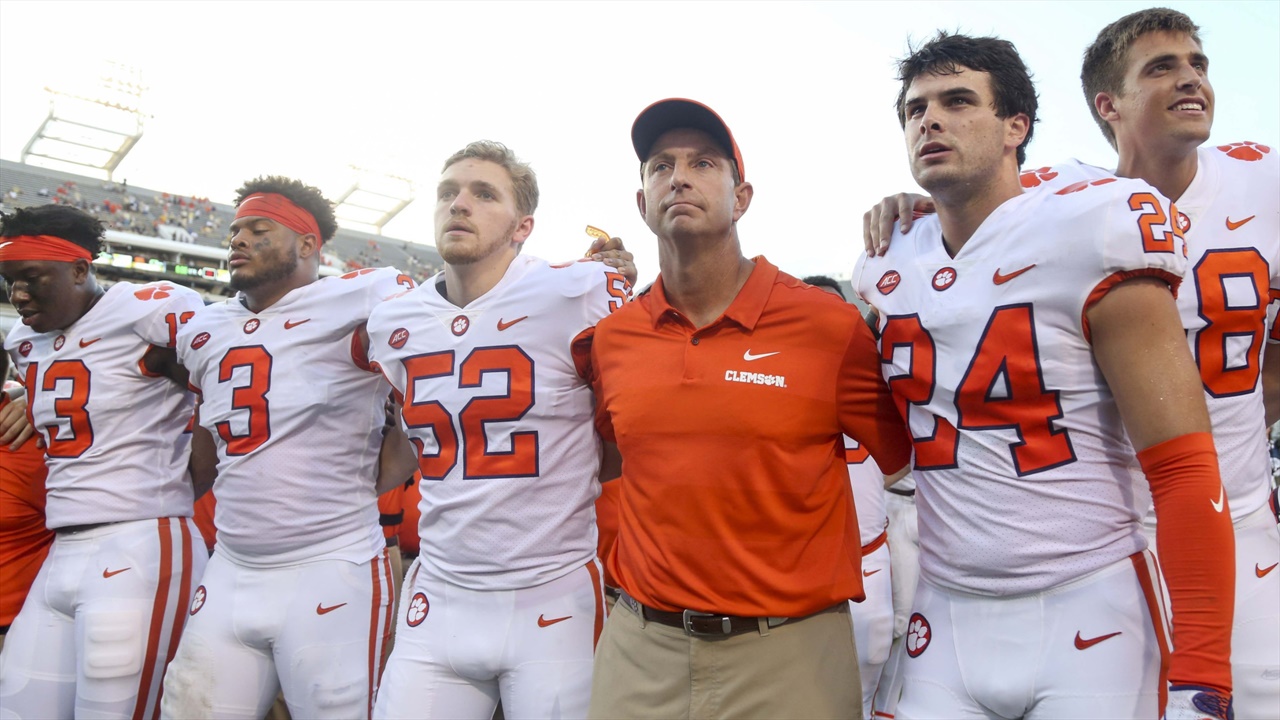 Photo by © Brett Davis-USA TODAY Sports
Clemson Football
Swinney's appreciation for his players key to Tigers' success
---

Feel the difference - The MOST DIGITAL CONTENT covering your CLEMSON TIGERS! Avoid clickbait and sites bloated with advertising!
---
Dejected and defeated, Clemson head coach Dabo Swinney and quarterback Trevor Lawrence sat at the podium, readily taking questions from reporters eager to pick the pair's minds after the devastating loss.
The Tigers had just received their first taste of defeat in a long time. In fact, it had been 29 games since Clemson felt the need to walk with their heads down into a locker room, one where the mood was somber and there was no team-sponsored dance party taking place for the social media team to record.
It was a feeling Swinney hadn't been forced to cope with since his squad laid an egg in the 2018 Sugar Bowl vs. Alabama. For Lawrence, this was something he hadn't experienced since he was a highly-touted recruit as a junior in high school.
The looks on both of their faces after Clemson's 42-25 national championship loss spoke louder than any words could have managed to do. As reporters began dialing up their best response-provoking questions, Dabo looked up at the mass of cameras and top-tier journalists.
"Coach, when you're ready, we'll start with an opening statement."
Swinney adjusted his orange Clemson cap and carefully scanned the room.
"Let me just first say, I am incredibly thankful for our team," he pronounced, while Lawrence looked on at Swinney to his left like a child listening carefully to their father speak. "It's been a long time since I've stood in front of a team with a loss. But this team, they are really special. It's incredibly difficult to even get here. I'm so proud of our guys."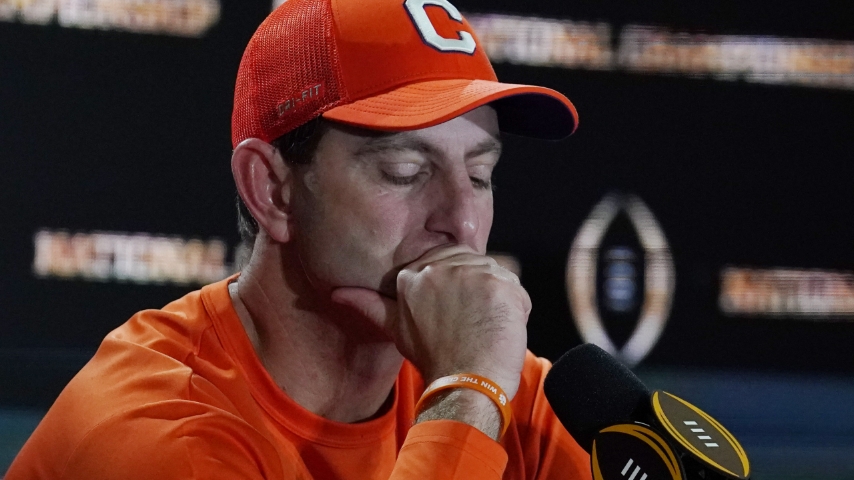 Kirby Lee-USA TODAY Sports
Swinney, having realized it was the last time he would see some of his players step on the field as a Tiger, began to show admiration for his graduating seniors.
He started to run down the list. "Muse, Pollard, Cervenka, Ancrhum, Denzel, K'von…"
Had he been able to go on all night, there's no question Swinney would have taken the entire press conference to thank each and every senior personally, communicating his sincere gratitude for what they'd done in their collegiate careers.
It's that sort of love Swinney has for each and every member of his roster that sets Clemson apart from so many other college football programs. Whether it's for his future No. 1 draft pick quarterback or his third-string long snapper, Swinney's passion is evident. He wants to develop leaders off-the-field, not just train superstars on it. Above that, he strongly desires to form and maintain lasting relationships with his players; relationships that expand beyond the boundaries of a coach and into the confines of true friendship and brotherhood.
And after that heartbreaking Jan. 14 defeat, it was the way he discussed his team and the respect he had for each member that won Swinney the respect of millions watching from afar.
Fast forward eight excruciatingly long months later, and a lot has changed for Swinney's Clemson team since that loss to LSU.
The youth of the current roster is unlike any in recent memory, with both sides of the ball being dominated by freshmen and sophomore starters. The core of wideouts from 2019-20 is noticeably different, with few of the usual known commodities available for this season.
And oh yeah, COVID-19 may have caused a few small shakeups for the Tigers as well.
But one thing that hasn't changed? Swinney's fondness for the entirety of his 120-man roster.
In his first full press conference following the Clemson's 37-13 week one beatdown of Wake Forest, Swinney couldn't help but rave about his players.
After praising the play of all three Tiger quarterbacks as well as running back Travis Etienne Jr., Swinney began name-checking seemingly every player who put on a white and orange uniform Saturday night.
"It was good to see Will Spiers flip the field a couple of times with his punts," remarked the 12-year head coach. "B.T Potter had some really good kickoffs and two huge field goals."
He moved on to the offensive line.
"All five of those guys played great. Jordan McFadden is a redshirt sophomore. Cade [Stewart] is a fifth-year senior. [Matt] Bockhorst is a fourth-year junior. Jackson (Carman) is a third-year junior that's played a lot of football. [Will] Putnam has been here one year and a first-year starter…"
Then the current freshman class as a whole.
"You obviously see a guy like Myles and [Bryan] Breese and just go, 'wow.' But let me tell you, when my man [Demonte] Capehart and Tre [Williams] get it all together, they're gonna be equally impressive… and those two freshmen receivers, E.J. and Ajou? Special, special. Same thing with those backs and the young tight end, Sage Ennis."
Swinney went on to personally name about 20 other Tigers, commending specific moments from each of them during the Wake Forest game that stood out in his mind.
It may not seem like much to those outside of the program, but there's a reason Swinney continues to cultivate a culture of success at Clemson. Sure, the undefeated seasons and national championships bring invaluable exposure, but Swinney's demeanor and attitude toward his players bring something to the table even more priceless than those accomplishments.
He makes sure every person in the locker room knows that they are seen, heard and above all else, valued. When they make the right plays on the field, Swinney never hesitates to publicly salute them for a job well done. Current and former Tigers consistently sing the praises of Swinney and how much he has invested into them personally.
That sort of mutual admiration is arguably the characteristic of Clemson that has kept them a constant contender in the past decade. As empires in college football rise and fall, Swinney's Tigers continue to raise the standards they've set for themselves, rarely failing to deliver on said expectations no matter the height.
Because to Swinney, at the end of the day, the players that he addresses before and after every win and loss are more than names on a depth chart. They're family. It's that relational mindset that Clemson football continues to ride to success, and plans to thrive on for years to come.
Never miss the latest news from Clemson Sports Talk!
Join our free email list
PRESENTED BY