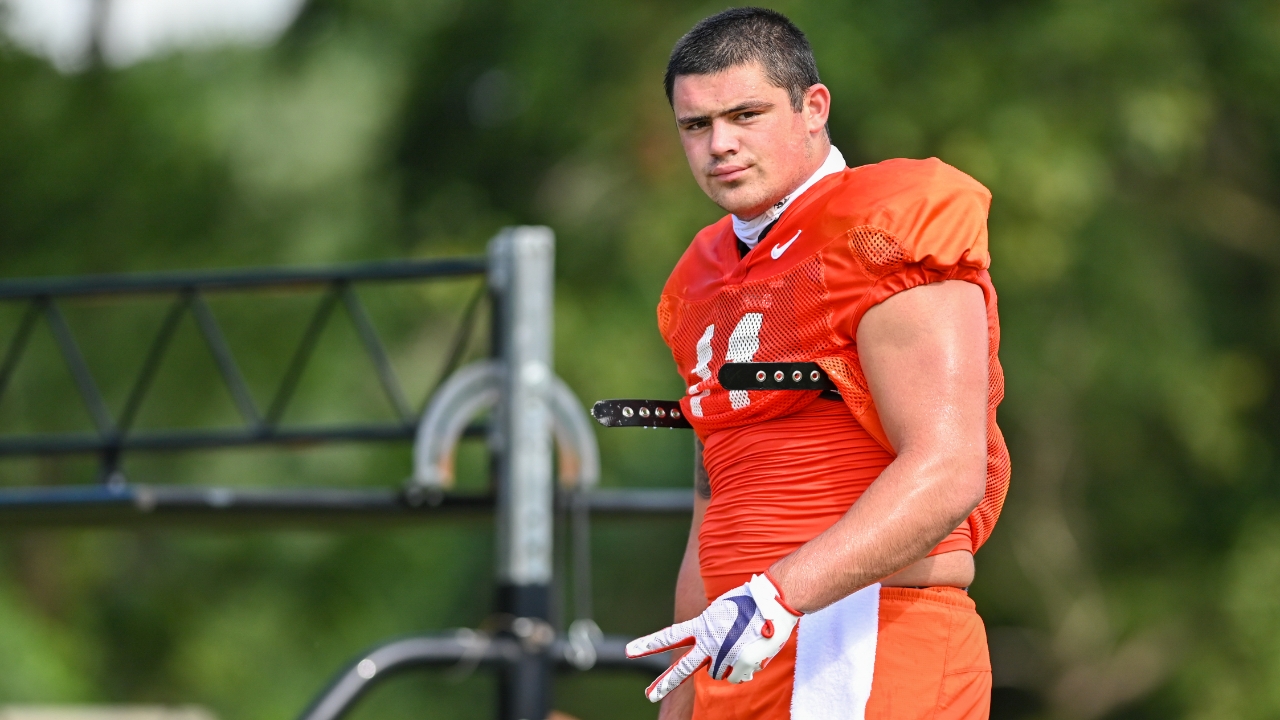 D.J. Uiagalelei
Bryan Bresee
Myles Murphy
Will Putnam
Regan Upshaw
James Skalski
J.C. Chalk
Clemson Football
Clemson Wednesday AM: Talking Tigers
---

Feel the difference - The MOST DIGITAL CONTENT covering your CLEMSON TIGERS! Avoid clickbait and sites bloated with advertising!
---
D.J. Uiagalelei
On life in South Carolina, "I feel like the people here are a lot nicer."
As a runner, "Not the fastest guy, but I want to go north and south. I like contact."
On Bryan Bresee, "He's my roommate. He's the real deal. It's super cool to practice against him. He's a big dude. His athleticism is through the roof."
On his first memory of Clemson as a football program, "It was definitely a Tajh Boyd year. I was like middle school, I was like, 'that's the type of offense I want to play in.' I liked the orange jerseys, I thought, 'those are pretty dope.'" Said that Tajh Boyd hasn't heard that yet, but he will tell him soon.
On Trevor Lawrence, "He's the best quarterback in college football. He's the best player in college football." - Taking notes on how he manages his time etc.
Bryan Bresee
On playing in his first game, "It was awesome."
Said he learned a lot from Tyler Davis.
Said it was a huge change going from high school to college. Had to learn to use more than his strength and ability to get ready for CFB — "Starting to get it down now."
Earliest memory of Clemson: "I would watch highlight tapes of William Perry. Watching someone that big play football was pretty amazing to me." — Also watched Christian Wilkins and company.
Says in a game of pickup hoops with the family, his sister (a college basketball player) tried to take a charge with no refs…illustrating the competitiveness he's grown up around.
James Skalski
On finally getting to play, "I very excited. I was itching the whole first half. I thought we played pretty well. I thought we looked good."
On the late Wake touchdown said that if we are being honest, if we leave everyone in it could have been a lot to a little, but Coach Swinney and Coach Venables understand that we have to grow the team.
Really excited about the young talent that Clemson has this season on defense. "It just keeps getting better every year."
On quarterbacks like D.J. Uiagalelei - "I'm always excited to see another defensive player try to tackle them." - Tigers can't touch the purple jerseys.
On being in Death Valley this weekend: "Very excited to hear the roar of the crowd. It was weird. You make a play and you only hear your guys."
On The Citadel's triple-option offense, "It's all about doing your job. It's assignment football. Not trying to do to much. Being precise and detailed in how you do things."
Myles Murphy
On his abilities, "I'm still learning how to rush the passer and still play the run at a high level. I just have to work on the little things. It's little things that turns into big outcomes."
On playing in game one: "It was special. The first drive I was very nervous, but after you make that first contact on the field all of that gets out of your body. After that, I told myself it was just football. The rest of the game felt like high school ball."
On being blocked by a tight end of an h-back: "Not too many times. You have to take advantage of that. Coach Hall tells us, 'you should dominate that every time.'"
On Wake OL vs Clemson's OL: "Going up against Jackson Carman and Jordan McFadden every day is a battle. There's really good talent at Clemson. The practice that I do here does help on the field against other teams."
On picking up Venables' system: "Honestly all I can say is I can do my best. I feel like I'm coming along pretty well with the playbook, but it feels like he keeps adding more plays. That's just the defensive coordinator he is, that's what makes our defense so good."
Will Putnam
On finally getting to start: "I was nervous, but I think it was healthy to have some nerves. As soon as game day approached my nerves turned to excitement.
"I think our communication was good, but that is something we've been practicing since spring ball. We didn't know how loud it was going to be. I really didn't notice a difference, it seemed like a regular game day to me because I was focused."
On 19,000 fans in Death Valley: "I'm really excited with everything going on. I'm playing next to some of the best offensive lineman in the league. Blocking for the best quarterback in the league. Blocking for best running back in the league. And being a part of that group to run out first, I don't take that for granted."
On the most impressive thing that D.J. Uiagalelei as done: "Throw the ball. The guy can throw the ball far. I've never seen someone throw the ball that far."
Regan Upshaw
On his start: "I think it's a good start. I think I've been grinding for a long time. It was a good start for a first game, nowhere where I want to be."
On his journey to football: "My journey has been a wild one. I started late, I've been here grinding for a long time. This is my fifth year. I think more than anything, it's hard to keep that same mind state that you have when you first get here because you have all the excitement, but to continue to put in work year in and year out, and not necessarily get the results right away. I think it builds a toughness, it builds a will. I know what my mind state is like, and more importantly, in this whole journey, I found out who I am and I continue to keep coming even if I'm not getting what I necessarily want. And hold on to my vision that hadn't been in the beginning."
"I'm definitely one of the stronger players on the team. If we're talking about the weight rooms, a lot of big strong guys too, but definitely on the upper end. My strength is definitely going up being in this program being with Coach Batson, best strength coach there is in college."
J.C. Chalk
On first career TD: "I was super excited. I saw the coverage they were in and I knew if Trevor looked to my side of the field there might be an opportunity to make a play. He threw a great ball in the one place I had a chance to make the play and the defensive guy didn't."
On the TE spot competition: "For sure, lots of great players in there with Branden (Galloway) and Davis (Allen) and you can't forget Jaylen Lay. It's been a fun camp thus far."
On playing in front of 19,000 fans: "It will feel like 100,000 out there. Just being able to play with fans in the stadium. I know the energy is going to be electric. It's exciting to us and hopefully, we can put on a good show for the fans being willing to come to our games."
Never miss the latest news from Clemson Sports Talk!
Join our free email list