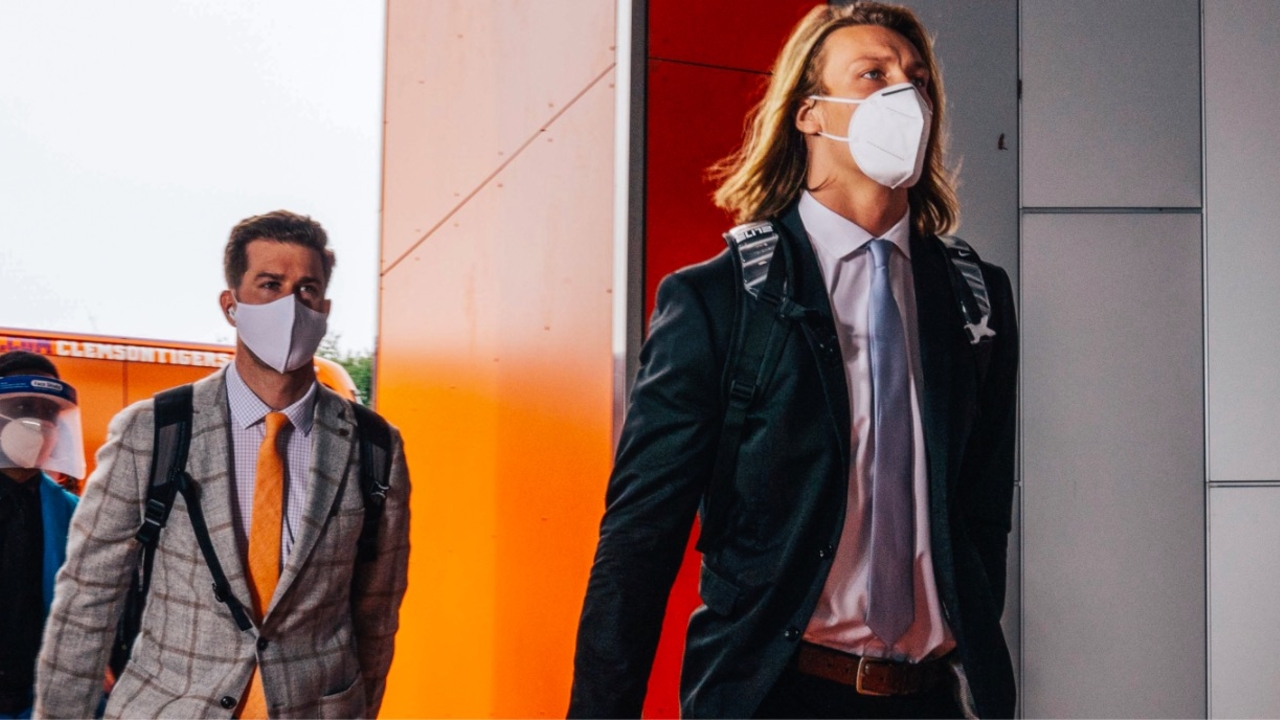 Photo by Twitter: @ClemsonFB
Clemson Football
Trevor Lawrence: "Good to be back" in Death Valley
---
Trevor Lawrence took questions from media members following Saturday's 49-0 win over The Citadel. Here are a few quick highlights:
On his efficient stat line vs. The Citadel:
"That might have been my most efficient day since I've been here. But it was just fun. I felt like our first group, especially, was really ready. And we kind of owned the plan. And then we executed really well. Really good on fourth down."
"A lot of us kind of came out midway through that second quarter. But I think a lot of the young guys kind of stepped in and played well. But as a whole, we've just got to build our depth and continue to build on that. It's been good to have two games now where we've taken care of business early on so that our younger guys can get in and get some reps. That's going to be really good for us to build some quality depth. But no, it was fun. Had an efficient day. Felt like I was ready. Knew what they were doing out there. So it felt good."
On the adjustments he made to start off the season better than last year:
"I think every year is different. But I just think my mindset and my focus level on the little details of the game are a lot better now than they were. I think I've gotten a lot smarter. But I've also simplified the game. I'm not trying to do too much. Just taking what's there. Not trying to make every play a home run play and just moving the ball more consistent. That's one of my goals. And I think we're doing that. But yeah, that's just for me to go back to the basics and taking whatever the defense gives me."
On the different skillsets of his wide receivers:
"We're really diverse as far as having some really good tight ends that can block, run and catch the ball. At receiver, we've got a bunch of different guys too. Cornell... just strong, can block, can run. Can really do it all. Then guys like Frank (Ladson) who can just fly but also run great routes and block too. Then Amari is a really big speed guy, but he's kind of mastered his route-running this offseason. So he's done a really good job on his downfield routes."
"I think before, a lot of people kind of put them in that category of 'throw him a screen, let him run, let him make a play.' But he's really made himself a well-rounded player. And then Frank did a really good job today getting open, making three catches for 87 yards, two touchdowns... pretty efficient. So he had a good day, that was awesome to see. And all the rest of the guys. We've got a lot of depth, and also a lot of young guys that are starting to play better and better. So it's really good to see."
On how he is able to mentor the backup QBs during the game:
"Just the overall feel of the game. Just kind of telling them what I'm seeing. Obviously, we were tracking what they're doing, as far as defensively. So kind of seeing what they're doing, the tendencies they had during our game and just helping them with some tips: what to look for, what to expect."
"They gave us a lot of soft coverage today. So that was one thing that we talked about, just trying to take advantage of that early on and in the second half as well. But just little things that I see. Just telling them what I see and having some much different eyes on it helps a lot."
On the atmosphere at Death Valley Saturday:
"It was awesome. It's good to be back, and really just thankful for the staff. The event staff that we have here and what they were able to put together. The atmosphere was really cool seeing how some other places have done it, and then how we did it. I think there's no better place in the country as far as what's going on right now. They did a great job. The whole stadium was full. Spaced out, obviously. But it was really cool."
"It definitely felt a little different, but it didn't feel that much different. So just hats off to them. They did a great job. And a lot of work went into that. But no, it's great to be home. And I guess we've only got five more home games this year. And who even knows that's guaranteed with everything going on. So we're just trying to take advantage of them. I know, for me, every week is special. I just try to really take advantage of every week."
Never miss the latest news from Clemson Sports Talk!
Join our free email list