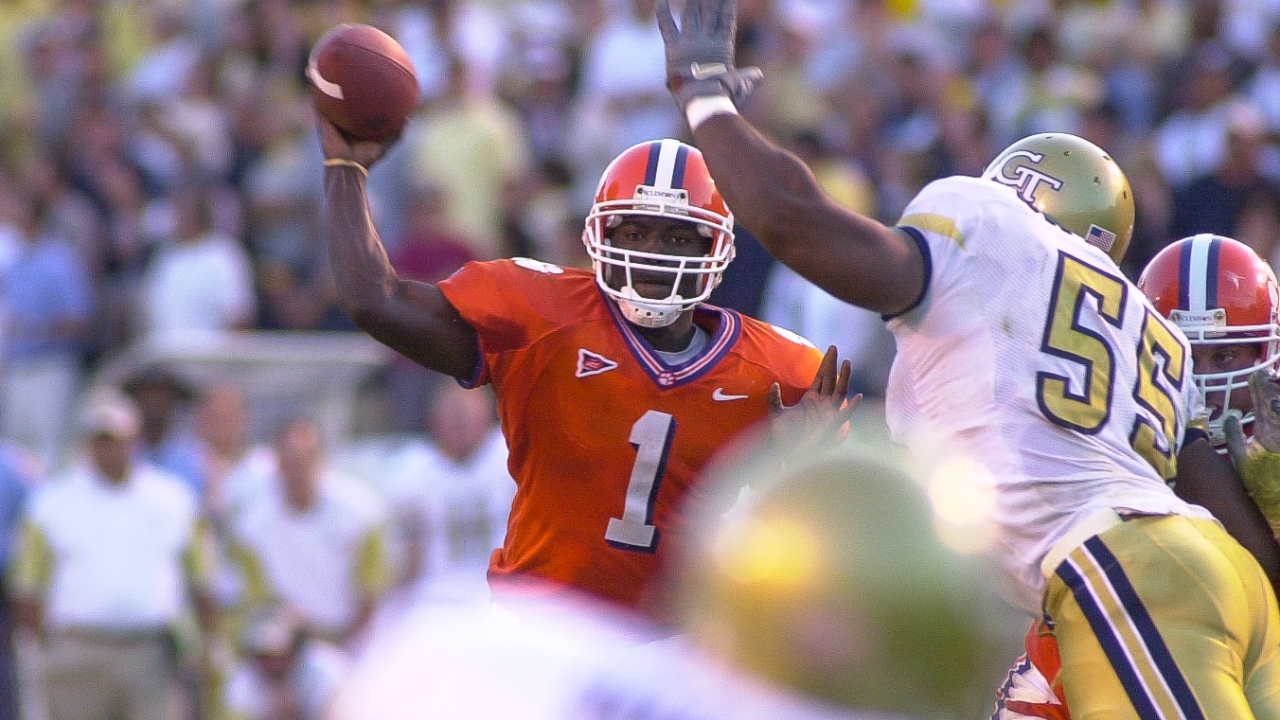 Clemson Football
On this day: Woody dances into Tiger hearts forever
---

Feel the difference - The MOST DIGITAL CONTENT covering your CLEMSON TIGERS! Avoid clickbait and sites bloated with advertising!
---
Sept. 29, 2001
Trailing by a score of 38-34 with just over two minutes remaining, Woodrow "Woody" Dantzler took the third-down snap and dropped back in the pocket. He examined the field, unsuccessful in his attempts to find an open receiver. After a few seconds of scrambling, Dantzler finally accepted his unfortunate fate and took a sack, a rare occurence throughout his Clemson tenure.
Fourth down, eight yards to go in order to get a coveted first down. He absolutely had to move the chains, should he desire to keep Clemson's hopes alive of defeating 9th-ranked Georgia Tech in front of a charged up crowd at Bobby Dodd Stadium. The Tigers were in dire need a win, having looked lackluster in their first two games of the 2001 season against weaker opponents, before suffering a crushing loss at home to Virginia the week prior.
Dantzler brought his men up to the line and attempted to call his cadences. Whistles blew before he could get the snap off.
Delay of Game, on the offense. 5-yard penalty, still fourth down.
Now facing an even greater challenge with fourth-and-13, Dantzler took a deep breath and huddled his teammates. Yellow pom-poms were frantically waving about in every section of the stands, the noise from the crowd nearly deafening to Dantzler's ears.
Dantzler and the Tigers offense lined up yet again, this time being sure to get the play off in time. Running back Travis Zachery established himself to Dantzler's left, four receivers out wide. Dantzler hiked his knee in the air once. The ball was snapped.
He surveyed his options as he dropped back to pass. Not finding anyone open at first, it wouldn't have been unlike Dantzler to take off and try to get the necessary yardage with his legs. After all, he was one of the best rushing quarterbacks to ever stake his claim in collegiate history. But this time, Dantzler stayed completely calm and patient in the pocket. He waited… waited… and waited some more, until finally, he saw his opporunity and took it.
Dantzler launched a missile down the middle of the field, finding an open J.J. McKelvey cutting across the the 30-yard line. His throw couldn't have been more on the money, connecting with McKelvey in stride on the way to a 63-yard touchdown pass. Following the extra point, the Tigers took a 41-38 lead, silencing the buzzing hive of 42 thousand Yellow Jacket fans in attendance that afternoon.
The Yellow Jackets would, however, eventually march down the field and kick a game-tying field goal to send the affair into overtime.
But this was Dantzler's day. That was a reality that had been quietly simmering in the air throughout the entire game. The Tiger defense held the Jackets to a 33-yard field goal on their first overtime possession, opening the door for Dantzler to claim a huge victory for Clemson.
Beginning at the 25-yard line of Georgia Tech, the Tigers picked up one first down before being forced into a third-and-6 from 11 yards outside the end zone.
This time, Dantzler knew exactly what he was going to do. Head coach Tommy Bowden drew up a designed quarterback run, having thrived off Dantzler's speed for the previous three seasons. Dantzler took the snap, dropped back halfheartedly to fool the defense into believing he would throw the ball, and took off down the middle of the field through a gaping hole created for him by his offensive line.
Touchdown, Woody Dantzler. Tigers win an absolute thriller, 47-44.
It was a game that went down in both ACC and college football history as a collective. 91 points in a back-and-forth game between two high-flying ACC offenses, decided only with the help of an eventful overtime period. Games such as this late September clash tend to make their marks on the memories of fans and analysts alike.
The Tigers went on to finish that season 7-5, a bit of a disappointing result for a team with greater aspirations. But on Sept. 29, 2001, one man was the focus of almost all of college football. That man was Woody Dantzler.
On that day, Woody Dantzler officially stamped his legacy as a quarterback at Clemson. He finished with an absurd statline of 254 passing yards, 162 rushing yards and four total touchdowns. There's a reason he was inducted into the Clemson Football Hall of Fame in 2008, but it stems from far more than just his numerous accolades and video game-like dual-threat statistics.
Above all of those numbers, it was Dantzler's ability to come through for his team when it mattered most -- an ability he showcased to perfection on Sept. 29, 2001-- that make him one of the greatest quarterbacks to ever wear a Clemson Tigers uniform.
Never miss the latest news from Clemson Sports Talk!
Join our free email list
PRESENTED BY