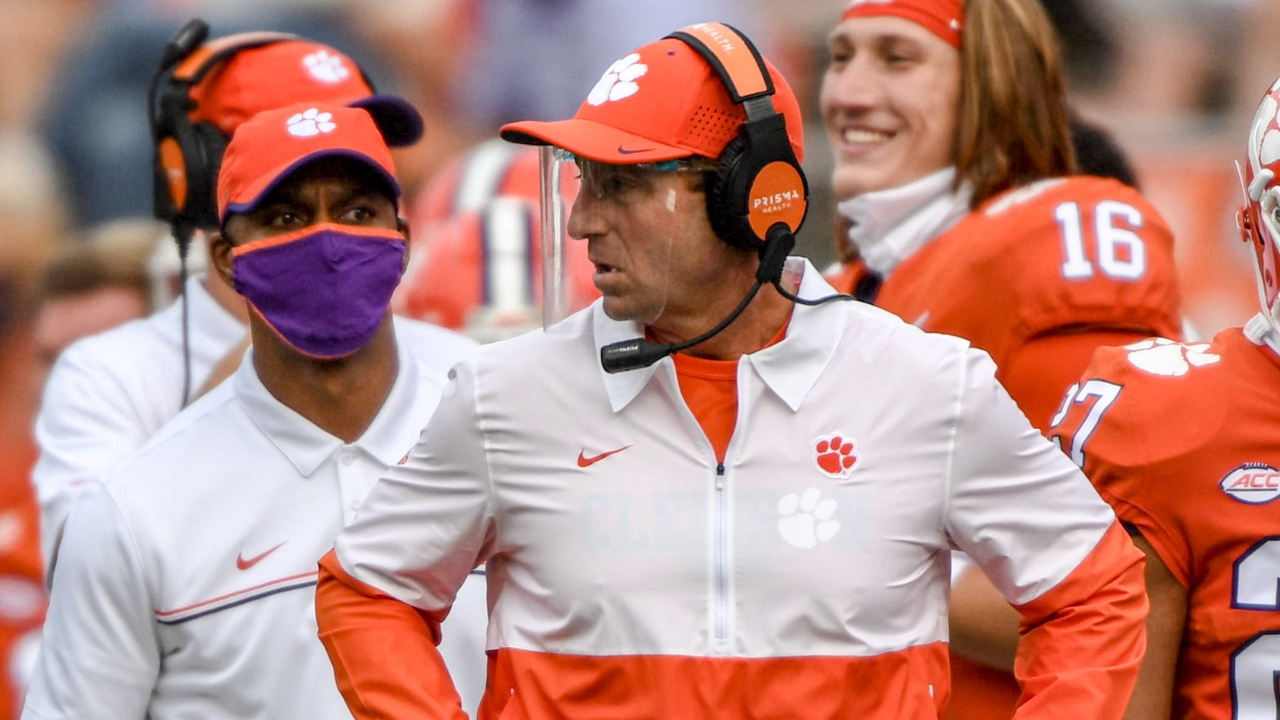 Photo by Courtesy of ACC Media Portal
Clemson Football
Dabo Swinney: "Absolutely black lives matter. That's just common sense."
---

Feel the difference - The MOST DIGITAL CONTENT covering your CLEMSON TIGERS! Avoid clickbait and sites bloated with advertising!
---
It was an eventful availability this morning with Clemson head coach Dabo Swinney. Here is the rundown of some quick notes and highlights:
Dabo on the job done at Virginia by Bronco Mendenhall:
Mendenhall brought a 2-10 team during his first season all the way to an ACC Championship berth and 9-5 record in 2019. Says there are plenty of improvements that can be made from last year's ACC Championship. Noted lack of pressure put on Virginia QB last year.
On Virginia QB Brennan Armstrong:
"He's savvy, he's tough, he's not afraid to run it or throw it up to his guys to make a competitive play."
On Justin Foster's return:
Dabo Swinney on Justin Foster - doesn't know when he will be back. "When they tell me, that's when he will be able to go."
On waiting for COVID-19 testing results:
"That's our norm now. Proud of our guys. They are locked in, doing what they can do to stay as healthy as they possibly can."
On explosive plays being a key to win:
"It's part of our plan to win. It's a run of 12+ or a pass of 16+ for a touchdown. Sometimes they just kind of happen when you don't expect it."
"Explosive plays are a part of our plan to win," says Swinney. "We always have an attack mindset looking for those plays. But we don't want to force things." Reinforces comments made by Trevor Lawrence earlier about taking what comes, not forcing anything.
On CB Derion Kendrick:
Says no disciplinary actions for CB Derion Kendrick. "I haven't announced anything as far as discipline for DK. I've given him some love, but that's about it. DK's great."
On C.J. Spiller's new role:
"He's doing great. He's here every day. He's one of those guys where if he sets his mind to do something, he's not just gonna do it. He's gonna be great."
On not having messages etc. on the Clemson uniform:
"I certainly support guys expressing themselves," Dabo says his only reservation was against changes being made to the Tiger uniform. Said he likes things to be traditional. Referenced Alabama when whey added the Nike swoosh and how people felt about it at the time.
On messages on players helmets and political organizations as a whole:
"I'm on board with a lot of messages. I'm not on board with political organizations... that's a different question. I'm apolitical. To me that's divisive. I've voted Democrat, Republican and Independent."
"I'm very apolitical when it comes to organizations."
"Black lives more than matter. Black lives are worthy. They equally matter. And this is no different."
"I just don't support political organizations. Simple as that. From any facet or form. Absolutely, black lives matter. That's common sense. I've lived my whole life making sure that's something that hopefully my actions have shown, not something that I just said."
"Black lives more than matter." Swinney says he just doesn't support political organizations. "Absolutely black lives matter. That's just common sense."
On if he or Trevor Lawrence are paying attention to the #TankForTrevor:
Swinney says he has not been paying attention to the #TankForTrevor rumors. "He's just worried about trying to get ready for Virginia."
Never miss the latest news from Clemson Sports Talk!
Join our free email list