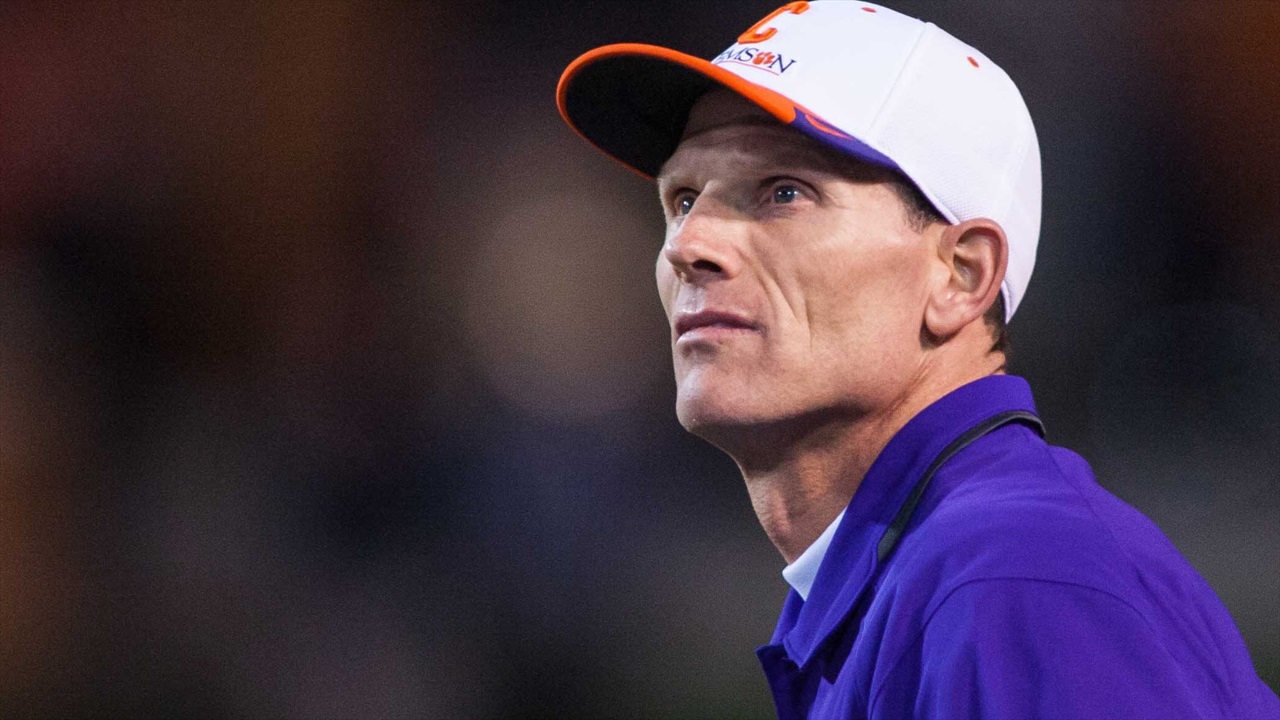 Clemson Football
Update: We've got more thoughts on Brent Venables and Arkansas rumors
---
Brent Venables was on "Sports Talk with Bo" in Arkansas earlier today and was asked about if he considered himself a candidate for the head coach opening at Arkansas. His response may surprise some people.

Venables when asked if he was a candidate for the Arkansas job said, "That's a tough thing to answer. Week before last, I have not spoken to anybody, but my representatives have and I'll just leave that at that."

Watch the full exchange below. We also discussed this topic tonight on Clemson Sports Talk when the news broke.

We asked Brent Venables if he's a candidate for the Arkansas job. Here's his response: pic.twitter.com/JsytaCUkc7

— Bo Mattingly (@SportsTalkwBo) December 4, 2017

Venables reflected on his opportunity to move from Kansas State to Oklahoma when the Wildcats were the #1 team in the country and blew a 17 point lead in the fourth quarter against Texas A&M after Bob Stoops left.

I didn't take the Oklahoma job at that time. My name is important to me. My loyalty to my players and to my colleagues is important to me. You can't be two places at once, that's really how I feel.

"I didn't take the Oklahoma job at that time. My name is important to me. My loyalty to my players and to my colleagues is important to me. You can't be two places at once, that's really how I feel. My name and that time in my career have always been tied to that loss. I didn't like that association. If we had won, we are probably playing in the National Championship against Tennessee."

Venables, who has been the defensive coordinator at Clemson since 2012, has been linked to the Arkansas opening as well as the opening at Mississippi State, which has since been filled.

Venables concluded, "We've had some opportunities, even last week, but my moral compass says, 'be loyal to where you are at,' Coach Swinney and Clemson and the people of Clemson have been so good to me. It's not easy to juggle."

PODCAST: Hunter Yurachek named Arkansas AD and Brent Venables says his reps have talked to Arkansas. https://t.co/rJV9EzmxJx

iTunes: https://t.co/G6rxusyeeV pic.twitter.com/zEFzPruvYf

— Bo Mattingly (@SportsTalkwBo) December 4, 2017
After hearing from Coach Venables and evaluating the entire interview, it wouldn't seem likely that anything happens before the end of Clemson's season. Being around Venables, he always seems content with where he is and the job he is doing. If I had to guess, I'd think he's back in Clemson next season.
I thought it was interesting when Venables said, "Bloom where you're planted." I don't know if that's an indicator one way or the other, but certainly referencing one of Dabo Swinney's phrases didn't go unnoticed.
Today, at the Broyles Award ceremony, Venables was asked by Hayden Balgavy about the Arkansas job again. Here's what he had to say.
Today I asked Brent Venables about the opening at Arkansas and the rumors about him as a candidate. @THV11 pic.twitter.com/98A6SYSaVH

— Hayden Balgavy (@HaydenBalgavy) December 5, 2017
As a note, former Clemson offensive coordinator Chad Morris appears to be the target for the Razorbacks right now.
Never miss the latest news from Clemson Sports Talk!
Join our free email list