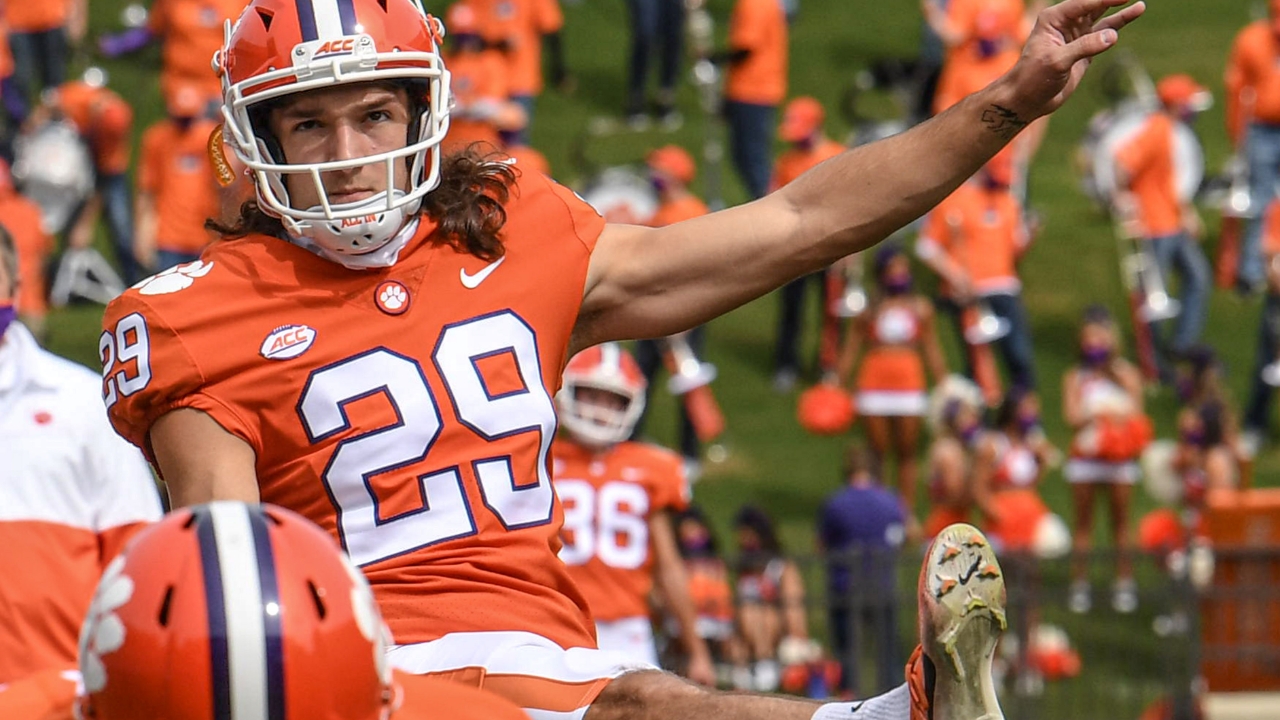 Photo by Courtesy of ACC Media Portal
Clemson Football
Clemson's B.T. Potter "flipped the switch" after rough start to career
---

Feel the difference - The MOST DIGITAL CONTENT covering your CLEMSON TIGERS! Avoid clickbait and sites bloated with advertising!
---
Clemson kicker B.T Potter has earned the admiration of his teammates and coaches.
Potter has been flawless three games into the season, drilling all five of his field goal attempts and all 15 extra points. He continues to emerge as one of Clemson's early MVPs, his leg being as reliable as anyone in college football.
But Potter's journey at Clemson hasn't come without its due portion of ups and downs. Last season, Potter was a lackluster 13-21 on field goal attempts, drawing the ire of fans at several key points throughout the year. Perhaps most notably, head coach Dabo Swinney became the internet's hottest topic during Clemson's 45-14 victory over Florida State for ripping into Potter on the sidelines following a missed 24-yard field goal attempt.
"He's 55 percent," Swinney said following the game on Oct. 12, 2019. "And he's way better than that. He's just got to get the focus that he needs. We've got to give somebody else a chance."
That's just what Dabo did, benching Potter for backup kicker Steven Sawicki following the miss. But in classic Swinney fashion, he made sure to sing Potter's praises just as loudly, assuring to the public that it was only a matter of time before the sophomore placekicker returned to proper form.
"I haven't lost any confidence in him," Swinney said. "He's going to kick in the NFL. He's probably the most talented kicker I've ever had, just pure talent and pure leg strength. But he's got to grow up a little bit. He's got to grow up and get the type of mental toughness that it takes to be special at that position. If he wants to be the guy, he's got to earn it."
Swinney's sideline tirade, along with a much-needed evening meal, seemed to kick Potter into a different level.
"We sat down for dinner one night, and he told me he had all the confidence in the world in me, and that really helped me," Potter said in 2019 after earning his starting position back. "That's just something that people don't see. And I know that he believes in me and that was definitely one of the best parts of last week, just hearing that."
After coming back into his own, Potter concluded the 2019 season by making eight of his final 11 field goal attempts, including a 52-yarder in the national championship against LSU.
Now, just a few games into the 2020 season, it's clear that Potter has evolved into somewhat of a brand new player. Tiger coaches and fans are comfortable letting out sighs of relief when he struts onto the field as opposed to holding their collective breaths. Gone are the days of "I can't look, tell me what happens" when Potter lays into the ball. Confidence in the kicker is through the roof. But what exactly changed for Potter?
Some, like Potter's placeholder Will Swinney, might say that he's "flipped a switch."
"It's just awesome," said the senior receiver and placeholder. "I'm not surprised at all. I even saw it this summer. He's really come on and kind of flipped a switch. And last year, there were ups and downs, but he finished so strong and made some huge kicks for us. But all summer I noticed a difference. He was making almost every kick. It's been cool to see it translate over to practice, translate to the games."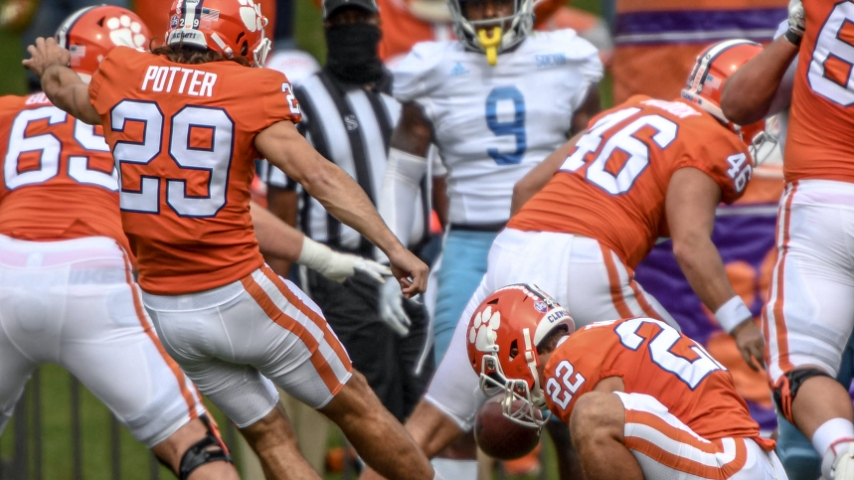 Courtesy of ACC Media Portal
Potter has particularly enhanced his long kicking prowess, connecting on a 52-yarder against Wake Forest in the Tigers' opening game.
"These aren't just 20-yarders we're going out there and hitting," remarked Swinney. "He's made three 40+ yarders, a 50+ yarder. And we're going to keep working to keep improving and getting better in that area."
Just under a year removed from head coach Dabo Swinney's sideline outburst toward Potter, his tone on the junior's performance has done a complete 180.
"We've got confidence in our kicker," said coach Swinney, smiling. "[Potter's] a guy that can knock it through from 55, easy. We feel like [the special teams phase] is as good a phase right now as anything we're doing offensively or defensively."
And who knows? The outcome of Saturday night's matchup against Miami could very well hinge upon the sturdy right leg of Potter. Should that be the case — unlike last year — Tiger fans will have all the faith in the world that he will come through. So far this season, the new look B.T. Potter hasn't given a single reason to believe otherwise.
Never miss the latest news from Clemson Sports Talk!
Join our free email list