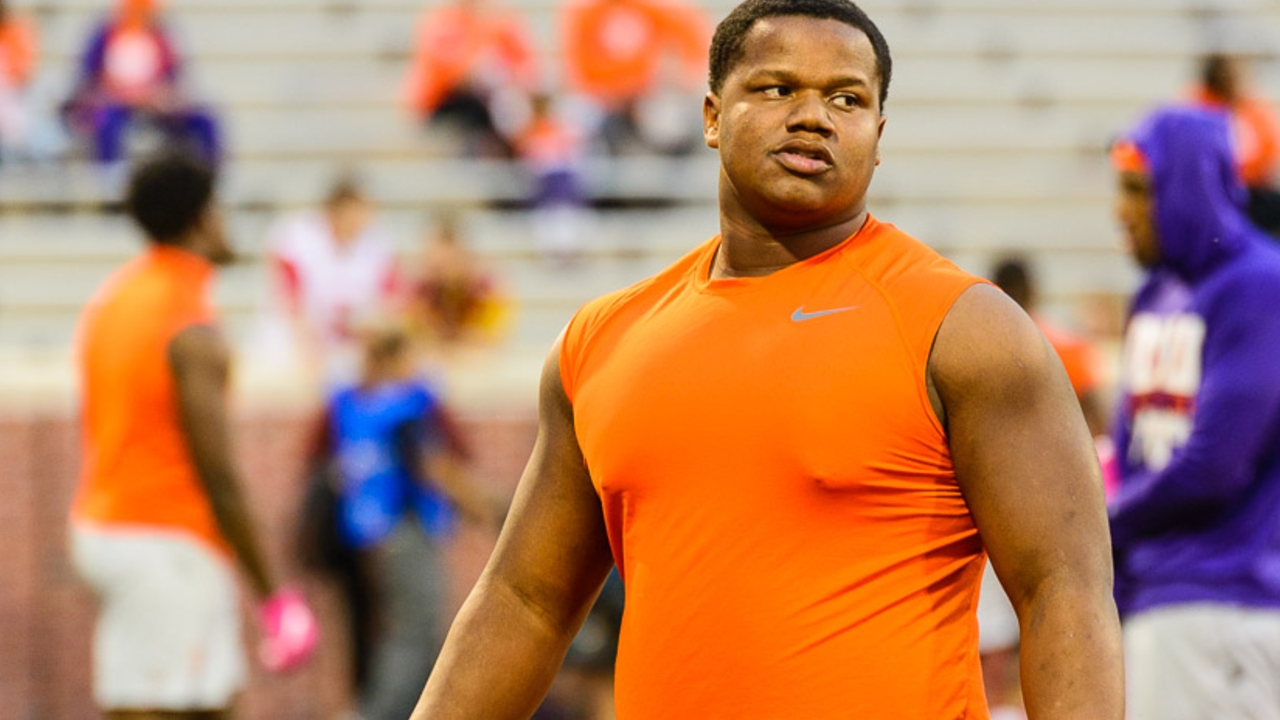 Tyler Davis
Trevor Lawrence
Braden Galloway
Walker Parks
Clemson Football
Georgia Tech 'going to be a very good challenge' according to Tyler Davis
---

Feel the difference - The MOST DIGITAL CONTENT covering your CLEMSON TIGERS! Avoid clickbait and sites bloated with advertising!
---
TYLER DAVIS
On seeing some action again against Miami:
"I always want to play, but I was very excited to get out and play against Miami and finally get back to playing football again."
On the success against Miami:
"I think we prepare with focus and just came out and tried to dominate."
On Bryan Bresee:
"I think great. Just having fun out there playing with him. He brings a lot of energy. Great player. Just fun to playing with him.
On Georgia Tech's skill positions:
"They've got some great skill guys. They're running back is good, their quarterback is good... it's going to be a very good challenge for us."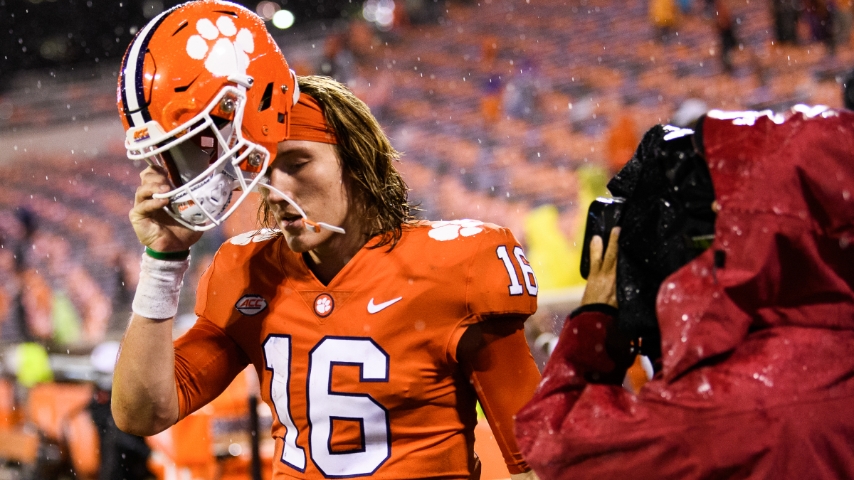 Courtesy of ACC Media Portal
TREVOR LAWRENCE
On what he remembers from 2018 vs. Georgia Tech, the game where he won the starting job:
"It was the same as any other week. Just preparing those first few weeks like I was the starter, because I knew I'd have a few opportunities to play. I just wanted to be ready... I can't remember exactly how I got in the game, but I went in the first or second quarter, just was ready. I knew the gameplan, had been studying and just did whatever I could. I took what they gave me and ended up playing a really good game, which is cool being 45 minutes from my house. We had a lot of people there, a lot of family and friends, it was a lot of fun."
On his relationship with former Clemson QB Kelly Bryant throughout the process:
"Kelly was one of my friends, we were close. It's definitely a weird situation. You know how long he's been here, how hard he's worked, what he's done to help this team... so it's definitely not the easiest thing."
On being the front-runner for the Heisman:
"I can't sit here and say it wouldn't be awesome and really cool to win the award. But I want to win [games]. That's been my thing ever since I've been here."
On how he will prepare heading into the Georgia Tech game as the starter as opposed to 2018:
"I'll prepare the same way. We'll be ready to own the gameplan and get ready for them on Saturday."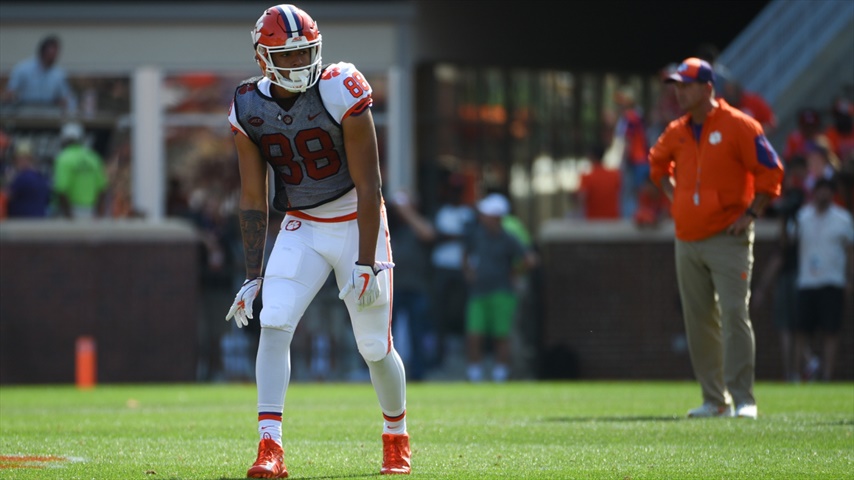 © Adam Hagy-USA TODAY Sports
Braden Galloway
On Davis Allen's block during Etienne's touchdown run:
"I think we kind of all knew what Davis was capable of. Even last year, he showed spurts of that. I just think that he made a great play. He has plenty of good blocks. I think he also does a great job in the receiving game as well, not just as a blocker. And I think that's what makes him a great player that he's complete, he's well rounded. He can run routes and get open. You saw the touchdown towards the end of the game. He's had a few big plays against Wake and Virginia in the receiving game. And I think blocking is something obviously he's great at but I think he's a complete player. He's a well-rounded player. That's what makes him significant to our team, and especially to our positions."
On the throwback screen:
"We had a feeling it would work. You know, we got things granted, five years ago, whenever they played, they played Miami in Miami. So we kind of worked on it a few times throughout the week. It ended up being you one of the first plays in our first rack of plays. And yeah, we successfully did it. It was a good play call. We worked on it all week, getting the timing and stuff like that down. Making sure nobody's offsides and things like that. But just glad we were able to execute it well."
On if he felt sorry for the DB that Jackson Carman crushed:
"Yeah. When Jackson's running full speed, and you're in his way, that' going to end (badly), really for anybody. But yeah, the whole line was pretty much down the field. blocking so I'm appreciative for them on that play and really all night. So they did a great job."
On the collision at the goal line:
"That was just kind of the heat of the moment thing. Obviously, I was excited to be able to get in the end zone. And obviously, that's just the passion for the game showing right there just in the heat of the moment. I'm just happy, we were able to come out with the win. And I was able to do some things throughout the game to play a part in that. That was just one of the plays that you kind of see the passion flowing throughout the players when things like that happen through a game. So I mean, it was a defining moment. But you're just trying to get to the next play and just keep getting better."
On maintaining your composure when things get chippy:
"We just try to stay calm. It's all about the little things when games get like that. You just focus on playing the game and not necessarily talking about it or not necessarily getting into it with other guys and things like that. I just think the biggest thing is just focusing on what we need to execute and how we need to execute it. And then that'll take care of itself. We don't really need to be talking throughout the game. If we're doing the things that we're supposed to be doing, our game can speak for ourselves."
On if it is hard to resist talking trash:
"Oh, yeah, for sure. Every competitor, if somebody says something to you, that's your pride, that's everything on the line that you're talking about if you feel like you don't say anything back. But when you're playing through the whistles and you're able to do your job well, that'll take care of itself. You don't really need to say anything. Obviously, some guys can get carried away. Some guys handle it differently than others. But as a collective unit, we just try to stay together and try to stay calm."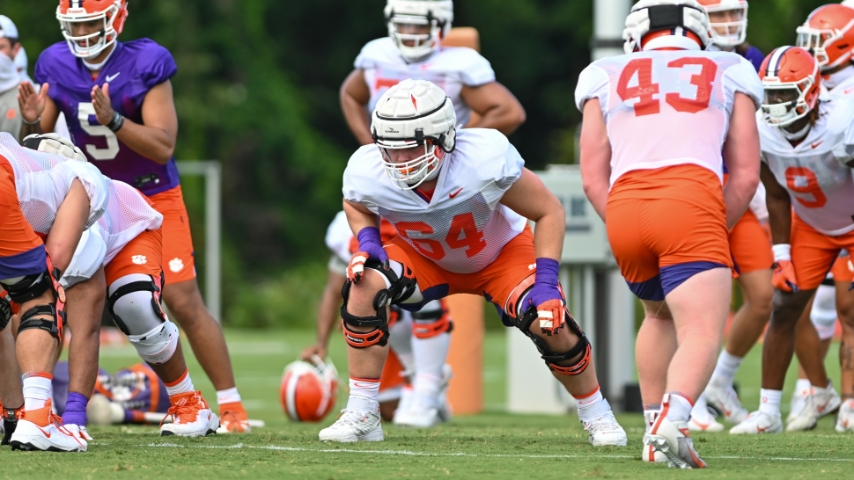 Courtesy of Clemson Athletics
Walker Parks
On his development:
"I've definitely developed a ton. You know, walking in I came in (during) June. Then going straight into fall camp, I realized how much about football I did not know, in high school. I didn't go back and watch the high school film and everything, watch my technique, how I run block, how I pass set. I knew a pretty decent amount, but nowhere near where I know now. I still need to develop a ton, I'm lacking a lot of places. I've developed the town thanks to Caldwell, and thanks to the older guys, but I'm slowly progressing on everything."
On playing early:
"Honestly, I knew how many guys graduated last year. So I was hopeful coming in. Whether the same time being a freshman, I know my place and I know that if they need me, then even if they don't, they don't. So I hadn't really no expectations, but being able to get early playing time means a lot to me. I've had a blast doing it."
On the challenges of adjusting to college football:
"Obviously, the talent coming in on the defensive line, Myles Murphy, Bryan Bresee, and the guys that are already here, all around the entire defense. You know, in high school, I went against a couple of good opponents-- at different camps, The Opening and the Five-Star Challenge. That was once every now and then, but back in high school, the guys were about half my size, so it wasn't really that much of a problem."
On when he realized he had things to adjust:
"Coming here in fall camp, I remember doing one-on-ones the first couple days of one on ones I was getting absolutely dogged by these guys. That's when I realized that my pass set was pretty bad. I needed to work on my stance and weight distribution and work on my punch and pretty much everything all around. Because you know, in high school, these guys weren't that fast
or that strong, so if I got hands on them, it was pretty much over with. Now, if you're not
technically sound all around, you're going to get whooped by these guys. And that's what really
made me realize that I didn't know as much as I thought."
On being the first backup o-lineman:
"With my dad playing at Kentucky and being my coach my entire life, he's really pushed me. He helped me work out every day and focus on the playbook. Helped me understand the plays. Because that's another big thing that I had to learn how to use, I don't really understand, I still don't understand a lot of things about football. Like how to read a defense what defenses mean, as stupid as it sounds, you know, like inside-outside zone. I didn't know that coming in here. Like in high school, it was just kind of like play football and do what you're told to do. I don't understand a lot of things like that. So learning how to understand those things, and move forward that way."
Never miss the latest news from Clemson Sports Talk!
Join our free email list
PRESENTED BY