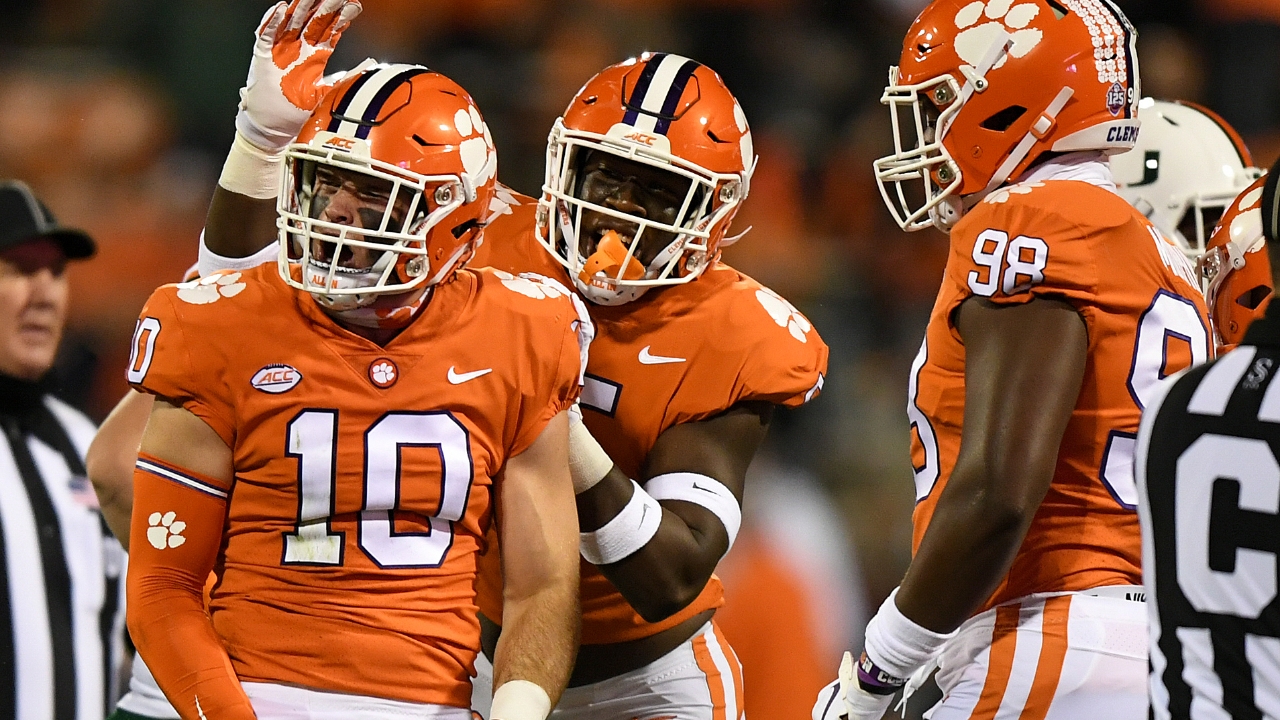 Photo by Courtesy of ACC Media Portal
Clemson Football
Unheralded Peach State native leads Clemson into matchup against Georgia Tech
---

Feel the difference - The MOST DIGITAL CONTENT covering your CLEMSON TIGERS! Avoid clickbait and sites bloated with advertising!
---
Linebacker Baylon Spector led No. 1 Clemson (4-0) in tackles (5), sacks (1.5) and tackles for loss (2.5) in Saturday's 42-17 win over No. 7 Miami. It was the second time he led the team in tackles. A week earlier, his 13-tackle effort against UVA earned him the Walter Camp Defensive Player of the Week and ACC Linebacker of the Week honors.
The graduate student and first-time starter currently leads the Tigers in tackles with 25 and is tied for the lead in sacks (2.5) and second in tackles for loss (5.0). It's quite a leap in activity and production for the little known three-star athlete from Calhoun High in Calhoun, Ga.
"It comes with time and obviously getting these big games right here in the early part of the year was huge for me," Spector said of his play thus far in the young season. "I was excited. Last year and this year, I don't feel I prepared any different. But I feel like the time has come, and now with these big games coming up, I'm just going out there and doing my job, and those plays are coming to me. I'm thankful for that."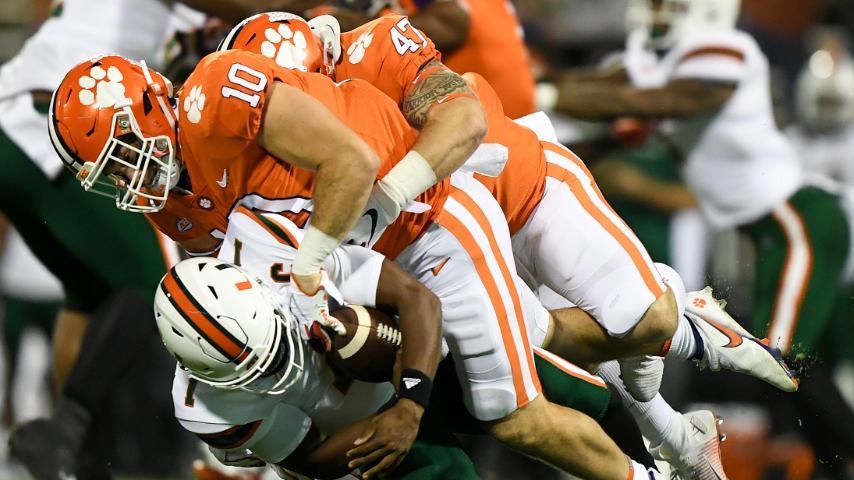 Courtesy of ACC Media Portal
After dismantling the Hurricanes offense in front of a prime time national audience, the Tigers' next big matchup is at noon tomorrow versus Georgia Tech (2-2). The buzz for an unranked Yellow Jackets won't get near the attention of last week's Top 10 tilt, but the next game is always the most important for Clemson.
Spector is from Rome, Ga, so playing in his home state likely makes it a bigger game to him than most after being overlooked as a recruit by the Jackets and Bulldogs. Those schools and others in neighboring states weren't knocking on Calhoun head coach Hal Lamb's office door to recruit Spector. However, in-state schools like Mercer and Georgia Southern did join the Tigers, Duke, and Wake Forest, believing in Spector's ability.
Spector received Clemson's offer on June 9, 2015, and committed months later on Aug. 15. Despite a dearth of offers, Lamb knew Spector was a D1 player and he let it be known to defensive coordinator Brent Venables.
"I remember going to his high school and his coach told me he was real excited about one. He thought he had one for a definite Division 1 kid, and he played corner," Venables said.
"I remember going to his high school and his coach told me he was real excited about one. He thought he had one for a definite Division 1 kid, and he played corner," Venables said.
Venables wasn't sold on Spector at corner but saw a good athlete with versatility.
"I didn't think he was a corner. I just saw a really good athlete. He played quarterback, played corner, played receiver, played safety. [He] really didn't play much linebacker, but he had a great frame and continued to grow. I loved his versatility."
Baylon's dad is Robbie Spector, played wideout at Clemson from 1987-90, and Venables was aware of the Clemson connection. In fact, Dabo Swinney actually knew Robbie.
"I've known his dad a long time," Dabo stated. "His dad was a receiver here, and he [Baylon] came to camp. We had our eyes on him a little bit, but he needed to perform in camp. I remember it very well."
Dabo recalls the moment he and Venables decided to offer Spector a scholarship.
"I was in the indoor facility, and right toward the end of practice, Brent brought him over to me and he said, 'Hey, coach, he's a guy. He can do it,'" Dabo explained. "So that was pretty cool to be able to tell his dad and be able to offer him a scholarship."
Last season, Spector's best statistical and impactful games were his two sacks versus Ohio State in the Fiesta Bowl and his nine tackles in the ACC Championship against UVA. He also had a solid performance in the 52-14 win over the Jackets. He made five tackles, one for a loss and deflected a pass that was caught for an interception by Tanner Muse.
The Clemson staff is known for having strong evaluation skills on prospects regardless of what star rating the recruit received from analysts. Spector is a fast, explosive and instinctive linebacker, which may be surprising to some, but not Venables.
"We evaluated him as both a safety and a linebacker and felt that if he outgrew safety, he could definitely play linebacker," Venables noted of his initial evaluation of Spector as a prep athlete. "But he was very twitchy and a lot of bounce to him. His change of direction, he's very fluid, explosive, great kid, excellent student, and a leader. [He] just had great leadership qualities and instincts. So, you know, they just had really good bloodlines, great family, and just tremendous athletes."
Baylon is one of three Spector children to attend Clemson. His older sister, Blair, was a cheerleader before graduating in 2019 and younger brother, Brannon, is a sophomore receiver who ironically committed to the Tigers on October 28, 2017 before a matchup with the Jackets. Brannon redshirted in 2019 and is now the backup slot receiver with eight catches for 58 yards.
The familiarity with Clemson's campus made the Tigers an easy choice for the Spector siblings and fulfilled a dream for each. Brannon has approximately two years left living the dream while older brother has a degree in hand and a pro career in sight.
"He's a great player," Swinney said of Baylon. "Their talent gets them here, and their skills develop. If you've got the work ethic, you're going to make it. But you've got to put the work in. You've gotta go earn it. Baylon is the epitome of that."
Never miss the latest news from Clemson Sports Talk!
Join our free email list
PRESENTED BY