Photo by © Joshua S. Kelly-USA TODAY Sports
Clemson Football
Lawrence and Etienne lead the Heisman race, but have bigger goals in mind
---

Feel the difference - The MOST DIGITAL CONTENT covering your CLEMSON TIGERS! Avoid clickbait and sites bloated with advertising!
---
In his 12 years so far at Clemson, head coach Dabo Swinney has recruited and welcomed incredible amounts of generational greatness.
Swinney has managed to annually fill his staff and roster with top-tier talent, keeping good on promises of unprecedented success and total culture overhaul.
Yet despite the numerous accolades he has played such a large role in attaching to Clemson, one piece of hardware has continued to slip from the Tigers' grasp.
No Clemson Tiger has ever brought home the Heisman Trophy.
When considering past rosters and unearthing the treasures of recent memory, that fact might shock some. Players that have shined under Swinney's reign — legends the caliber of Deshaun Watson, Sammy Watkins, C.J. Spiller — have never finished higher than third in voting for the award? As mind-boggling as it may come across, it's true. Those names are immortalized in Clemson lore, but even during their peak years, were never esteemed as the best players in college football.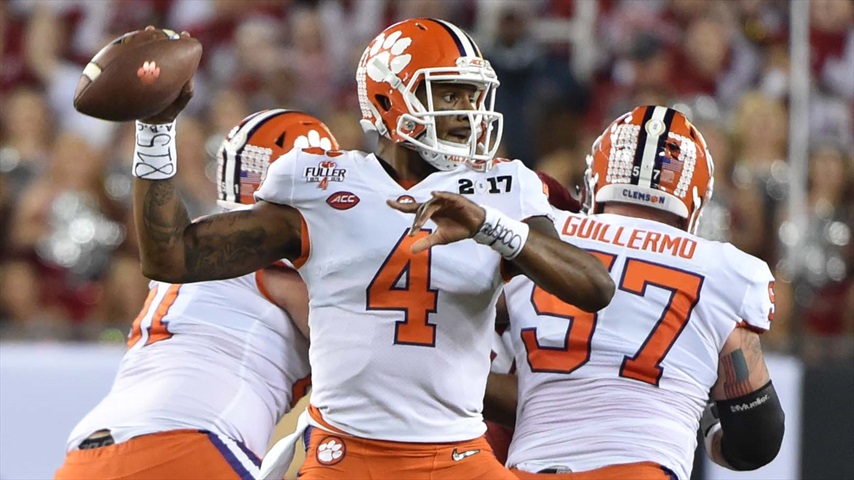 © Steve Mitchell-USA TODAY Sports
"We've had some guys around here that I've felt were very deserving," said Swinney at his Tuesday media availability.
While it's not quite been what one would consider a "pipe dream" for a Tiger to have won the Heisman in years' past, it hasn't always felt like the most achievable prospect. But this year, things in Tiger Town have changed. Clemson fans, coaches, and even media members are well aware that the Tigers possess arguably the two most outstanding talents college football can boast.
Quarterback Trevor Lawrence and running back Travis Etienne, Jr. might be the two best Clemson has ever seen at their respective positions. The college football world has taken notice, with ESPN placing the pair at No. 1 and 2 on their Heisman watch list.
Could this be the season that a Tiger finally stands tall in New York City, hoisting the Heisman for the nation to adore?
Lawrence came into the season as the overwhelming favorite to take home the hardware, but has since been flanked at the rear by his partner in the backfield. And if there's anyone who knows just how talented Etienne is, it's Lawrence, who's riding in the pilot of the Etienne-for-Heisman hype train.
"I haven't seen a better player in college football, personally," said the star quarterback. "Whether he wins it or not, the guy's unbelievable. You turn on a game and watch what he can do on every play, it's unbelievable."
Lawrence himself is focused on staying the course, despite the temptation of chasing the award.
"I can't sit here and say it wouldn't be awesome and really cool to win the award," he confessed. "But I just want to win. That's been my thing ever since I've been here. And it's true. I don't just say that because it sounds good."
Etienne's performance against Miami gained the senior running back the most traction in the race, but he echoed the sentiments of his quarterback following the game. Eyes on the prize: winning football games, not personal accolades and awards.
"To get the Heisman, cool," said Etienne. "It's a tremendous accomplishment. But if you're not winning games, they aren't talking about you in the Heisman race."
The pair continues to be defined not just by the skills they possess on the field, but the humility they exhibit off of it.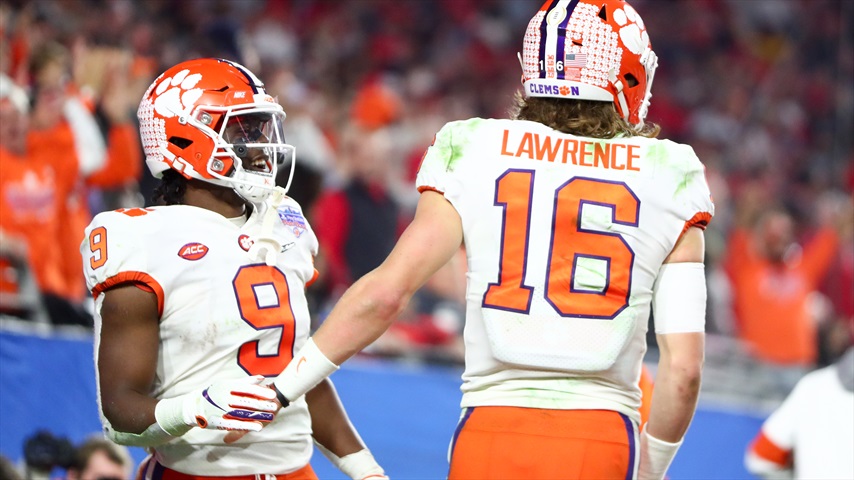 © Mark J. Rebilas-USA TODAY Sports
And for the two Tiger stars, there's a decent chance they board the same flight to New York and wind up at the December ceremony seated right next to each other. But whether or not either becomes the first Tiger to lift the most prestigious personal honor in college football, this final season admiring the Lawrence-Etienne tandem is sure to never be forgotten.
"Who knows how the people see things?" said Dabo Swinney. "But I know this: there's not two better football players in the country than T-squared, Travis and Trevor."
Never miss the latest news from Clemson Sports Talk!
Join our free email list