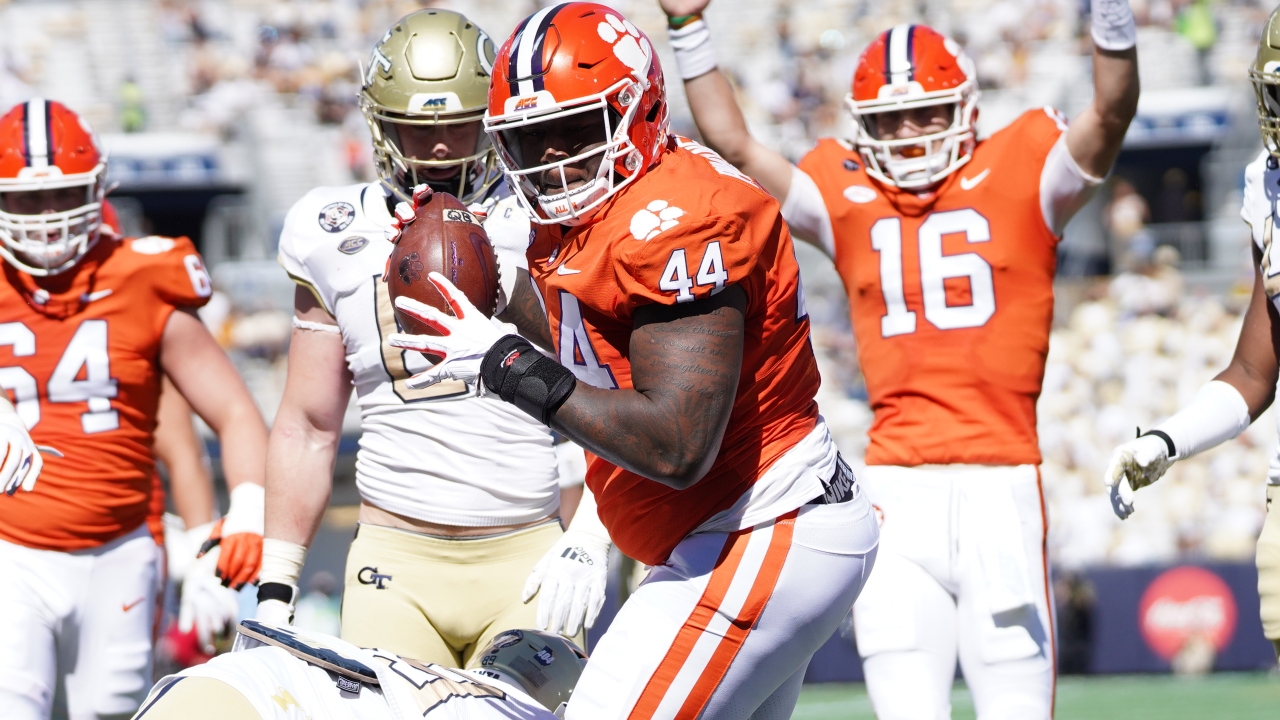 Photo by Courtesy of ACC Media Portal
Clemson Football
Any Given Saturday: Pinckney makes the most of his opportunity
---

Feel the difference - The MOST DIGITAL CONTENT covering your CLEMSON TIGERS! Avoid clickbait and sites bloated with advertising!
---
Nyles Pinckney didn't expect his number to be called on offense Saturday. But when Tony Elliott dialed up a goal-line play for the 300-pound defensive tackle, Pinckney answered.
Leading by a score of 24-7 just over halfway through the second quarter, a Trevor Lawrence 35-yard completion to a streaking Amari Rodgers had Clemson yet again pounding down the door of the Georgia Tech goal line.
First and goal from one yard out. The Tiger offense would have four opportunities to gain a single yard and punch yet another touchdown ticket. There was an avenue for creativity available to take, a chance for offensive coordinator Tony Elliott to flex his mental muscles on the Yellow Jacket defense.
"We practice it twice a week," said Elliott after the game. "On Wednesdays and Thursdays, we practice it. Always got to be ready."
And when Nyles Pinckney got the nod from Elliott, he was more than ready.
The Tigers utilized the "Jumbo Package," a set of play designs reserved for short, goal-line type situations. Often referred to as the "Fridge Package" by those inside Tiger walls, Clemson's designs are dialed up to let the big men on the roster bully their way in for touchdowns. The namesake of the package and former Clemson defensive lineman William "Refrigerator" Perry became famous for powering his way into the end zone for the Chicago Bears in Super Bowl XX.
When Elliott finalized the call, the Tigers sent two of their prime defensive stalwarts to man the backfield. Defensive end Bryan Bresee lined up as the play's tailback, while Pinckney stood in as fullback.
After the Tigers took a strategic timeout and had tipped their hand, Elliott sent the two big men right back out onto the field.
"We knew that when we showed it and then called timeout that they were going to be able to set up and have their big people in there," said Elliott. "But we told [the offensive line] 'Hey, it starts up front, you guys control the line of scrimmage.'"
Once Pinckney had been reminded to protect the football and use his massive frame to his advantage, he lined up and readied for the snap. Trevor Lawrence took the ball, swiftly handed it off to Pinckney, and the big defensive lineman did the rest, bulldozing through helpless Yellow Jackets for a touchdown — the first of his long, storied career as a Tiger.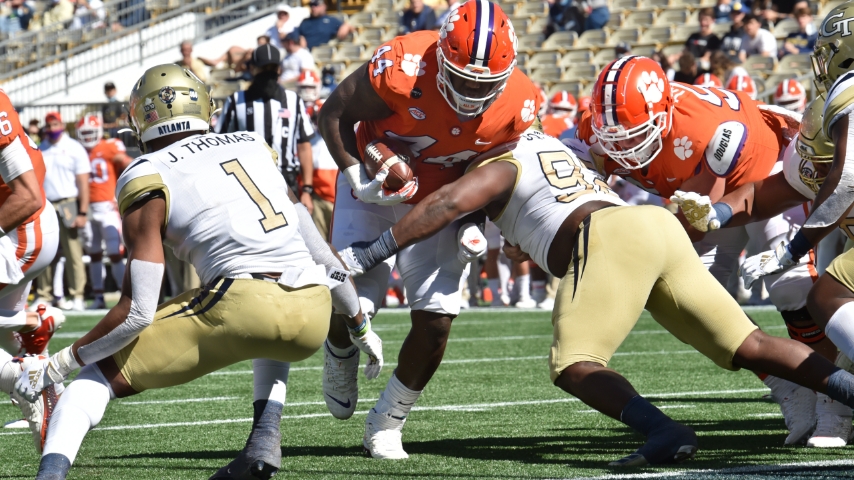 Courtesy of ACC Media Portal
After the game, Pinckney — a graduate senior — was asked what it meant for him to finally be the beneficiary of the Tigers' famed Jumbo, or "Fridge" Package. For Pinckney, it was less about scoring his first offensive touchdown and far more about the opportunity to run in the same shoes as unlikely Tigers of yesteryear who found themselves in the end zone.
"It's a great feeling," said Pinckney. "Especially after being here five years, seeing guys like Christian [Wilkins] and Dex [Lawrence] getting their chance on that package, and me finally getting my chance. And doing the best I can to get in the end zone when I got a chance."
Following his one-yard touchdown rumble in which he quite literally slung Tech defenders off of his body, Pinckney knew he had to celebrate. He was well-aware that it might be the only chance he'd have to display a signature touchdown dance and put on a show for the onlooking crowd.
The world was his oyster, yet Pinckney went in a different aquatic direction, busting into the famed "Shark Dance" from the 1999 football film Any Given Sunday.
"Our movie we watched last night was Any Given Sunday with Jamie Foxx in it," explained Pinckney. "I saw the celebration he had when he scored a touchdown and I told myself that if I get a chance to score this touchdown, I'm going to do it. And I didn't lose my mind with it… and then I told some of my teammates, and we did it as well. So that was a great feeling."
After the score, Pinckney's ecstatic teammates mobbed him, but the big lineman eventually made his way back to the sideline. Once he'd returned, his 15 seconds of offensive fame concluded following a piece of advice offered to him by Dabo Swinney.
"I told him to act like he's been there before," Swinney explained. "Which he reminded me that he had not been there before.
"So, we'll work on that moving forward."
Never miss the latest news from Clemson Sports Talk!
Join our free email list