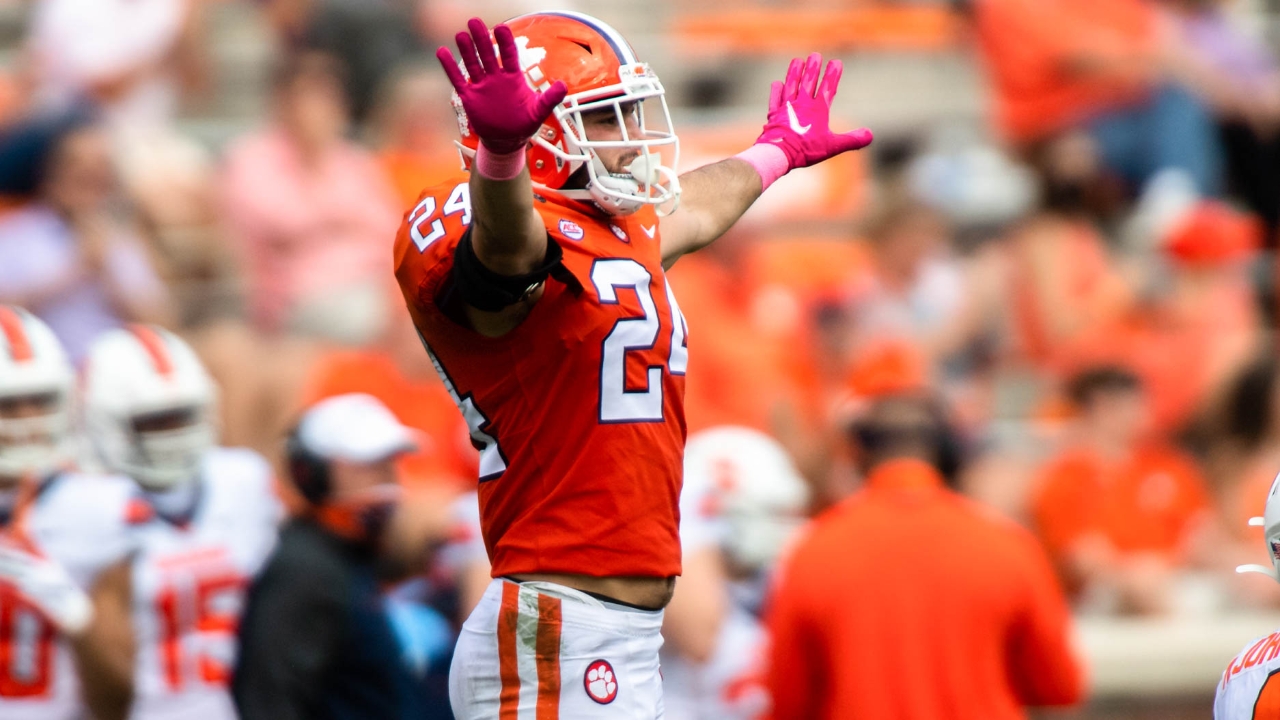 Photo by Courtesy of ACC Media Portal
Clemson Football
No Longer Unknown: Nolan Turner is leading Clemson's secondary
---

Feel the difference - The MOST DIGITAL CONTENT covering your CLEMSON TIGERS! Avoid clickbait and sites bloated with advertising!
---
CLEMSON, S.C – The Tigers defensive secondary came out of the gates this season a little cold but have been heating up over the last few games. Leading the charge in the turn-around is veteran safety Nolan Turner.
In the first two games of the season, the Brent Venables led defense struggled to create turnovers. In fact, they had zero interceptions after defeating Wake Forest and The Citadel. But over the last four games, they've flipped the switch and recorded a total of nine interceptions.
Turner, a relative unknown on the recruiting trail during his playing days at Vestavia Hills High School in Alabama, is now in the Top 10 nationally in interceptions. After taking strides forward during his time at Clemson, it's clear that Turner still doesn't get the national attention that some other players do, and that's not lost on Dabo Swinney.
"I don't think there is any question. He's as good a player as we've had at Clemson. He's as good a safety as we've had in my 18 years at Clemson. His knowledge, his understanding, his fundamentals, his technique-- I mean it's off the charts."
Huge words from Swinney, about a young man who many thought was just an offer that was made out of the goodness of his heart.
Turner's father Kevin played with Swinney at Alabama, and then the two worked together in commercial real estate before Swinney got back into coaching in 2003. In 2009, Kevin was diagnosed with ALS, which took his life in March of 2016 but not before his old teammate and working partner had a chance to let him know that his son, Nolan, had a full scholarship offer to play at Clemson.
The relationship between the two certainly gave Swinney an idea of who Turner would be as a human being, but seeing him on the field further confirmed that there was something unique and special about the underrated prospect.
"You get guys like Nolan. 'The only reason he's here is because the coach knows his dad. Oh, isn't that a sweet story? He ain't no good,' and that type of narrative. Nobody pays attention to him, and he just goes over there and puts the work in and develops. This guy is playing as well as anybody we've ever had," Swinney stated.
With Trevor Lawrence at quarterback and playmakers like Travis Etienne and Amari Rodgers, it is easy for Clemson fans to get distracted by the success of their high-flying offense. However, the phrase, defense wins championships, is said for a reason. Although Lawrence and company can seemingly put up points at will right now, their competition will be tougher in January.
"Guys get rated as five-stars most of the time just because of talent, but they don't necessarily have a football foundation," Swinney said of Turner being undervalued. "This is a developmental game. This is not a game you just plug a guy in and he plays."
Clemson's defense recognized that they needed to create more turnovers after failing to record a single interception through the first two games of the season.
Turner, who is perhaps best known for his game-winning interception vs. Ohio State in the 2019 playoffs, has led the secondary by recording three interceptions in the last four games, including one each in back-to-back games.
After getting his third interception of the 2020 season – matching his career total – Turner mentioned the defense's responsibility to help out their offense.
"Whenever we're on the field, our job is to get stops, create turnovers, create momentum for the offense. And today, I thought we did a good job playing the balls in the air, getting off the field." Turner said about Clemson's defensive efforts against Syracuse.
"Whenever we're on the field, our job is to get stops, create turnovers, create momentum for the offense. And today, I thought we did a good job playing the balls in the air, getting off the field." Turner said about Clemson's defensive efforts against Syracuse.
Turner has emerged as a leader in the secondary, and his leadership has begun to show its effect on his teammates. One such example came following a huge mistake made by the defense.
Clemson gave up a big reverse and safety Jalyn Phillips showed an incredible effort to chase down the receiver and prevent a touchdown. He then followed up that play with an interception of his own to flip the script.
After Phillips' interception, Turner spoke about how important the sequence was to the identity of Clemson's secondary.
"JP (Jalyn Phillips) came up with a huge pick to reward himself for his hustle to get down there and make a play off that reverse and get a stop. Next play, come back, get a pick. It's what it's all about, so super cool to see." Turner said.
That effort is what has now defined the Clemson program throughout Swinney's tenure, but it's guys like Turner who have led the way and inspired the type of effort seen on that play.
"That's what I'd say this program is all about. Just guys just giving great effort. He makes it all the way down there, 70 yards, makes a tackle on the five-yard line, goes out next play, gets a pick," Turner noted. "I told him, 'that's your reward for that effort, going down there and making that tackle, got rewarded with a pick.' It's just great to see a young guy get to go out there and give effort like that. It's easy to be on the backside and just kind of say 'crap, they busted a reverse and just kind of jog down there.' But he takes off, makes a great play, and then gets rewarded for it, you love to see that."
Now that the Tigers' secondary has figured out how to take the ball away, they will look to improve wherever they can to ensure that they are prepared for yet another championship run.
Turner recognizes that even though they have strung together some good performances, there is still some much-needed work to be done, and although they may have nine picks in four games, they have still been exploited on deep routes.
"We got to get better in those spots," Turner mentioned referring to a play where Joseph Charleston got beat on a deep ball down the sideline for an 83-yard touchdown to Nykeim Johnson. "Joe got beat on a deep ball. It happens especially if you're playing man to man. That's something we always work on as a back seven-- not giving up big plays and stopping deep balls. Just working on your technique and footwork. That's something we're gonna improve every week. We'll get it fixed."
Clemson's secondary will be looking for Turner to not only make big plays but help his teammates do the same. But after what we've seen from him during his career, no stage is too big for the senior safety, and Turner looks ready to dominate in the Tigers' defensive backfield, which might still be a surprise for some, but not for Dabo Swinney.
Never miss the latest news from Clemson Sports Talk!
Join our free email list
PRESENTED BY