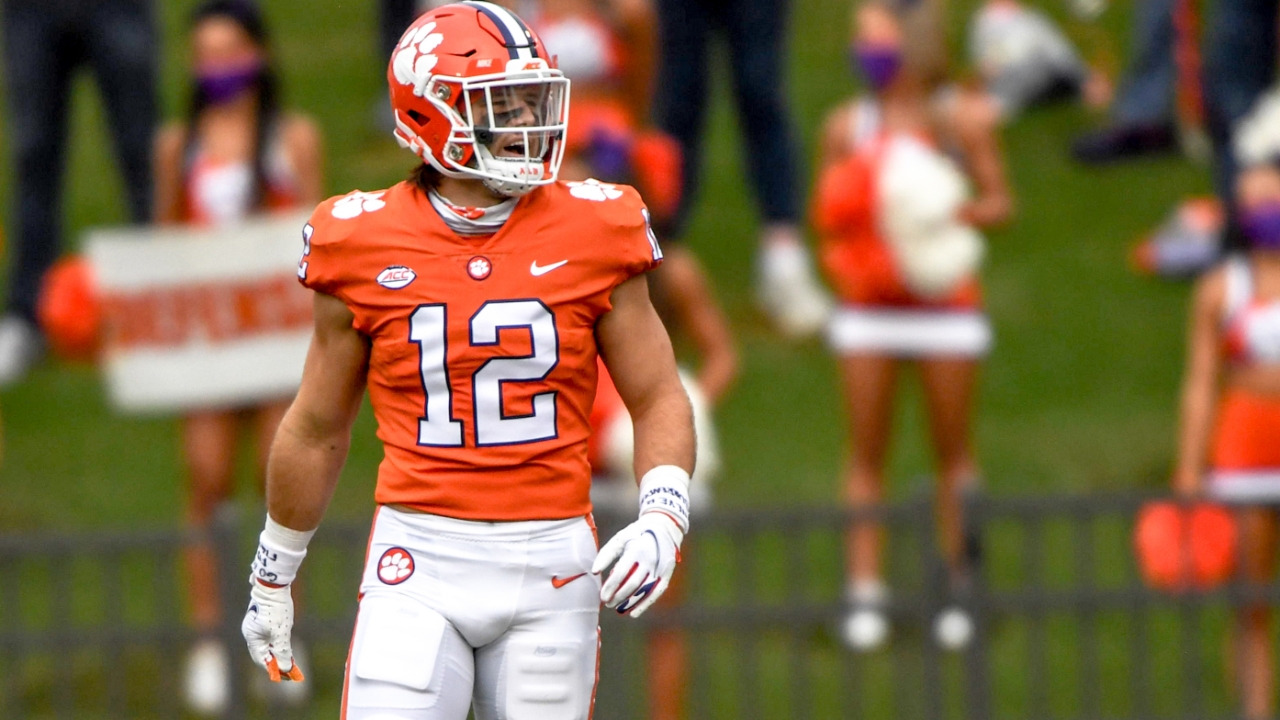 Photo by Courtesy of ACC Media Portal
Clemson Football
"T-Bone" or "Tasmanian": Call him what you want, Tyler Venables continues to impress
---

Feel the difference - The MOST DIGITAL CONTENT covering your CLEMSON TIGERS! Avoid clickbait and sites bloated with advertising!
---
CLEMSON, S.C. - When Dabo Swinney makes a Looney Tunes reference about your play, you're either doing something horribly wrong or absolutely perfect.
For Tyler Venables, it's undoubtedly the latter.
Bestowing the nickname "Tasmanian" upon Venables at his Tuesday press conference, Swinney raved about the freshman's play.
"He's like the Tasmanian everywhere he goes," said Swinney. "He's just flying around everywhere, all the time."
Swinney made little mention of Venables' actual first name of Tyler while speaking. For most of his press conference, he addressed Venables by his more common alias, "T-Bone," a nickname Swinney says he's called him since they first met.
"I've known him as T-Bone since I met him," he explained. "That's how Brent [Venables] introduced him to me. He was introducing me to all of his kids — Lany, Addie, Jake — and he's like 'And this is T-Bone.' So I have no idea [how he got the nickname]. But you think about this happy dog with a big ol' T-Bone in his mouth just eager to go, and that kind of represents him well."
Swinney admires "T-Bone" and his versatility within the Tigers' defense. Venables can play safety, nickel or dime, according to Swinney, given the "foundation of knowledge" he's built from growing up the son of a defensive coordinator.
But the defensive side of the ball has never been the youngest Venables' only stronghold on the game.
Back at Daniel High School in Central, S.C, Venables threw for 73 touchdowns and rushed for 38 more, totaling 6,902 yards with his arm. His proficiency as the leader of Daniel's offense garnered him a nomination for 2019's Mr. Football in South Carolina.
"He was as good a quarterback as there was in this state," professed Swinney. "This guy's a baller, man. He could throw it; he could run, he was a really good quarterback."
Venables was all over the place at Daniel, validating the "Tasmanian" nickname he has earned. Taking snaps at quarterback, safety and even as a punt returner, Venables was a rare triple-threat weapon coming out of high school.
Swinney says he could see the potential Venables had early on. Venables' ability to take control of the defense was the aspect of his game that caught the intrigued eye of the Tigers' head coach.
"We offered him in the tenth grade," Swinney said. "I'm like 'This guy here, there ain't no doubt on this guy. He's going to be a great safety.'
But during his senior year of high school, finding time at safety was difficult for Venables. Being Daniel's star quarterback, the coaching staff limited the amount of snaps Venables was allowed to line up at the defense's back end.
"They would hardly let him play [safety] his senior year because he was their quarterback. So he only went in there if they really, really had to get a stop of somebody."
As a Tiger, however, Venables is getting all the reps at safety he desires. And with every week, his "Tazmanian"-like presence within the defense looms even more massive.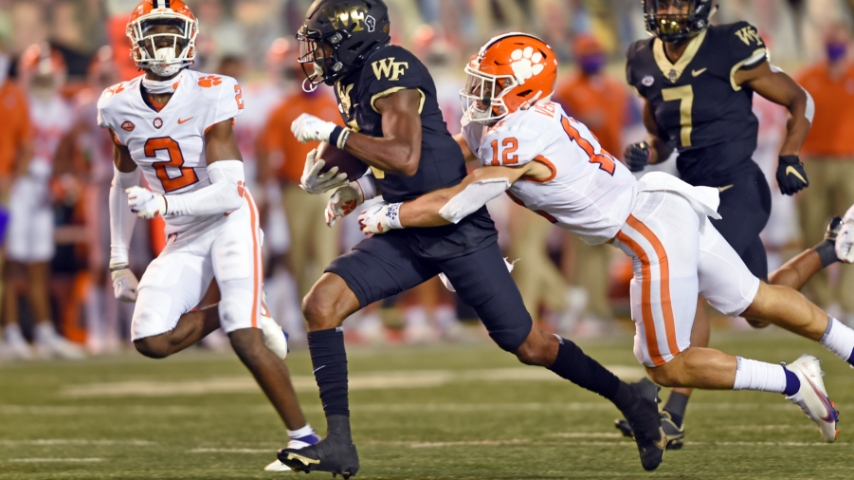 Courtesy of ACC Media Portal
So far at Clemson, the transition to becoming a full-time safety has been seamless for Venables. Against Syracuse on Saturday, the freshman stepped up in all the right moments, piling up a team-high five tackles.
"He's a good one, man. He's a ball of fire."
Venables will look to continue burning bright early in his career as the season marches on.
Never miss the latest news from Clemson Sports Talk!
Join our free email list
PRESENTED BY