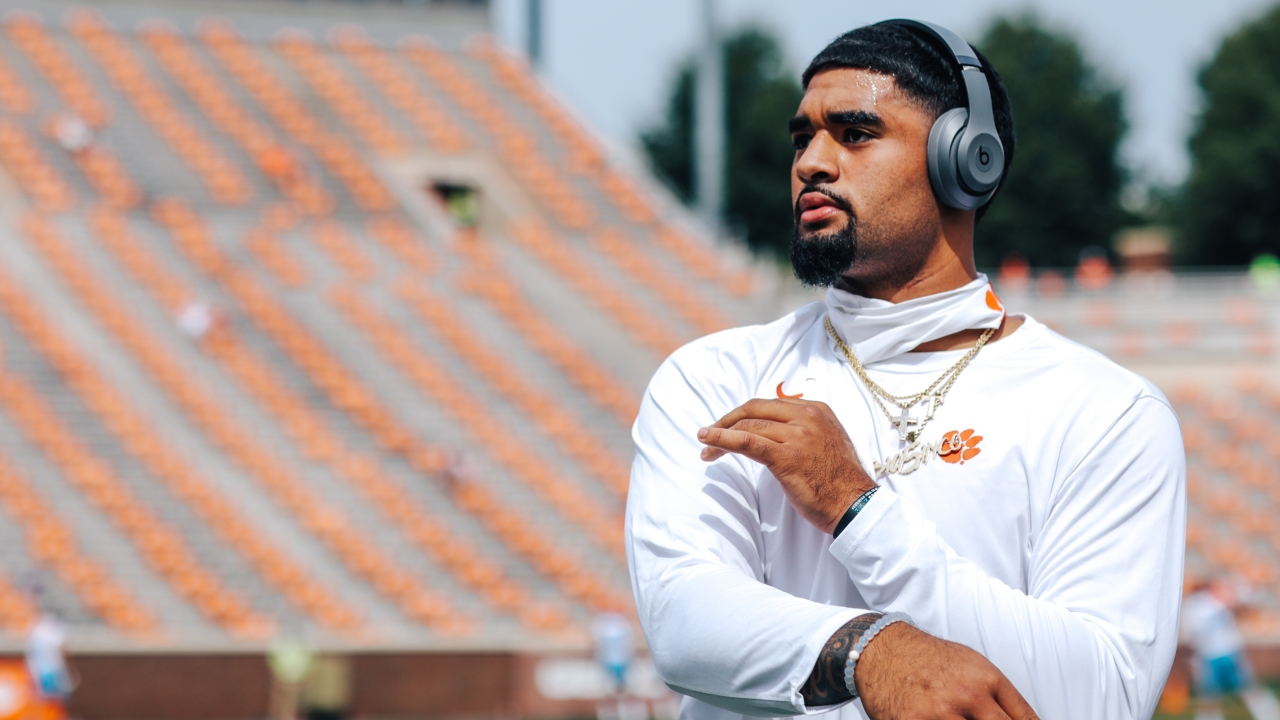 Photo by Twitter: @ClemsonFB
Clemson Football
From California to Clemson, D.J. Uiagalelei is built for the biggest moments
---

Feel the difference - The MOST DIGITAL CONTENT covering your CLEMSON TIGERS! Avoid clickbait and sites bloated with advertising!
---
CLEMSON, S.C. - On a chilly California night in December of 2019, things didn't look promising for the 2nd-ranked St. John Bosco Braves.
It was the biggest game of their season — the national championship — and hardly anything had gone according to plan after 30 minutes. By the time the clock ran out on the first half, they'd fallen behind 28-12 to a team the Braves knew rarely allowed their opponents to play catch-up.
The No. 1 ranked Mater Dei Monarchs were the foe that night, a giant of a program that St. John Bosco had never managed to hit with the right stone. For two straight years, the Braves had made the championship, and on two consecutive occasions, their hearts were snapped in two at the clutches of the perennial powerhouse Monarchs.
The clock struck zero, and a nightmarish first half finally ended. Both teams began their trek to the locker room, St. John Bosco's one of far less jubilance than their opposition.
But as the benches slowly emptied, one person remained seated.
That lone player was St. John Bosco quarterback and high school superstar D.J. Uiagalelei.
Uiagalelei's eyes stayed glued to the tablet in his hand, headphones firm over his ears. The outside world couldn't distract him that night, as his entire world was encapsulated on the screen in front of him. He was focused, studying, doing whatever it might take to make the right adjustments going into the second half.
He wasn't going to have his heart broken. Not again. And most certainly not by the same team who had crushed his championship hopes both seasons prior.
After soaking in a few more moments to himself, Uiagalelei finally stood up and walked into the locker room with his teammates.
The player that emerged 15 minutes later wasn't the same.
Uiagalelei led the Braves to 27 straight second-half points as St. John Bosco rallied to win 39-34. After a last-ditch Mater Dei hail mary fell into Brave hands, an emotional Uiagalelei rushed the field.
The senior quarterback couldn't have prayed for a better curtain call. He wrapped his arms around his teammates and rejoiced.
Uiagalelei had exorcised his only remaining demon on the gridiron, finally taking home the championship he coveted so passionately.
"I've been waiting four years for this," and out-of-breath Uiagalelei told cameras after the game. "Mater Dei… I've lost to these dudes two years in a row. But I told my teammates, we ain't leaving this place without a W. And that's what we did."
The masses swarmed Uiagalelei after the victory. Teammates, classmates and media members alike gathered around the senior, who had just played one of his final games in a St. John Bosco uniform. Dozens of children surrounded the local icon as well, hoping to score a picture or an autograph from the pride of Bellflower.
Standing at 6-foot-5 and weighing nearly 240 pounds, Uiagalelei had already developed the build of a fully-grown man at that point.
And even though it was clear that Uiagalelei was well on his way to becoming a man, it was on that glorious night that it became undeniable to everyone looking on: he was the man. Uiagalelei was the apple of an entire city's eye, the star of a show he directed with a masterful touch.
Yet despite how sweet it tasted — to finally topple his arch-rival, win the championship and celebrate with those who admired and loved him — there was a tinge of bitterness in the air.
St. John Bosco would still have one more game left to play after that night, but Uiagalelei's time as a Brave was coming to an end.
That historic title-clinching victory proved to be the bow on top of the gift Uiagalelei was to St. John Bosco's football program.
The stadium lights soon fell dim, and Uiagalelei's high school tenure had all but finished. He took his final snap just under two weeks later, conducting his offense to a 49-28 victory over De La Salle to cap off an undefeated senior season. His high-school career had triumphantly come to a close.
His next stop: 2,300 miles across the country.
It was time for Uiagalelei to set up shop on the opposite coast, in the quaint southern town of Clemson, S.C.
The now-freshman quarterback would have to start a new journey, waiting his turn behind arguably the most remarkable talent his university had ever seen.
Uiagalelei enrolled early, moving into Tiger Town in the middle of January.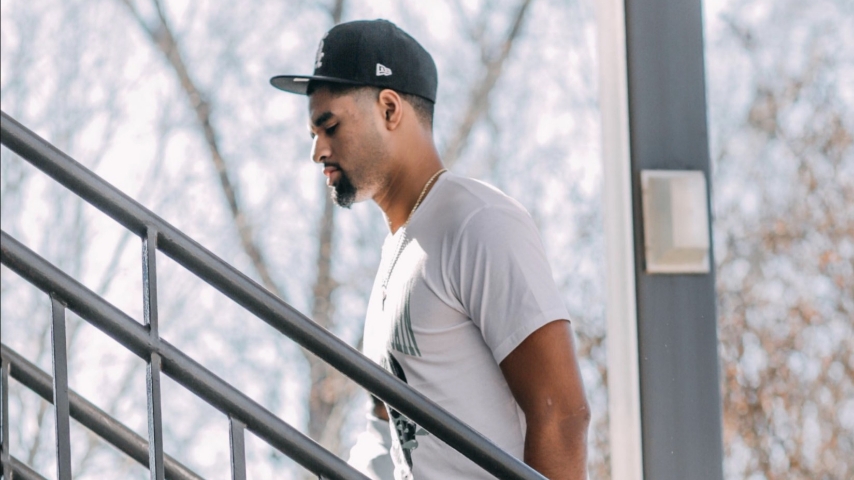 Twitter: @ClemsonFB
"It's been a long time coming for this day," he said as he unpacked his bags in his dorm. "It's pretty cool. It's far, though. Far away from my parents and where I'm from. But it's going to be a good thing."
Despite the distance between Uiagalelei and his parents, they have proved to be the freshman's biggest fans. Even with the limited action Uiagalelei has seen in six collegiate games so far, the love shared within the entire family is easy to see.
"My mom sends me videos of her watching the game with my dad," Uiagalelei said. "It's super exciting. It's surreal for me."
As surreal a journey it's been so far, Uiagalelei knew that his first year was never meant to be his "coming-out" season. By committing to Clemson, the freshman signal-caller understood that his first reality would be that of a backup quarterback, at best.
Even after being "the man" in high school, that was a situation Uiagalelei was more than at peace knowing.
And how could he not be? Uiagalelei stands in awe of Clemson starting quarterback Trevor Lawrence just as much, if not more, than Tiger fans themselves. After all, he gets to work with him almost every day.
"Trevor's the best quarterback in college football," he said. "For me to get to learn under him, I just try to see what he does and take notes… pick his brain here and there."
And for the entirety of the nine months since Uiagalelei set foot on campus, that's all his coaches and teammates have expected him to do: Hone his craft while learning from one of the best.
Uiagalelei has tasted slivers of action throughout the season, but nothing meaningful enough to showcase his full potential. And that was the plan all along.
But on Thursday evening, the college football world stood still, frozen in disbelief. That plan — the one where Uiagalelei would be groomed steadily throughout this year to become the Tigers' quarterback of the future — would have to be sped up.
Uiagalelei's slow progression into Clemson's leader — for one game, at least — had arrived far sooner than anyone had expected.
Uiagalelei — the five-star recruit and highly-esteemed freshman — would be tasked with leading the Tigers to victory. Not in 2021 or beyond, but just seven games into his collegiate career.
The question on the minds of many: Was he ready?
There was no questioning his natural talent and strength, but was the freshman prodigy ready to step in and grab the reins of Tony Elliott's offense? Could he take charge of his teammates and command them to victory for however long the Tigers needed it?
According to Jason Negro, Uiagalelei's coach at St. John Bosco, not a single doubt should linger in anyone's mind.
"He's going to take it in stride," said Negro in an interview with Clemson Sports Talk. "He has the mindset of taking it play-by-play. He's not going to try to do too much in any given moment."
Negro made a note of the freshman quarterback's support he'll have on Saturday, both in-person and back home.
"His family will be in the stands, and all of us here on the west coast are going to be supporting him. We're going to lift him up on our shoulders. We know that the big guy is going to do some really good things."
So far this season, Tiger fans have seen Uiagalelei show proficiency with his legs. He ran for two touchdowns vs. The Citadel on Sept. 19, his first and only two at Clemson so far. The one aspect of Uiagalelei's game that Negro says is yet to take center stage as a Tiger: his passing ability.
"What you guys haven't really been able to experience yet is the true grace and power he displays when he throws the football," said Negro. "The guy just has a knack for being able to put the ball in tight windows; He's able to make the correct reads. He's able to change the trajectory of the ball… He's got the complete skill set that is needed to not only play at Clemson, but to potentially play in the NFL. And you guys are going to be able to see that once they unleash the beast that's about to happen tomorrow."
The promising words from Uiagalelei's former coach bring peace to an unsettled Tiger faithful. Confidence in the 6-foot-5 quarterback couldn't be much higher, but going into a game without Trevor Lawrence behind center is a reality Clemson fans haven't stared down in over two years. More than anything, it's merely a fear of the relative unknown.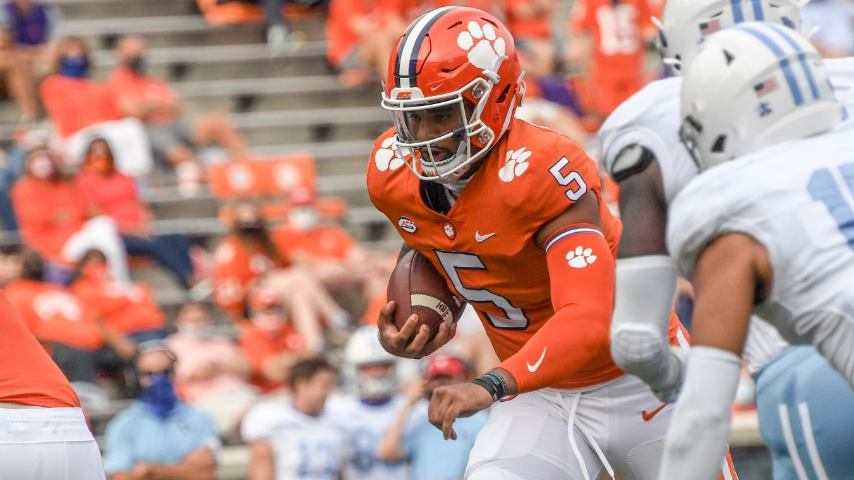 Courtesy of ACC Media Portal
But Tiger fans have little reason to worry. Uiagalelei has never been afraid to step up when called on, to tuck all outside noises away and do whatever it takes for the good of the men he lines up with.
Clemson's prized freshman is built for these moments, moments where he's handed the opportunity to prove his worth and write his own fairytale ending. A chance to remind everyone exactly why he's "the man."
Uiagalelei embraces and performs in situations such as these. That's plain to see.
Just ask Mater Dei.
Never miss the latest news from Clemson Sports Talk!
Join our free email list
PRESENTED BY