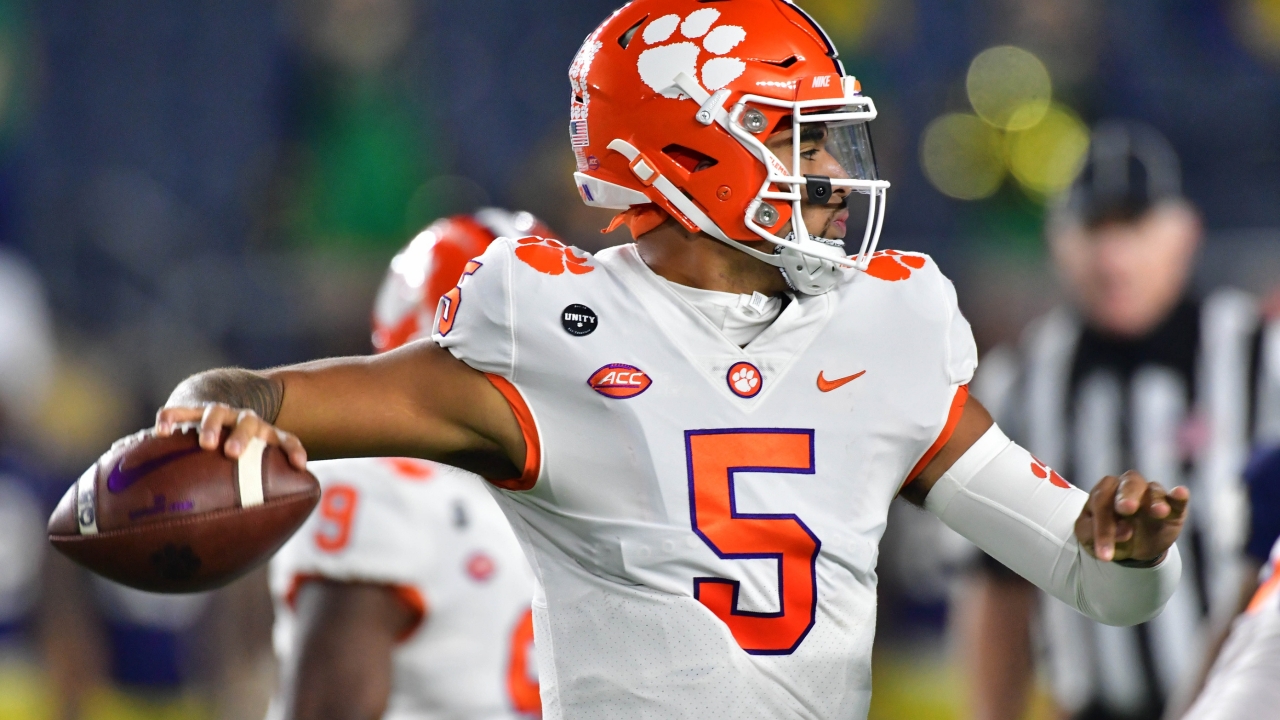 Photo by Courtesy of ACC Media Portal
Clemson Football
Focused on the Future: Clemson's loss at Notre Dame will only make them better
---

Feel the difference - The MOST DIGITAL CONTENT covering your CLEMSON TIGERS! Avoid clickbait and sites bloated with advertising!
---
It was heartbreaking. Streaks upon streaks came to an end, but after Notre Dame fans rushed the field after securing a 47-40 win over No. 1 Clemson in double-overtime, you couldn't help but look towards the future.
Clemson's streak of 28 consecutive ACC wins ended, one shy of the league's all-time mark. Clemson's 39 consecutive non-bowl wins-- over. The Tigers lost for the first time on a Saturday since the weekend after President Trump was elected. Oddly, it happened on the weekend after President-elect Biden surpassed 270 electoral votes. Safe to say, it's been a while.
On and on, down the list of incredible numbers and notes, from a run of success rarely seen in college football, one thing that didn't change is what the Tigers will continue to do in the future.
"We are not an easy out," Swinney said after the contest. "You tip your cap to Notre Dame. They earned it. I love my guys, and I am so appreciative of their effort and fight."
True freshman quarterback D.J. Uiagalelei was simply phenomenal, throwing for 439 yards on 29-44 passing with 2 TDs passing and one rushing score. It was a dazzling performance filling in for the top player in America, Trevor Lawrence.
"He's special. I mean, are you kidding me? You watch this guy play. He's going to be awesome," Swinney stated about his future gunslinger.
The 6'5 245-pound quarterback is far from a finished product, but facing ample amounts of adversity, he stepped up time and time again.
Courtesy of ACC Media Portal
"Extremely proud of D.J. being ready for the moment," offensive coordinator Tony Elliott said after the contest. "Not flinching under the magnitude of the moment. For him not to lose composure, he's got a warrior mentality, a champion heart."
One week after trailing Boston College 28-10 at one point, Uiagalelei found himself down 23-10 on the road in South Bend, partly because of another botched Travis Etienne carry. On a pitch to the senior running back, he took his eyes off the ball, and Jeremiah Owusu-Koramoah caught the tipped ball and raced to the endzone for the score.
For Etienne, who has never had many issues with ball security, it was a second disastrous fumble in as many weeks-- placing Clemson in a hole on the road against one of the top defenses in college football. Still, the Tigers didn't give in. They kept their focus on what was ahead.
"We are going to live and die with Travis Etienne," Elliott said. "Tough game overall, but he battled back and put us in a position to win the game."
Throughout the contest, there were true freshmen and redshirt freshmen making plays on both sides of the ball. At times, NBC's cameras would cut to two or three Tigers after a big play, and the laundry list of young players involved in the game was unbelievable. It was like two great boxers in the ring hammering away at one another, and the youngest Tigers were ready for the fight.
"I've never been more proud of a team. They fought with every ounce of everything they had. Our guys battled their tails off. We had our chance to win the game in regulation— we didn't get it done."
"Congratulations to Notre Dame. It didn't go our way, but it's an instant classic," Swinney said. "Both teams displayed incredible competitiveness. Incredible heart. In the end, we made a couple of mistakes, and they made more plays than we did.
"I've never been more proud of a team. They fought with every ounce of everything they had. Our guys battled their tails off. We had our chance to win the game in regulation— we didn't get it done."
In the most crucial moment of the fourth quarter, needing just a first down to essential close out the game, the top-ranked Tigers couldn't get it done. A series of poor decisions and bad breaks went against them in the final moments of regulation.
With 2:10 left in the game, Clemson took over, leading 33-26 at their own 47-yard line. Uiagalelei carried the ball for a yard, and Notre Dame quickly called timeout with 2:06 left. The next two plays set the stage for the Fighting Irish to tie the game with a 91-yard scoring drive.
On second down, Etienne was dropped for a 5-yard loss, but a holding call allowed the clock to stop without Notre Dame having to use a timeout, even though they declined the penalty, setting up a 3rd-and-14 situation with exactly 2:00 on the clock. The next play, the Tigers tossed a swing pass to Etienne in the flats, but instead of falling inbounds, he was knocked out, stopping the clock again and preserving plenty of time for Notre Dame.
The Irish took over with 1:48 left and raced down the field for the tying score with just 0:22 on the clock, and one could only wonder if the mounting injuries played a role in the final drive and overtime.
"This team is made of the right stuff. We've got a banged-up team. We've got a lot of guys out. We will get back at it in Tallahassee in a couple of weeks," Swinney said, looking ahead to the Tigers' next game.
In that upcoming contest against Florida State, after a bye week, you can expect to see more and more of the young talent getting plenty of action-- more focused than ever.
"It was a hurt locker room. People don't know how much these guys put in," Swinney said. "It hurts. You put everything you've got into something, and it doesn't go your way? It hurts."
The team and Clemson fans are feeling that hurt right now, but if you just keep your eye on the windshield and not the rearview mirror, you will see that with all the young talent assembled in Tiger Town, perhaps another shot at Notre Dame isn't too far off. That makes this loss much easier to bear, knowing what could come in a few weeks.
It also doesn't hurt to know that the future is as bright as it's ever been for Clemson-- and given their recent run of success, that says everything you need to know about this team.
Never miss the latest news from Clemson Sports Talk!
Join our free email list