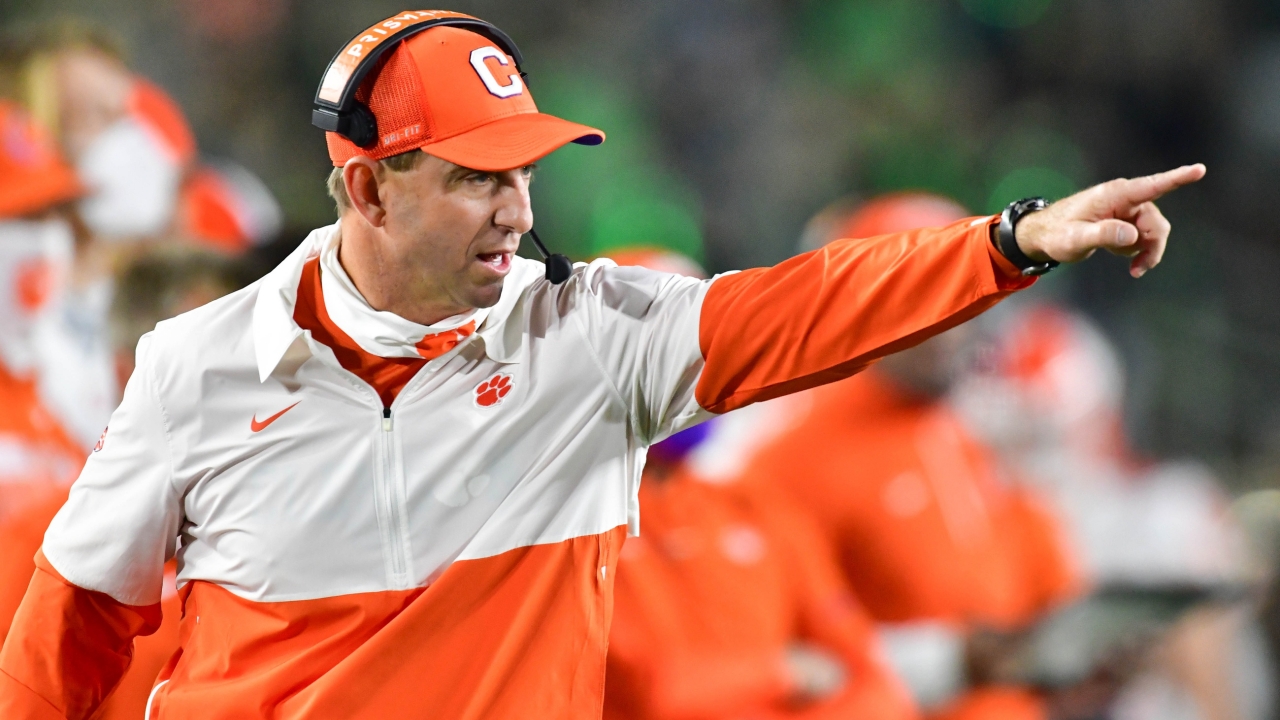 Photo by Courtesy of ACC Media Portal
Clemson Football
Swinney on adversity: 'It either shines you up or grinds you up'
---

Feel the difference - The MOST DIGITAL CONTENT covering your CLEMSON TIGERS! Avoid clickbait and sites bloated with advertising!
---
The last time Clemson lost on the gridiron, they had to wait nine long months to get back out on the field to kick start the 2020 season. Nine months of waiting, hoping, and then praying that their year didn't come to an end due to COVID-19 before it even got started.
Fortunately for the Tigers, they won't have to wait nearly as long to get back at it as they ride through an open date before traveling to Tallahassee next weekend to kick off the final quarter of the regular season.
Looking back on Clemson's 47-40 loss in double-overtime at Notre Dame won't do anyone any good, and we've not dwelled on it outside of analysis of what went wrong and listening to Dabo Swinney that's the mindset of this team, even though there are plenty of ways they can get better.
"Obviously, a tough night for us. I always tell our team-- three things you don't get back: time, words, and opportunity," Swinney stated on Monday. "That was certainly one that got away from us for sure. We got to flush it-- keep moving. That's what we've always done around here, whether we have a big win or a heartbreaking loss. We've got a windshield mentality."
Clemson's second bye week comes at a tumultuous time for the college football season as we are seeing the most explosive COVID-19 numbers since the pandemic began. With little to no wiggle room remaining, the Tigers have to heal from a rash of injuries. They hope that there are no effects after Notre Dame students rushed the field to celebrate their most significant win in 25 years, leaving Clemson players surrounded by the Irish faithful.
Already three SEC games are off the docket this weekend, including Alabama and LSU. Last Saturday, there were ten contests canceled, and the threat for more to pull off the lineup before the weekend is a distinct possibility.
"We lost a bunch of people, (Bryan) Bresee went down, (Matt) Bockhorst went down. (Lannden) Zander's went out (Nolan) Turner went out. Sheridan (Jones) went out (Justin) Mascoll went out. I mean-- (Andrew) Booth went out. (Frank) Ladson went out," Swinney said in disbelief. "It was just a crazy, crazy thing. But the guys continued to battle."
Of the injuries mentions, Ladson's seemed to be the most significant as Swinney believes that he will be out for a couple of weeks with a foot injury. The best news might have been that the former five-star stud defensive lineman Bresee will be good to go.
Watching his team fight through all of the injuries while being led by a true freshman quarterback, in the absence of Trevor Lawrence, left the two-time national championship-winning head coach in awe.
"Man, I'll jump in a foxhole with this group any day of the week. I just love everything about this team. It's special. What I saw as a coach, that's all you can ask. I saw heart. I saw belief. I saw toughness. I saw a will to win. I saw grit. I saw courage. I saw a team fight with everything they had," Swinney noted.
"And to me, that is special. Those are the hard things that that you have to have to be a special team. Those are the ingredients for a championship team."
That championship-caliber team will need to run the table in their final three ACC games, plus win the conference title to secure a spot in the College Football Playoff for a sixth consecutive year.
"I'm just really proud of our guys. If we learn from it, if we grow from it, and we can play a little cleaner," Swinney stated. "If we can do those things, then a will be where we need to be. We got to keep moving forward, man. That's what it's all about. No matter what happened in that game. This is just part of this team story, this team's journey."
Fortunately for Clemson, Trevor Lawrence will return next Saturday, giving the Tigers a steadying hand, even though the offense looks to be in good hands even without the 6'6 star, as D.J. Uiagalelei shredded the record books passing for more yards (439) against Notre Dame than any quarterback in college football history.
"As I told him tonight, and anybody can handle the good times, we're judged by how we handle the tough ones. We'll bounce back," Swinney said. "I mean, a little adversity for us-- it either shines you up or grinds you up. Man, it's all about what you made up, and this group's made in the right stuff, no doubt about that."
With very winnable games remaining against Florida State, Pitt, and Virginia Tech, the Tigers seemed destined to face Notre Dame again in the ACC Title Game. Everything that would have been on the line had they won on Saturday will still be on the table, except Clemson will get to carry an edge into that game after tasting bitter defeat in South Bend.
"The only thing off the table for this team," Swinney said. "It just can't be undefeated."
Never miss the latest news from Clemson Sports Talk!
Join our free email list
PRESENTED BY