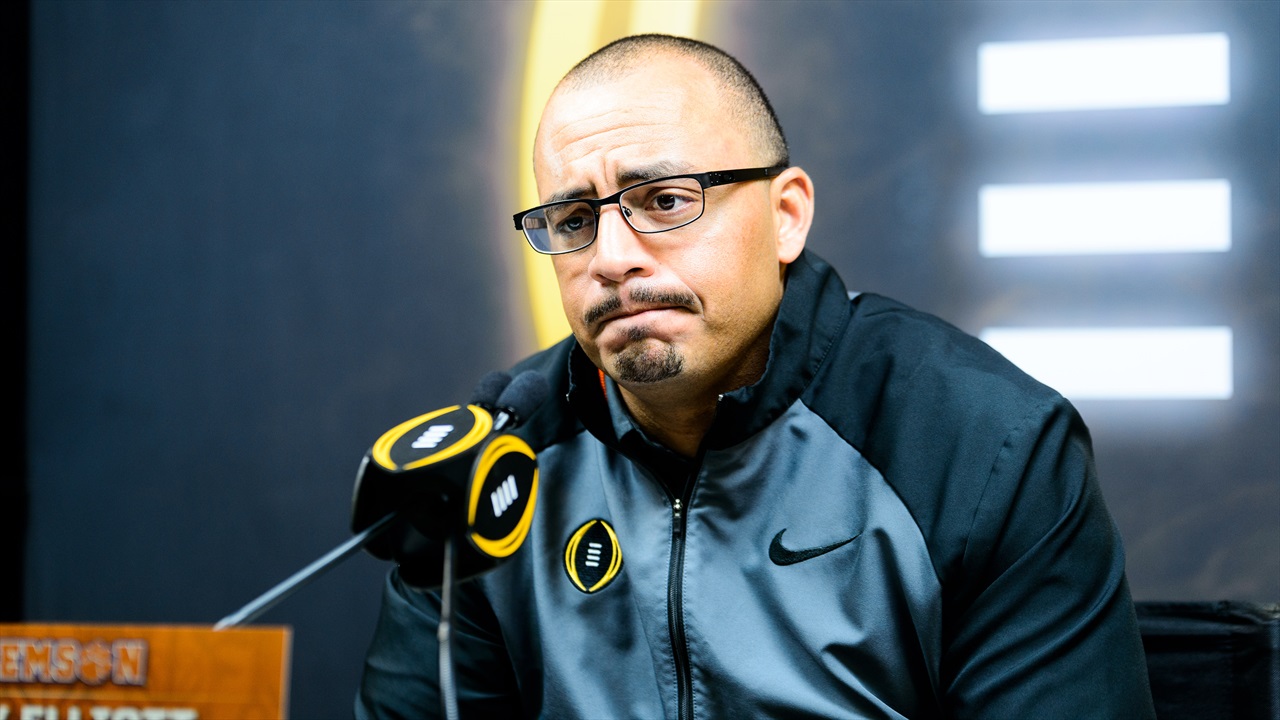 Photo by © David Grooms/Clemson Sports Talk
Clemson Football
Tony Elliott is focused on one program: Clemson
---

Feel the difference - The MOST DIGITAL CONTENT covering your CLEMSON TIGERS! Avoid clickbait and sites bloated with advertising!
---
Sunday afternoon, the South Carolina Gamecocks parted ways with head coach Will Muschamp after nearly five seasons. In the midst of a global pandemic, there were observers outside the Garnet and Black program who believed that the odds of a coaching change this season were slim.
Yet, here we are.
With no traditional "cupcake" games to pad a resume in 2020, South Carolina relieved Muschamp of his services after a 2-6 start. Perhaps the biggest issue was that the defensive-minded coach's squad allowed 52, 48, and 59 points in the Gamecocks' last three outings.
Asked about the situation in Columbia, Clemson's Tony Elliott said that he could absolutely relate, and it's not a good feeling.
"Well, first and foremost, you feel for Coach Muschamp. You feel for all those coaches. I've said it before-- it's a coaching fraternity. You don't want to see it, Elliott noted. "But I went through it when I was at Furman-- where we got fired. There's so much uncertainty unknown. You start to question yourself. That's not a good situation for anybody. "
Since Muschamp's announcement, star cornerback Jaycee Horn left the program to prepare for the NFL Draft, a simple indicator of what goes through players' minds on a team with a midseason coaching change. The opposite corner Israel Mukuamu, who had an injury-plagued season is also opting out the remainder of the season.
"You think about the players, man. Those players, they went there to play for him. They're invested in him. They're invested in the program," Elliott said. "It's been a crazy year. Obviously, I don't know all the details surrounding that, but definitely, my heart goes out to the coaches and the players. Because again, this wasn't what they were working towards. They were working towards a different outcome, and unfortunately, it didn't unfold that way."
Now, with an opening at the only other Power Five school in South Carolina, Clemson's two coordinators' names have already started to surface given the recent success in Tiger Town. But Elliott, a former Broyles Award winner, as the top assistant coach in college football, says you don't have to worry about his focus right now.
"This is the time of year where I get frustrated just because my name gets thrown out there. And you guys know, hopefully, my track record speaks for itself."
"This is the time of year where I get frustrated just because my name gets thrown out there. And you guys know, hopefully, my track record speaks for itself," Elliott stated. "I'm focused on these players and the staff right here. They've been too good for me to even consider any other jobs at this time."
The No. 4 Tigers have three regular-season games remaining before a potential berth in the ACC Championship and the College Football Playoff for a sixth consecutive season.
"Right now, man, I'm focusing on Clemson. Being the best that I can be," Elliott said. "As we started this conversation, we've got some things we got to clean up offensively. That's my focus right now."
Pressed to learn about how he avoids the noise, Elliott said it's simple.
"I don't answer my phone, to be honest with you."
As for the inquiries from the outside, Elliott said it is all about being open and honest.
"I'm just transparent with people. I tell them, 'Hey, look, this is who I am. I'm focusing on what I'm doing,' Elliott noted.
He also stays off Twitter but says that he has to put a bug in his family's ear as a gentle reminder.
"I kind of remind my family, don't say anything-- (don't) bring me up. Just let it be because again, it's about Clemson. It's about these young men," Elliott said. "We are in 2020, these guys have invested so much during this pandemic, and it would be really selfish."
Eventually, Elliott's time will come, much like his former co-offensive coordinator Jeff Scott who took the USF job after last season concluded.
"There'll be a time and a place, but right now, we're talking about November 16," Elliott reminded the media. "We've got to bounce back and go focus on the biggest game of the year, which is Florida State."
Never miss the latest news from Clemson Sports Talk!
Join our free email list