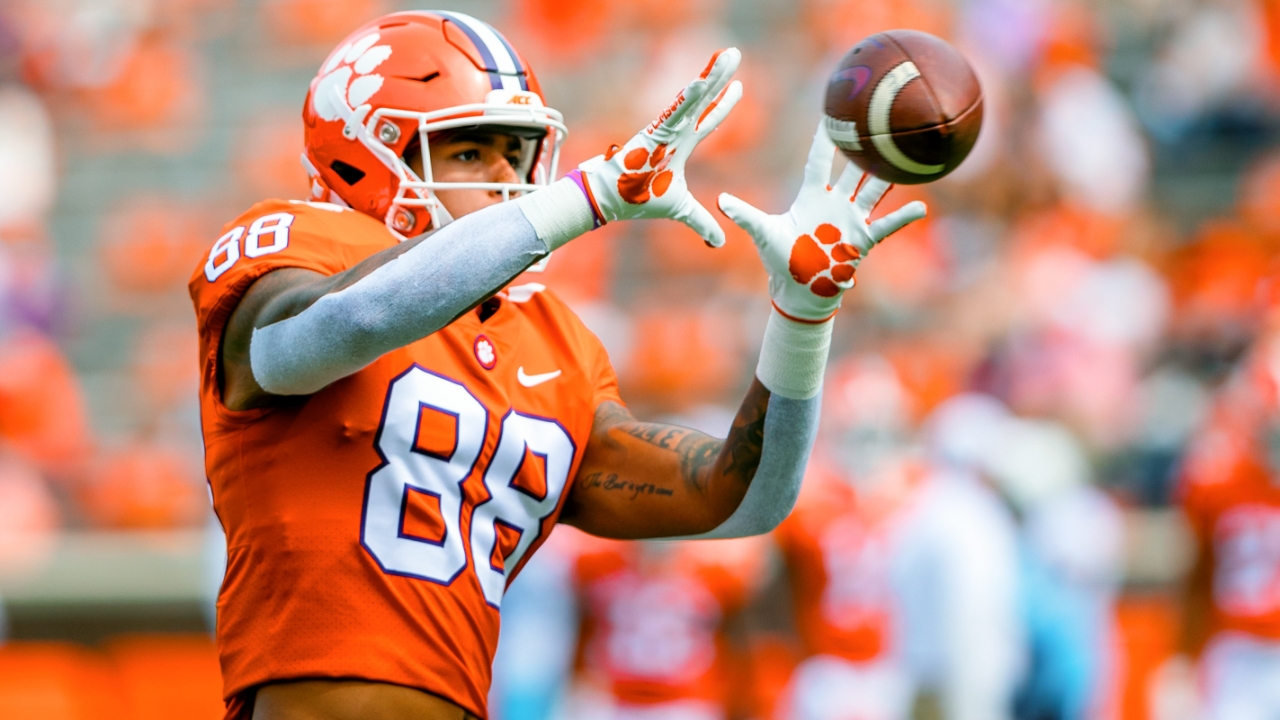 Braden Galloway
Cade Stewart
Chez Mellusi
Clemson Football
Braden Galloway on Clemson's self-scouting: 'We made some costly mistakes'
---

Feel the difference - The MOST DIGITAL CONTENT covering your CLEMSON TIGERS! Avoid clickbait and sites bloated with advertising!
---
Braden Galloway
On the off week:
"It was a lot of rest. Mentally, still watching film, still watching college football and things like that. But physically just give my body a break-- banged up my ankle a little bit, so just really doing rehab and stuff on that in my house. Just trying to get back t0 100% for this week."
On what they learned after self-scouting:
"I feel like we just learned (that) we can't do things that continue to beat us. We made some costly mistakes in the last few games. Fortunately against BC and against Syracuse, were able to get away with it, and then it kind of came back and got us in the Notre Dame game. I feel like we're on the right track. We're doing things the way, the way they're supposed to be done, we just have to be a little bit more careful. Maybe it's something in how we're preparing or doing something like that, but just make sure we're getting we're dotting all the i's and cross our t's and stuff, whenever it comes to making sure we have the game plan down and making, is as least mistakes as possible."
On FSU's defense:
"They're big up front. Their two ends are very long. I think both of them are over 6'6. Both of them weighing over 260, so they're both big guys. Interior guys, I know they lost one of them, but it's Florida State. They still recruit well, they still have great players, they still have great athletes. It's definitely going to be a challenge. This is definitely not a light week for us."
On FSU secondary:
"They are, they're good in the secondary, they're very athletic. I think we got some guys that might have played basketball with some of the guys over there, so we know a little bit about their secondary. things like that. They're definitely a tough team that we're getting ready to face."
Cade Stewart
On losing to Notre Dame:
"It's always tough, especially with us as a high performing team. Best is the standard and we were so used to winning, so it's difficult to come off with something like that. I think the bye week came in a really good time. We had some guys that were banged up. We were able to get healthy and really refocus on ourselves. It was a good learning experience, especially for some of these guys who have been here two, three years never even lost a regular-season game. So it's a real humbling experience. I think (will) refocus the team and got us locked back in on the goal."
On criticism of the offensive line:
"We just see it as an opportunity to get better. There's always something that goes wrong, things happen that you don't expect to happen, or you don't want to play out. It's just an opportunity for us to grows as players and as a team and to get better and really refocus for this upcoming week and go out there and make a better performance."
On the running game issues:
"When it comes down to it, we've just got to do better for ourselves. You can make all the excuses in the world, you can say, this happened, that happened, we should have done this better, we should have done that better. But at the end of the day, they were a really good team. They fought really hard and they won the game. Now we see how to fight and we were able to show (that) we don't give up. We don't bow down to nobody even though we didn't have the outcome we wanted to. We have those characteristics that are hard for a team to find. We were able to develop on those. Now we get to go back in and work on our technique and become a fluid and fundamentally sound team and offense."
Chez Mellusi
On developing this season:
"Besides all that is going on with the world and stuff, I think it's pretty good, definitely for my growth. Just the patience that I've had this season and all the stuff going on, it's been really cool."
On working towards his goals:
"I think that definitely goes with mindset. I think that if you come into college, especially thinking that you're gonna get something handed to you, you're definitely in the wrong place because nothing's gonna be handed to you here-- especially with the running back group. So you kind of just have to put your head down and go to work. Don't pay attention to all the noise, because eventually, your time is going to come. So the biggest thing for me is patience."
Never miss the latest news from Clemson Sports Talk!
Join our free email list
SPONSORED BY