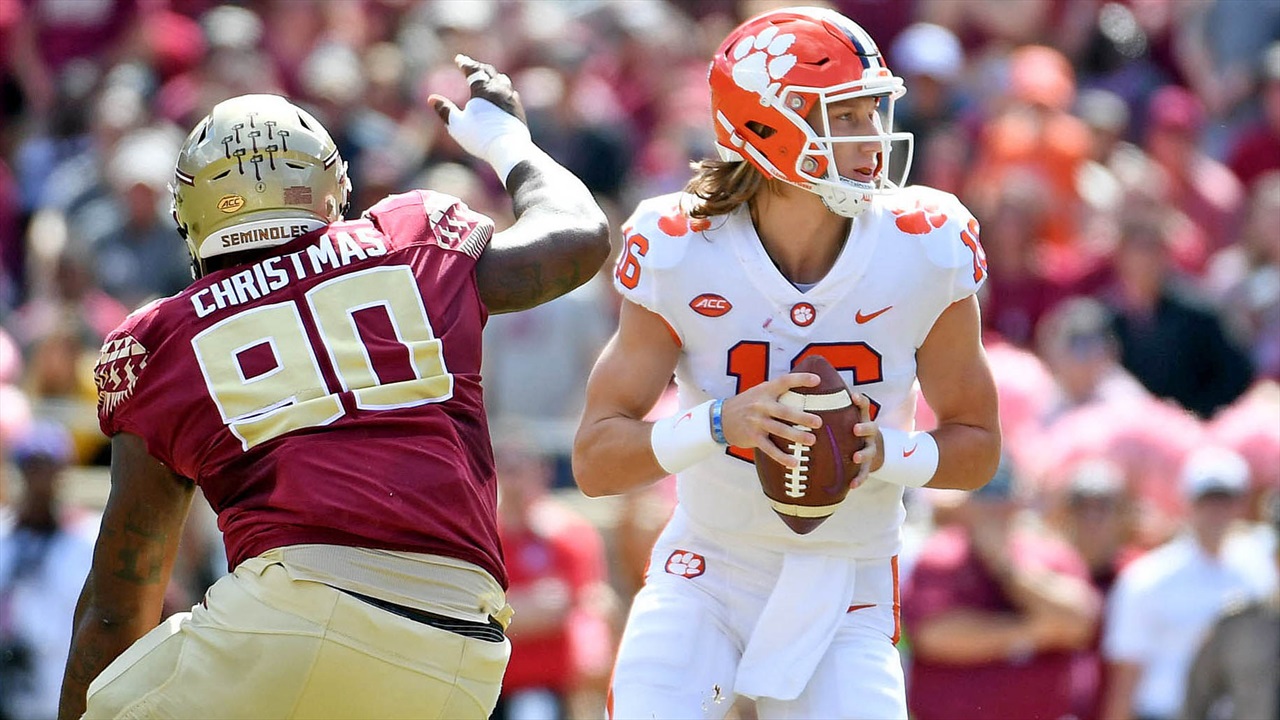 Photo by © Melina Myers-USA TODAY Sports
Clemson Football
Keys to Victory: No. 4 Clemson at Florida State
---

Feel the difference - The MOST DIGITAL CONTENT covering your CLEMSON TIGERS! Avoid clickbait and sites bloated with advertising!
---
Each week we give you a look at the game's history, three keys to success, plus Swanny's prediction.
Update: No. 4 Clemson at Florida State has been postponed.
The Match-Up:
No. 4 Clemson (7-1 overall, 6-1 ACC) at Florida State (2-6, 1-6 ACC)
Clemson vs. Florida State 2019
Series History:
Overall: FSU leads 20-13
at Clemson: Tied 8-8
at FSU: Clemson trails 5-12
Neutral: N/A
Last Meeting: 2019 - Clemson 45, FSU 14
Last FSU win: 2014 - FSU 23, Clemson 17
Streak: Clemson has won five consecutive meetings.
---

Stat of the Week:
Clemson attempting to improve to 50-3 against conference opponents since the start of the 2015 season, the first year of Clemson's active run of five consecutive ACC titles.
Chasing History:
With a win, Clemson quarterback Trevor Lawrence (31-1) can tie the Clemson record for career wins by a starting quarterback, held jointly by Rodney Williams (32 from 1982-85), Tajh Boyd (32 from 2010-13) and Deshaun Watson (32 from 2014-16). Lawrence opened his career with wins in his first 25 consecutive starts prior to suffering his only loss in last year's College Football Playoff National Championship. Dating to his time at Cartersville (Ga.) High School, he is 64-0 in regular-season games as a starter, as his only losses across those two levels have come in postseason play.
| | | |
| --- | --- | --- |
| TEAM STATS | Clemson | Florida State |
| Points Per Game | 45.4 | 22.0 |
| Points Allowed Per Game | 19.5 | 36.1 |
| Total Yards | 503.6 | 381.0 |
| Yards Passing | 353.6 | 196.8 |
| Yards Rushing | 150.0 | 184.4 |
| Yards Allowed | 305.1 | 464.3 |
| Pass Yards Allowed | 191.8 | 270.8 |
| Rush Yards Allowed | 113.4 | 193.5 |
Key 1: Heisman Hopeful
Trevor Lawrence returns to the gridiron for the first time since DATE. With the addition of Clemson's bye week this past weekend, the Heisman stock of several other players has surpassed the former frontrunner. Finalizing his opportunity to hoist college football's greatest individual award will take big numbers from Lawrence, and FSU presents a chance to do just that.
The Seminoles have been blistered several times this season, and one could imagine after losing Marvin Wilson to injury and several other players to opt-outs that FSU's defense will be ripe for the picking. Lawrence's return needs to have a spark, and if he wants to win the Heisman, it needs to begin now.
Key 2: WARNING - Don't Shoot Own Foot
Four times this season, Clemson has given up scores on special teams and on offense. That's not how you win football games, and it nearly cost the Tigers in both the Boston College and Notre Dame game. Travis Etienne's struggle to rush the football has also seen an increase in fumbles and mistakes for the senior.
Right now, he looks to be as versatile as he's ever been at Clemson, but also as careless as we can remember. Cleaning those two areas up this afternoon would be nice. Errors like Etienne has made, cannot continue to happen. If they do, this one will be closer than you expect. If not, the Tigers will cruise against a less than stellar Seminole squad.
As long as Clemson doesn't put a hole in their own foot, they should be good to go.
Key 3: Stay Healthy
While this probably will not be a key to winning today, it could be a key to winning down the road. The Tigers have been banged up, and this is the kind of contest that should allow for Clemson to dive into their depth.
Our hunch is Trevor Lawrence and the offense get this one in hand early, and the coaching staff empties the bench, if not for the experience as much as the ability to protect the starters for the stretch run.
Prediction:
This contest might be as big of a mismatch as we've ever seen in the series and that's saying something, given how good FSU was in 1993 by comparison to Clemson. Trust us, don't turn on the film. It looks like grown men taking on a bunch of children and slugs. It's speed and power vs. sloths.
Today's contest has that same type of vibe. The saving grace for the Seminoles is that the Tigers are still trying to get healthy. Not having Frank Ladson (WR) and James Skalski (LB) hurts, but it doesn't hurt Clemson much.
In each of Clemson's last three games, and in four games this season, the Tigers have given up a non-offensive score. While it didn't cost them against Miami (Blocked FG return), Syracuse (Interception return), Boston College (fumble return), it delivered a massive blow against Notre Dame.
The Tigers, minus Lawrence, were able to take the lead late, but the defense couldn't get a clutch stop late. The truth however lies in the fact that if the Tigers don't turn the ball over, they win going away in South Bend. There were just too many mistakes, but all are correctable.
After a week off, expect a more healthy Tiger squad led by Lawrence to roll.
Clemson 57, FSU 7
Swanny's Predictions:
| | | | |
| --- | --- | --- | --- |
| Date | 2020 Schedule Predictions | Swanny's Prediction | Actual Score |
| 9-12-2020 | No. 1 Clemson at Wake Forest | 55-17 Clemson | 37-13 Clemson |
| 9-19-2020 | No. 1 Clemson vs. The Citadel | 52-6 Clemson | 49-0 Clemson |
| 10-3-2020 | No. 1 Clemson vs. Virginia | 47-17 Clemson | 41-23 Clemson |
| 10-10-2020 | No. 1 Clemson vs. Miami | 38-20 Clemson | 42-17 Clemson |
| 10-17-2020 | No. 1 Clemson at Georgia Tech | 44-10 Clemson | 73-7 Clemson |
| 10-24-2020 | No. 1 Clemson at Syracuse | 61-10 Clemson | 47-21 Clemson |
| 10-31-2020 | No. 1 Clemson vs. Boston College | 35-17 Clemson | 34-28 Clemson |
| 11-7-2020 | No. 1 Clemson at. No. 4 Notre Dame | 31-20 Clemson | 47-40 (2OT) Notre Dame |
| 11-21-2020 | No. 4 Clemson at FSU | 57-7 Clemson | ??? |
Never miss the latest news from Clemson Sports Talk!
Join our free email list