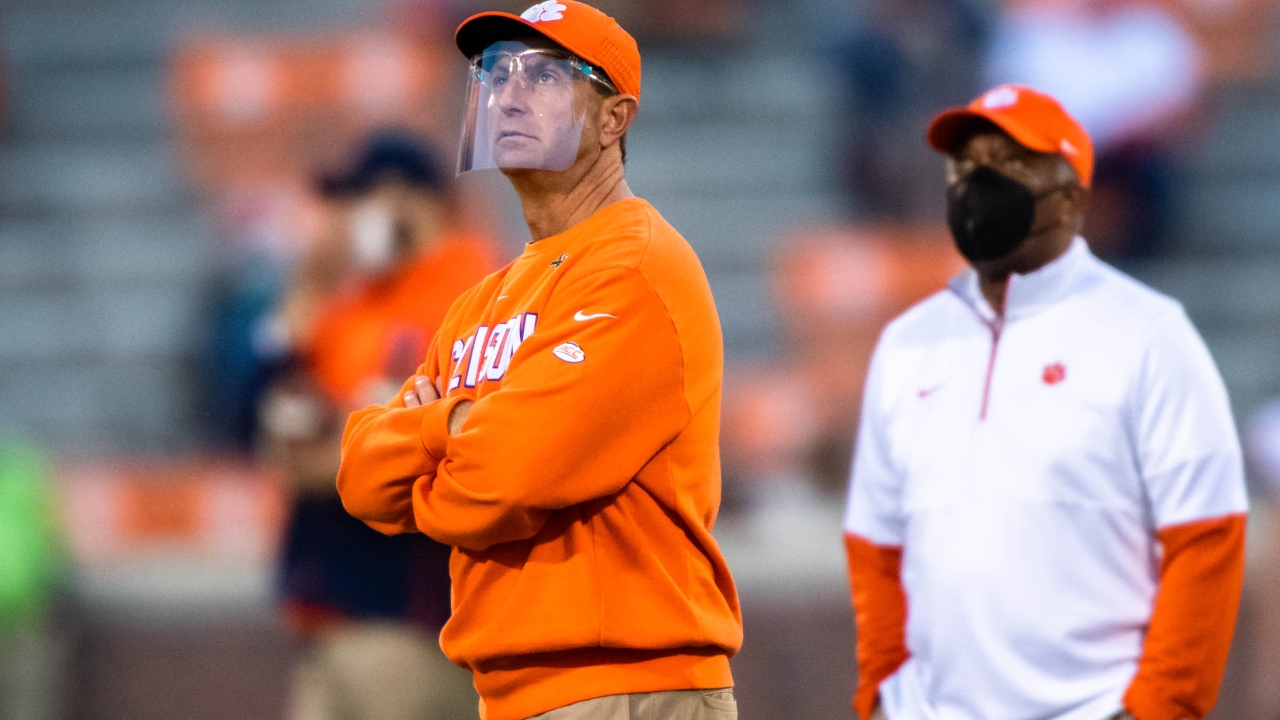 Photo by Courtesy of ACC Media Portal
Clemson Football
Opinion: Swinney is 100% correct, whether you like it or not
---

Feel the difference - The MOST DIGITAL CONTENT covering your CLEMSON TIGERS! Avoid clickbait and sites bloated with advertising!
---
Roughly three hours before kickoff Saturday, it was announced that Clemson and Florida State wouldn't play their scheduled contest. After Dabo Swinney's comments on the topic yesterday, he's taken some heat on social media. Many detractors are trying to sell the story that he doesn't believe COVID-19 is a serious situation. That couldn't be further from the truth.
Dabo Swinney is 100% correct when he said this about the cancelation of the matchup with Florida State, "This game was not canceled because of COVID. COVID was just an excuse to cancel the game."
Some will take that as minimizing COVID-19 when, in reality, Swinney is maximizing the truth about what Clemson's done to be safe during a pandemic. Anybody that doesn't believe that - here are the facts.
No. 4 Clemson followed all safety protocols in place. Taking nine buses from campus to Greenville before boarding a flight down to Tallahassee. The Tiger players wore masks and shields on the flight. The athletic department even rented a circus-style tent to allow for appropriate social distancing in preparation for Saturday's noon kickoff.
COVID-19 tests were taken on Friday for roughly 150 individuals in Clemson's traveling party. The results came back Saturday morning with one positive result, a backup Clemson offensive lineman.
What Swinney and Clemson have done to mitigate the spread of COVID-19 in their program has been significant. They've taken every step possible to ensure that the players, staff, and anyone around the program are as safe as possible. But most importantly, they've arguably gone above and beyond the rules in place. They followed the guidelines. They follow the protocols.
Let's assume for a moment that your argument is about a 14-day incubation period and that other Clemson players might have COVID-19. If that's the case, then schools would never play a single game this season. You can pick up the virus anywhere at any time. That's why the ACC teams are testing three times per week.
You can't just pick and choose what circumstances you believe it's safe to play. You follow the guidelines set in place for a reason.
"No one ever had an illusion that there wouldn't be a positive on a Friday. That's why the roster was expanded. Anytime a guy is positive, whether it be a Monday test, a Wednesday test, a Friday test," Swinney said. "Anytime a guy is positive, that person has been practicing and playing prior to being positive. In fact, we could all test negative on Friday. That doesn't mean someone doesn't turn positive before kickoff on Saturday. We all have known that. The standard to cancel a game was not met."
All of that is true.
Personally, I'm as a stringent supporter of masks and social distancing as anyone, but what Florida State did in refusing to allow Clemson to test again and play later on Saturday, Sunday or Monday absolutely flies in the face of everything that student-athletes, coaches, and staffs across the country have tried to do to play college football games this season.
"Anytime a guy is positive, that person has been practicing and playing prior to being positive. In fact, we could all test negative on Friday. That doesn't mean someone doesn't turn positive before kickoff on Saturday. We all have known that the standard to cancel a game was not met."
Heck, I'm the guy who read the tea leaves this summer, and on June 28th said that I didn't see a path towards playing given the skyrocketing numbers.
"We offered the test again-- play Saturday night, Sunday, Monday, and it was declined," Swinney said yesterday evening.
"We spent $300,000+ to travel. We set up a Ringling Brothers tent and took over an entire parking lot to do what we have to do to meet the standards. We met the standard to play, and we should have played," Swinney continued. "We have mitigated everything all year long, all year: meetings, practices, meals, housing, how we travel. If the standard of play was zero positive tests, then we would have never had a season."
Whether you disagreed all along with the idea of playing college football games or not, the protocols were followed to the letter. Just because someone shows symptoms earlier in the week doesn't mean they don't get to travel, especially if they've tested negative all week.
"You either trust the test, or you don't. Now, if they test negative, we're going to tell guys they can't play anyway? I mean, I don't know what to tell you. You either trust the test, or you don't," Swinney said. "It's that simple. That's why we test. This is a virus. We all know what we're dealing with. The bottom line is the rules were put in play for everyone. We more than met the standard to play. They made a decision not to play. You say whatever you want. I don't know what their reasoning is."
In fact, in the case of Nick Saban, we know that there are false positives out there. Given more time to test, perhaps that would have been the case for the student-athlete. Again, another reason to support playing the game after further testing for Clemson on Saturday night, Sunday, or even Monday.
I'm not a denier of COVID-19. I'm not a denier of the severity of COVID-19. But when protocols are put in place to be as safe as possible, and those protocols are followed, there is no excuse to back out, especially when given three other opportunities to play the game.
Think about it, even if you test it on Thursday, given an incubation period, there is no guarantee that every player on the field on Saturday is COVID free. But the goal of the Friday test was to mitigate as much direct contact as possible.
Pressed on whether Clemson was aware of player-to-player transmission during a game, Swinney said they have "no evidence of that," and if the Seminoles were worried about that aspect of COVID-19, they shouldn't have played a game this year.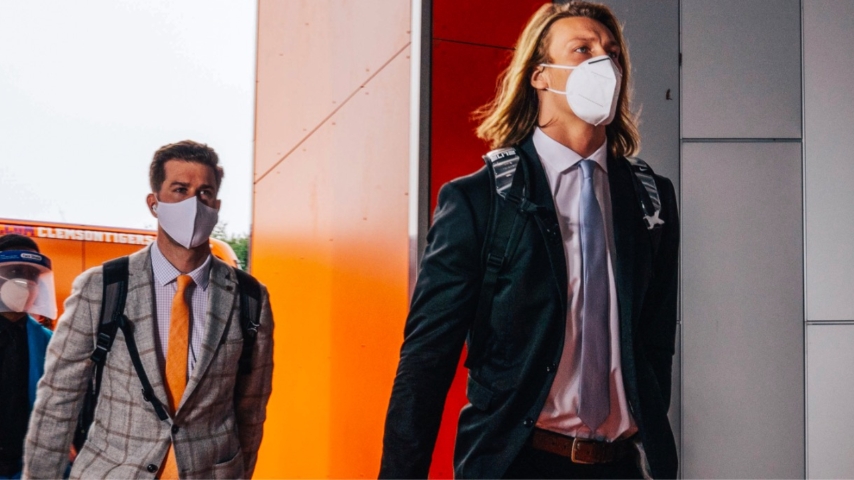 Twitter: @ClemsonFB
"We test on Friday, guys. So if you can be negative on Thursday and test positive on Friday, you can be negative on Friday, and be positive in the game on Saturday and not know it," Swinney noted. "We all know that. The standard of play was met."
Swinney is correct again. There is no 100% option, if that's your goal, no one would have taken a snap this season, anywhere in America.
There's a risk with everything we do, in all honesty, from going to the grocery store to eating a steak for dinner. Risk is a part of life, even in a pandemic. Clemson was ready to play. They deserved to play. Florida State's players deserved to play. And quite frankly, if I was Coach Swinney. I wouldn't play the Seminoles this season.
I've talked an awful lot about the weight of COVID-19 and the uncertainty that it brings these young adults. But given the option to play on multiple days after more testing. Florida State said, "Nah."
Just like Florida State forfeited playing Saturday's ballgame, FSU fans forfeit their right to be critical of the way Clemson's handled COVID-19.
Never miss the latest news from Clemson Sports Talk!
Join our free email list
PRESENTED BY