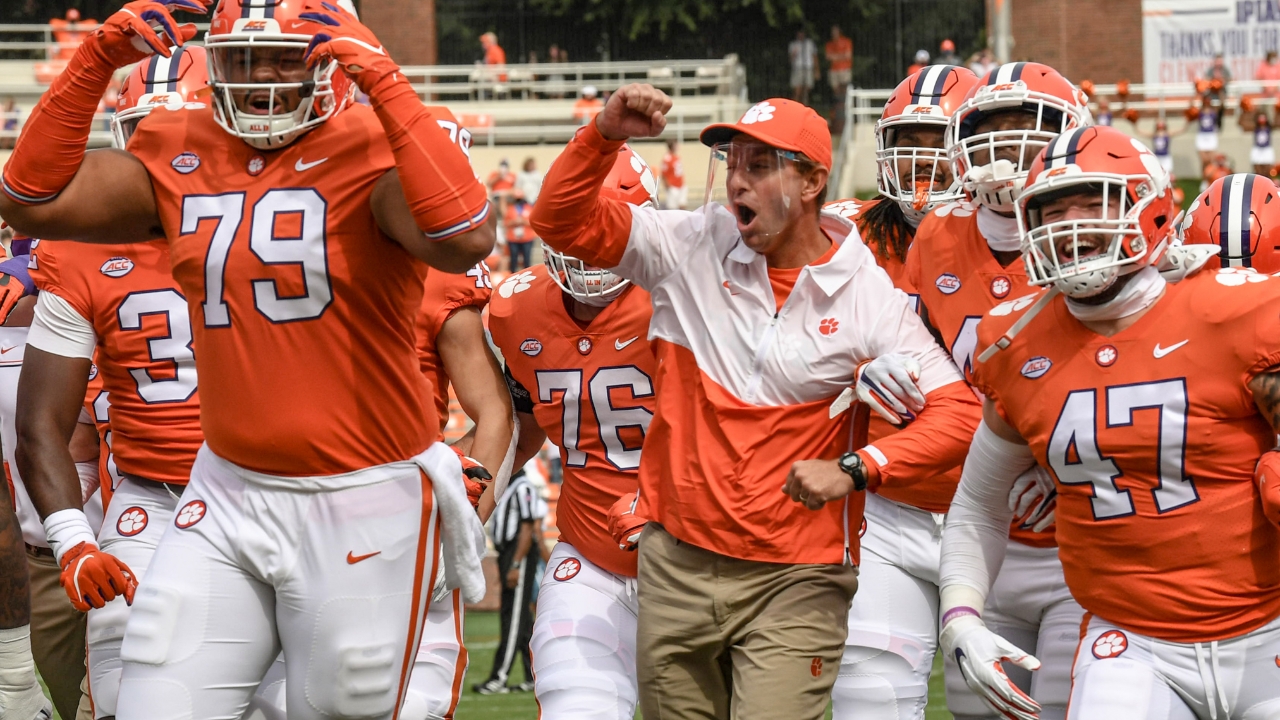 Photo by Courtesy of ACC Media Portal
Clemson Football
Swinney says Clemson is ready to get back out on the field: 'We love to play the game'
---
On how it feels not playing South Carolina this Saturday:
"It's still weird. It's just been my norm for so long, since I was 18 years old, this time of year you're playing your in-state rival. For 13 years at Alabama, and now in year 18 years, it's definitely different. That's for sure, but the practice is the same and all that, but definitely, definitely different."
On the health of the team:
"Yeah, I mean, we're definitely as healthy as we've been in a while for sure. But still got more room for improvement. I mean, we still got a few guys that I think will still working their way back. We're closer to full strength than we've been in a long time-- probably since the first game, be honest with you. So hopefully, we can keep trending in that direction."
On Joseph Ngata:
"Actually, Joseph is out. I can go ahead and let you know, he's definitely out. We ended up having to do some surgery on him this morning. We feel like it's gonna really help him. Hopefully he'll be back. He's been trying to push through this thing. But did some surgery on him this morning and hopefully, it'll help him be really 100% full-go and ready for the postseason. That's our goal for him."
On if "postseason" means possibly the ACC Championship Game:
"All the above. But you know, hopefully, we'll be there."
On what's wrong with Ngata's abdominal area:
"Yeah, I'm not getting into the specifics of it, but just trying to help him alleviate some of the pain. That he's been having."
On E.J. Williams having to step up without Ngata available:
"Oh, yeah, E.J.'s been quietly coming. He's already had some big plays. In my opinion, I think he's poised to really have a strong finish for us. We're really proud of the work he's put in-- the development and progression that he's had since he got here. He's definitely a guy that we are counting on."
On how they will handle Senior Day with COVID-19:
"Yeah, we've got a plan. Obviously, it'll be different than in years past, when we introduce our players, and we'll take their family picture on the jumbotron, and so forth, and then to recognize their family. Then postgame, once everybody's out, they're gonna let the parents come down on the field take a picture real quick before we get back into the locker room. They've got a plan for everything. We'll make it a great day."
On how they are doing Thanksgiving:
"Normal business. I mean, we've got dinner tonight. Then tomorrow we've got meetings and practice. We get done earlier tomorrow than the normal Thursday, but probably about two and a half hours, maybe three hours earlier than what we normally would. We'll have food for them. Some of these guys will come over to the coach's houses, and just by just kind of be here in the area. Then we're back over here Friday morning ready to go?"
On if everyone is chomping at the bit to play:
"Oh, absolutely. everybody's ready to play. I mean, our team is as healthy as we've been in a long time and they're hungry to go play. We love to play the game. This group fought for their season, they fought the play. They love the play and the good Lord willing, we'll get that opportunity on Saturday."
On if centralizing the playoff to one location is a good idea:
"Hey, let's get there and then ask me that again. If we get there, great. But I can't even process that right now."
Never miss the latest news from Clemson Sports Talk!
Join our free email list