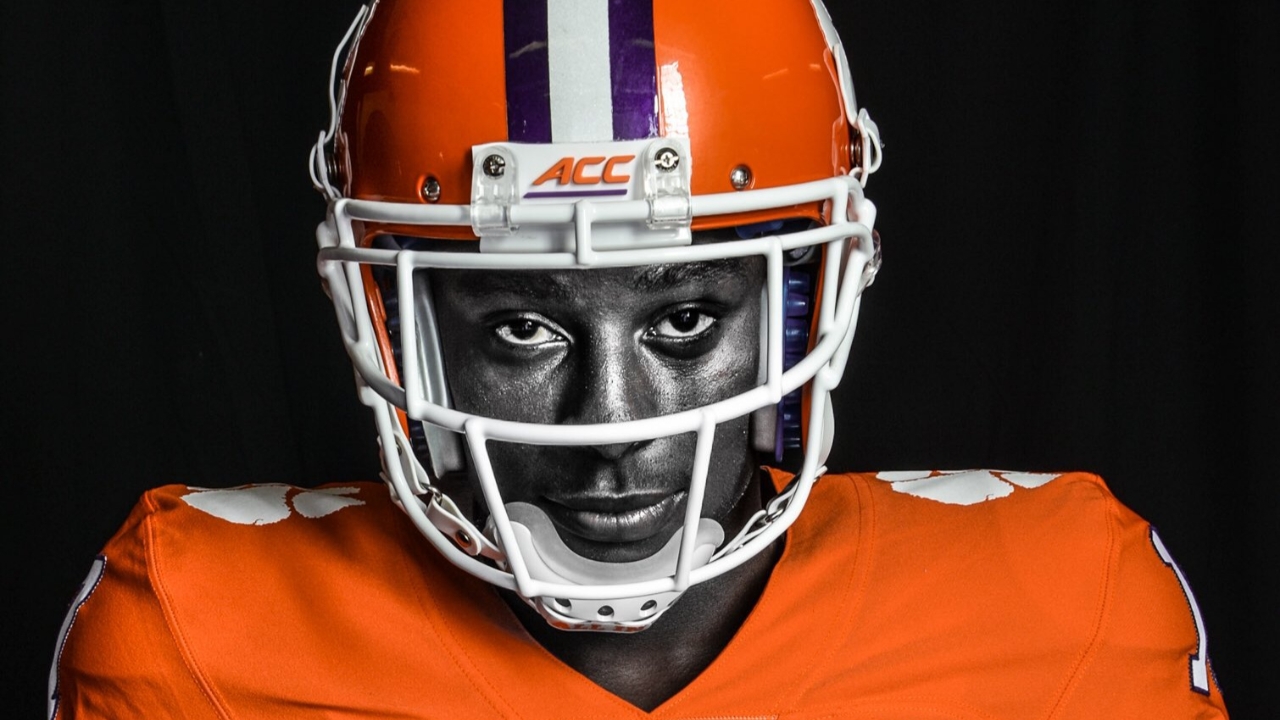 Clemson Football
Sugar Bowl Notebook | Cornell Powell always had a plan and he's on track to fulfill it
---

Feel the difference - The MOST DIGITAL CONTENT covering your CLEMSON TIGERS! Avoid clickbait and sites bloated with advertising!
---
Months after committing to Clemson on Feb. 4, 2015, Cornell Powell had a plan for himself and his mom, Stephanie Powell. He wants to play on the next level and for Stephanie, a single parent who was working as an administrative support specialist in 2016, he has the perfect job for her.
"She can take care of her grandkids every day, all day long that would be her only job, so until I get to that point, I'm not going to stop," the senior playmaker told WNCT-TV 9.
In 2016, it was much easier for Powell, the 36th overall recruit according to Rivals, to have lofty aspirations and dreams, because he was a standout receiver and excellent return specialist at J.H. Rose High in Greenville, NC. The 79th Shrine Bowl of the Carolinas standout (264 all-purpose yards) for the Tarheels had offers from Alabama, FSU, Georgia, LSU, Ohio State and others, but he chose Clemson.
Last month, in his last home game, the redshirt senior had a game-high 176 yards on six catches with a 43-yard touchdown against the Pitt Panthers. Powell showed that the two-week layoff from a bye and the FSU cancelation hadn't cooled his hot, pass-catching hands. Those hands had just reeled in 23 passes for 442 yards with two touchdowns in the last three games.
Powell's three-game stretch is quite remarkable considering he had just 40 receptions for 329 yards and three touchdowns heading into this senior season. But in 2020, Powell enters the Sugar Bowl matchup with Ohio State as a weapon, racking up 45 receptions for 743 yards and five touchdowns this year. His previous best? Just 15 receptions for 122 yards, and two scores a year ago.
Dabo Swinney always says to "bloom where you a planted," and Powell has become the face of that idea.
"This is a reflection of his preparation and his growth and maturity in his time here, taking advantage of his opportunity," Swinney noted after Clemson's 52-17 blowout of Pittsburgh. "If you could watch his tape compared to how he used to practice- it's night and day."
The numbers are great but he's also been very reliable and made some great catches. He's used his speed to beat defenders deep and his 36-inch vertical leap to [Randy] Moss them. The 70-yard one-handed reception versus Pittsburgh incorporated both his speed and leaping ability.
"We preach to make the impossible catch most of the time, make routine catches all the time."
"We preach to make the impossible catch most of the time, make routine catches all the time," Powell said in an interview about the mentality and approach to making catches at WRU.
"You just got to make the catch required," he said when asked specifically about the 70-yard snag. "It was great ball placement by Trevor [Lawrence]. He put it where only I could get it. It really started with the o-line having great protection, and then Travis [Etienne] coming up and fitting the block. I just had to finish it."
Coach Swinney also talked about Powell's current catch radius and what he's seen from the senior. "I mean, he's catching everything ball looks like a big ol' balloon right now to him. That's awesome to see. He has confidence, he's playing fast. He's just really taken ownership of the plan."
The original plan was always for him to be an outstanding receiver every year, in every game for three to four years. But it just hadn't happened that way. This season, the plan was for Powell to help lead the 2020 version of WRU along with senior Amari Rodgers. Much was expected of them and the tall speedy sophomores, Frank Ladson and Joseph Ngata but Ladson and Ngata have been in and out of the lineup and the COVID-19 Pandemic, unfortunately, changed plans from game-to-game.
And then came the biggest change of all, starting quarterback Trevor Lawrence tested positive for COVID-19 before the home game against Boston College, and Swinney issued a challenge to Rodgers, Etienne, and Powell.
Powell said he accepted the challenge and took it personally but not personal. Instead, he understands the coaches want the best for him and to bring the best out of him.
"Since I've been here, I've always been challenged to be the best I can be, and I take that personally," he said of the challenge. "Every day I try to come in here and get 1% better, whether it's at route running, whether in blocking, anything that I can to help this team, help myself and be better on Saturday. So it's nothing personal. It's nothing against me. They just want the best for me, and they know what I'm capable of. And they wanted to push me to bring that out of me every day."
Swinney also needed Powell to be there for freshman quarterback D.J. Uiagalelei, who was making his first career start after only 48 hours of preparation time.
Uiagalelei threw for 342 yards and two touchdowns and Powell had a career game with 11 receptions for 105 yards in the come from behind 34-28 victory. He was also there for Uiagalelei in the thrilling double-overtime 47-40 loss to Notre Dame in South Bend as the freshman stood in admirably for Lawrence again.
Most college football fans came away impressed with Uiagalelei once again and likewise with Powell. After putting together three consecutive 100-yard performances and back-to-back 150 plus yards against the Irish and Boston College, he isn't surprised by his performances because he's put in the work.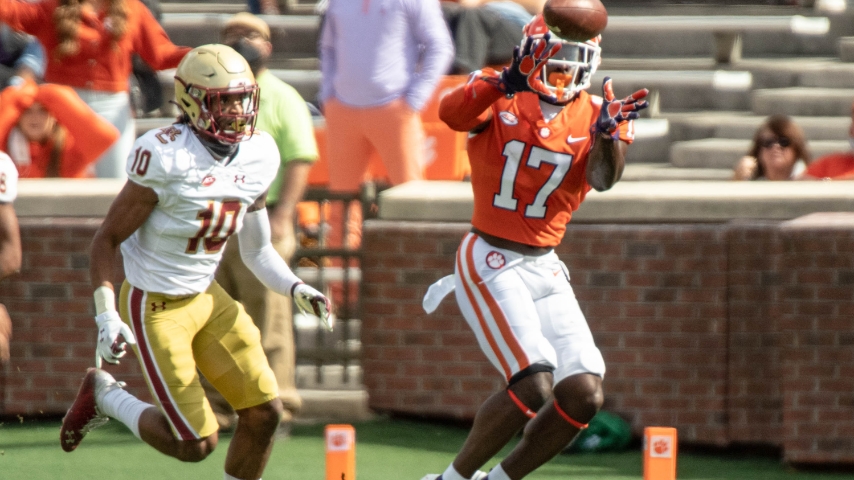 Josh Morgan-USA TODAY Sports
"I'm not surprised with what I'm doing," Powell said. "I expect to dominate every game, and if you don't have that mentality going into the game then you don't need to be out there. So it's not really a shock for me. I work hard Monday through Friday to get to Saturday, so it's just good to see it finally pay off."
Powell's 100-yard performances tied former Clemson receivers Charlie Waters, Tony Horne, Rod Gardner, DeAndre Hopkins, and Sammy Watkins for a school-record, he nearly broke the mark coming just ten yards short at Virginia Tech on December 12.
As for his 150-yard streak, well let's just say it puts Powell's name alongside two of the best to ever play wideout at Clemson-- DeAndre Hopkins and Sammy Watkins.
Yet this story is more about what Powell has accomplished than the numbers, the company he is now mentioned with, or the spectacular catches during the three-game eye-popping run. He did everything with Ngata and Ladson not available or limited which made him a top priority player on each scouting report and in-game strategy.
Powell's career and the 2020 college football season are evidence that plans are subject to change and being prepared can be rewarding and goals can still be achieved. Clemson is No. 2 in the country and a championship is well within reach with a matchup against No. 3 Ohio State coming later this week.
The Buckeye's secondary has been a weak spot this year and Powell could be a big name to watch during Friday night's battle near Bourbon Street.
"Just stick to it. You got to be confident in who you are. You gotta keep the faith and keep trusting God that he has you here for a reason."
With his outstanding performances on the national stage, Powell may be catching passes for an NFL team this time next year. That would fulfill one half of his plan but In 2016, Momma Powell had a plan of her own for Cornell outside of football.
"I'm paving the way, so he can not just go play football [but] get his and earn his degree," Stephanie told WNCT-TV 9.
After redshirting the 2018 season to concentrate on academics, Powell got back on schedule and earlier this month, he received his management degree -- making Stephanie very happy.
The Cornell Powell story is not over and he's had an interesting journey thus far. So what advice would he give any athlete who finds themselves in a similar position to his early years at Clemson?
"Just stick to it. You got to be confident in who you are. You gotta keep the faith and keep trusting God that he has you here for a reason," stated Powell. "I knew that I was at Clemson for a reason. Throughout my years, man, it was hard, but I learned how to compete. I became a better man. I learned how to handle adversity, so just stick with it. It's gonna pay off. It's all in God's plan and all in his timing."
Timing hasn't always been on Powell's side but his perseverance and ability to 'stick to it' could be perfect, because his best year is indeed his last and his play could be setting him up to continue his career and end Stephanie's.
Never miss the latest news from Clemson Sports Talk!
Join our free email list