Photo by Photo by Jacob Kupferman / ESPN Images
Clemson Football
Keys to the Game: No. 3 Clemson at Virginia Tech
---

Feel the difference - The MOST DIGITAL CONTENT covering your CLEMSON TIGERS! Avoid clickbait and sites bloated with advertising!
---
Each week we give you a look at the game's history, three keys to success, plus Swanny's prediction.
The Match-Up:
No. 3 Clemson (8-1 overall, 7-1 ACC) at Virginia Tech (4-5 overall, 5-4 ACC)
Clemson vs. Virginia Tech 2017
Series History:
Overall: Clemson leads 22-12-1
Home: Clemson leads 9-6-1
Road: Clemson leads 9-4
Neutral: Clemson leads 4-2
Last Meeting: 2017 (Clemson 31, Virginia Tech 17)
Last Virginia Tech win: 2007 (Virginia Tech 41, Clemson 23)
Streak: Clemson has won five consecutive matchups.
---

Stat of the Week:
Head Coach Dabo Swinney is attempting to improve to 6-0 as a head coach vs. Virginia Tech. Virginia Tech is one of five ACC schools against which Swinney is undefeated as head coach, a list that also includes Wake Forest (12- 0), Louisville (6-0), Virginia (5-0), and Duke (3-0).
Chasing History:
The 2020 Clemson seniors (30-2 in ACC regular-season play from 2017-20) are attempting to surpass the 2018 and 2019 seniors (30 wins each) as the winningest class in school history in regular-season conference play and tie the four-year conference record of 31, set by multiple Florida State classes from 1995- 2000.
Last week marked the return of quarterback Trevor Lawrence, who completed 26-of-37 passes for 403 yards with two touchdowns and no interceptions in his first game action in five weeks. The Heisman candidate improved to 32-1 as a starter, tying the Clemson record for wins by a starting quarterback and improving his career winning percentage to .970, the best by an FBS quarterback with at least 30 starts since Division I split in 1978.
With a win tonight, Lawrence will become the winningest quarterback in Clemson history.
| | | |
| --- | --- | --- |
| TEAM STATS | Clemson | Virginia Tech |
| Points Per Game | 46.1 | 33.2 |
| Points Allowed Per Game | 19.2 | 32.6 |
| Total Yards | 512.2 | 450.1 |
| Yards Passing | 362.8 | 199.2 |
| Yards Rushing | 149.4 | 250.9 |
| Yards Allowed | 298.6 | 463.0 |
| Pass Yards Allowed | 196.0 | 273.8 |
| Rush Yards Allowed | 102.6 | 189.2 |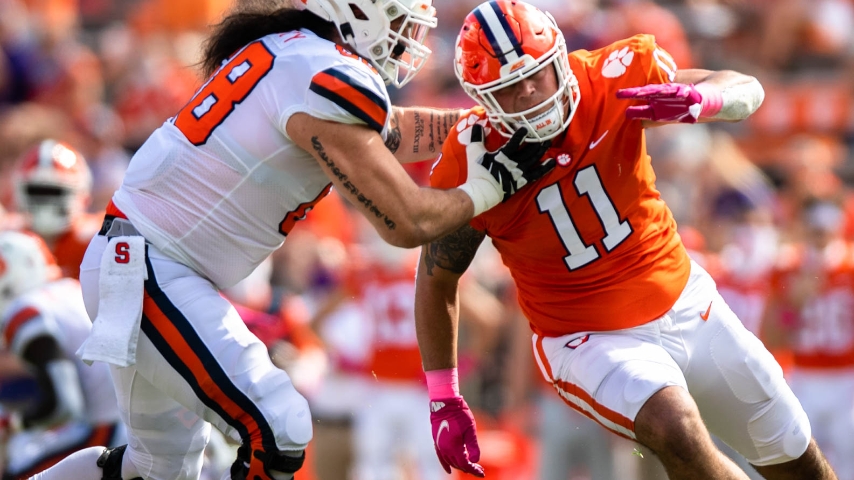 Courtesy of ACC Media Portal
Key 1: Win the Line
Last week against Pitt, Clemson welcomed back a mostly healthy defense, and stud defensive lineman Tyler Davis was disruptive from his first snap. It's been incredible to watch the Tigers navigate the COVID-19 Era so well, but the normal "wear and tear" injuries have seemed to be the larger issue.
Facing another versatile quarterback in Hendon Hooker, the Tigers hope to corral him while bringing tons of pressure to force throws into tight windows. One would expect that Clemson will win more of those battles than not on a chilly Blacksburg evening. Expect Bryan Bresee, Myles Murphy, and Davis to all make plays today, showcasing Clemson's youth movement on defense.
Key 2: Spark the run game
Travis Etienne has been a monster his entire career, but in his final season at Clemson, the Jennings, LA native is averaging just 5.2 yards per carry. That's down significantly from his previous three seasons, where he rushed for 7.8, 8.1, and 7.2 on each attempt.
Etienne hasn't had a 100-yard performance since Clemson's Oct. 10 matchup with Miami, a span of five games. Virginia Tech's defense gives up almost 190 yards on the ground per game, so there is a good chance that Etienne heats up the ground tonight.
Carl Ackerman
Key 3: DBU
I'm still marveling at the interception from former five-star Andrew Booth from last weekend. Heck, we are still marveling at his plays against Miami and Virginia as well.
Booth has quickly become a game-changing player on the backend for Brent Venables. Before the season started, Dabo Swinney said that Mike Reed was smiling all the time because of the talent that he's got, and we are seeing it emerge.
The Clemson secondary has had some tough moments this year, but injuries and rotation have allowed them to build more and more depth. Last weekend they had four interceptions, and the Hokies could be ripe for the picking. Keep your eye on this group tonight. If the defensive line does what I expect, the DBs could benefit and perhaps have another big day.
Prediction:
You've got to love cold weather December football! This almost reminds me of high school playoff football from my youth. I can't wait to see the breath from players tonight pouring from their helmets-- that's going to be awesome.
There was a time that I would have listed Virginia Tech as one of the top football programs in the league, but in five seasons, Justin Fuente seems to have Frank Beamer's old program headed in the wrong direction.
The Hokies were once a team to be feared. Virginia Tech had one of the most tenacious defenses and special teams that could put points on the board in all phases. That's just not the case now.
The Tiger looked refreshed last weekend against Pitt, and there is no reason not to think Trevor Lawrence and Company don't impress tonight.
While Swinney downplayed a Heisman Trophy run for Lawrence, the social media arm for Clemson Football in the athletic department began their push this week, and we believe it was a calculated move by Swinney.
You can expect Lawrence to look like the best player in America, racking up big numbers, while getting plenty of time to rest in the second half.
Swanny's Prediction: Clemson 45, Virginia Tech 14
Swanny's Predictions:
| | | | |
| --- | --- | --- | --- |
| Date | 2020 Schedule Predictions | Swanny's Prediction | Actual Score |
| Sept. 12 | No. 1 Clemson at Wake Forest | 55-17 Clemson | 37-13 Clemson |
| Sept. 19 | No. 1 Clemson vs. The Citadel | 52-6 Clemson | 49-0 Clemson |
| Oct. 3 | No. 1 Clemson vs. Virginia | 47-17 Clemson | 41-23 Clemson |
| Oct. 10 | No. 1 Clemson vs. Miami | 38-20 Clemson | 42-17 Clemson |
| Oct. 17 | No. 1 Clemson at Georgia Tech | 44-10 Clemson | 73-7 Clemson |
| Oct. 24 | No. 1 Clemson at Syracuse | 61-10 Clemson | 47-21 Clemson |
| Oct. 31 | No. 1 Clemson vs. Boston College | 35-17 Clemson | 34-28 Clemson |
| Nov. 7 | No. 1 Clemson at. No. 4 Notre Dame | 31-20 Clemson | 47-40 (2OT) Notre Dame |
| Nov. 28 | No. 3 Clemson vs. Pitt | 45-17 Clemson | 52-17 Clemson |
| Dec. 4 | No. 3 Clemson at Virginia Tech | 45-14 Clemson | ??? |
Never miss the latest news from Clemson Sports Talk!
Join our free email list
SPONSORED BY