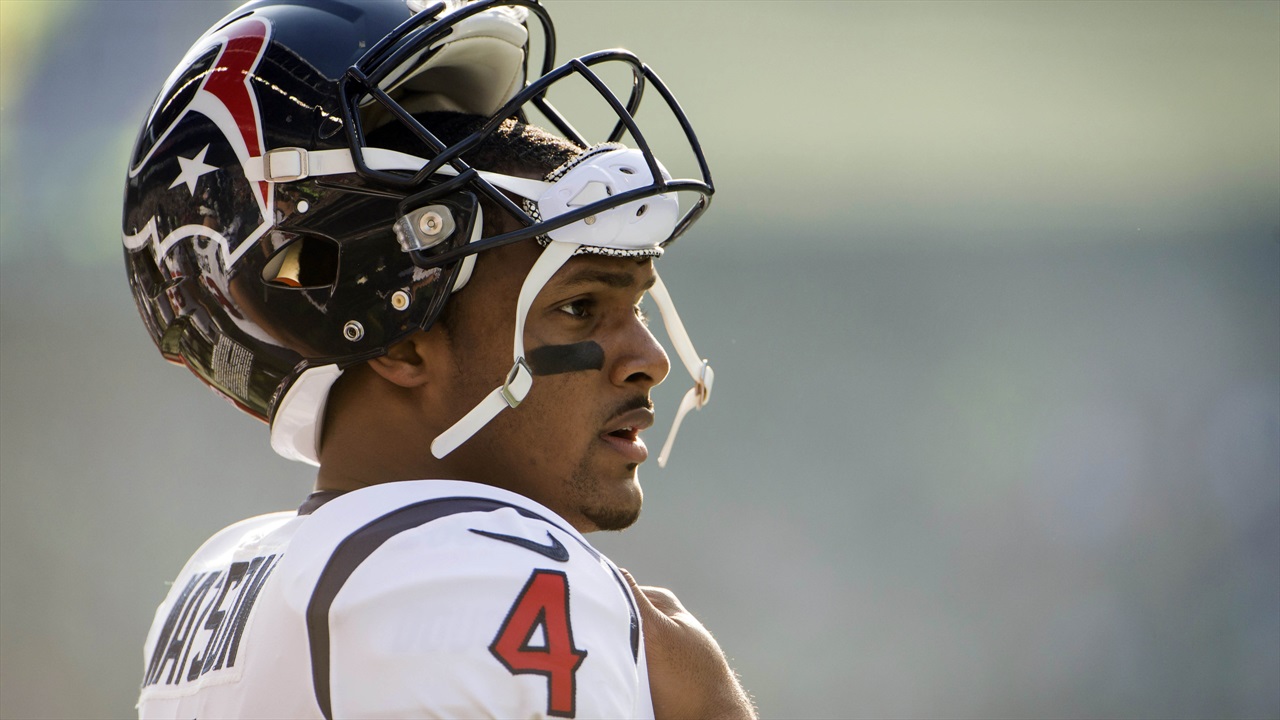 Photo by © Troy Wayrynen-USA TODAY Sports
Clemson Football
NFL Week 13: Watson is frustrated with losing
---

Feel the difference - The MOST DIGITAL CONTENT covering your CLEMSON TIGERS! Avoid clickbait and sites bloated with advertising!
---
On Sunday, Deshaun Watson became the first quarterback in NFL history to have at least 13,000 passing yards and 1,500 rushing yards in their first 50 games.
Watson established the record by passing for 341 yards and rushing for a touchdown in a 26-20 loss to the Indianapolis Colts. He completed 68 percent of his 38 passes and rushed seven times for 38 yards.
The former Clemson quarterback wasn't up for celebrating his accomplishment, because his focus was on a late-game miscue and a disappointing season.
With 1:28 left in the fourth quarter and two yards away from a touchdown and extra point for the win, center Nick Martin snapped the football low and to the left, and Watson mishandled it. The Colts recovered the fumble and ran out the clock to move to 8-4. Houston is now 4-8 and Watson, 28-21 as a starter.
"This s--t (expletive) hurts," Watson said in the post-game press conference after the near comeback win. "I"m tired of losing."
An emotional Watson sat on the bench with his face and head covered by a towel before leaving the field. During the presser, he talked about his moment on the bench, how he felt about losing, and the fumble.
I mean, you just, you can get to a point where you're not...as a player over my career even back to little league, you haven't lost as many games. It's tough to handle. You try to hold so much weight on your shoulders, where it just becomes a breaking point. And my God, like I always preach, my standard is trying to be legendary, and I'm working towards it. And even regardless, like I said before, it's not only on Nick. I should have caught the ball. That's because I hold myself up to that legendary standard, so I should have made that catch on that snap. So I was, I just felt like I was just disappointed for the whole city. I mean, honestly. That's how I took it. Everyone might think differently. I just took it that way. That's why I was sitting on the bench, and that's why, because we're so close and we've been so close these last four years since I've been here, where we just can't, for some reason, haven't got over that a stepping stool. But one day, we will for sure, I promise you that.
Despite the losing season, Watson is having a great year. He has managed to do well without former Clemson and Texans' receiver DeAndre Hopkins, who was traded to the Arizona Cardinals and a not so great offensive line. On Sunday, he was without his favorite target, Will Fuller (recently suspended for a substance-related violation). Fuller will miss five more games.
Watson was also sacked five times, once for a safety and threw an interception in the frustrating loss.
Former Clemson defensive tackle Carlos Watkins is also a member of the Texans, and had two tackles.
Defensive lineman were the stars of Week 13 among the former Clemson players in the NFL.
Shaq Lawson and Clelin Ferrell both had two sacks each in wins. Lawson had four total tackles, a pass deflection, and 2.5 tackles for loss in the Miami Dolphins (8-4) 19-7 win over the Cincinnati Bengals (2-9-1) while Ferrell, returning from a two-game absence due to COVID-19, made six total tackles, had six quarterback pressures, forced two fumbles, and deflected a pass to help the Las Vegas Raiders (7-5) defeat the winless New York Jets (0-12) 31-28.
Christian Wilkins also had two tackles, including one for loss for the Dolphins.
Receiver Hunter Renfrow caught 4 passes for 47 yards and cornerback Trayvon Mullen had an interception, made two tackles and deflected a pass for the Raiders.
In defeat, receiver Tee Higgins made five receptions for 56 yards and slot cornerback Mackensie Alexander had six tackles for the Bengals.
Deshawn Williams continues to make the most of his career year with the Denver Broncos (4-8). Last night, Williams made four total tackles, deflected a pass, and had one tackle for loss in the Broncos 22-16 loss to the Kansas City Chiefs (11-1).
Grady Jarrett, one of the best defensive tackles in the NFL, had three tackles and a quarterback pressure for the Atlanta Falcons (4-8). Jarrett's teammate, A.J. Terrell, made nine tackles, deflected a pass and had two tackles for loss as the Falcons fell 22-16 at home to the New Orleans Saints (10-2).
Here are stats from more former Clemson defensive players:
Dexter Lawrence had two tackles as the 5-7 New York Giants upset the Seattle Seahawks (8-4) 17-12.
Philadelphia Eagles safety K'Von Wallace had three tackles in a 30-16 Eagles (3-8-1) loss to the Green Bay Packers (9-3).
Jayron Kearse totaled seven tackles and deflected a pass from his safety position in a Detroit Lions (5-7) 34-30 victory over the Chicago Bears (5-7).
Cleveland Browns leading tackler, B.J. Goodson, made tackles six tackles and deflected a pass to help the Browns (9-3) defeat the Tennessee Titans (8-4) 41-35.
Cornerback Bashaud Breeland made two tackles for the Kansas City Chiefs in the win over Denver.
Arizona linebacker Isaiah Simmons added five more tackles to give him 28 in the past five games. The Arizona Cardinals (6-6) were outscored 38 to 28 by the Los Angeles Rams (8-4).
Here are more offensive stats:
Wayne Gallman had a career rushing day with 135 rushing yards on 16 carries. It was his first 100-yard game.
DeAndre Hopkins scored on a 4-yard touchdown reception and finished with 8 receptions for 52 yards in defeat for the Arizona Cardinals.
Tennessee Titans receiver Adam Humphries returned from time off from a concussion. He had one reception for nine yards.
Another receiver, Mike Williams, made four catches for 43 yards for the Los Angeles Chargers (3-9) in a crushing 45-0 loss to the New England Patriots (6-6).
On Sunday night, Sammy Watkins had four receptions for 35 yards in his return for the Kansas City Chiefs from a six-game absence due to a hamstring injury.
Never miss the latest news from Clemson Sports Talk!
Join our free email list