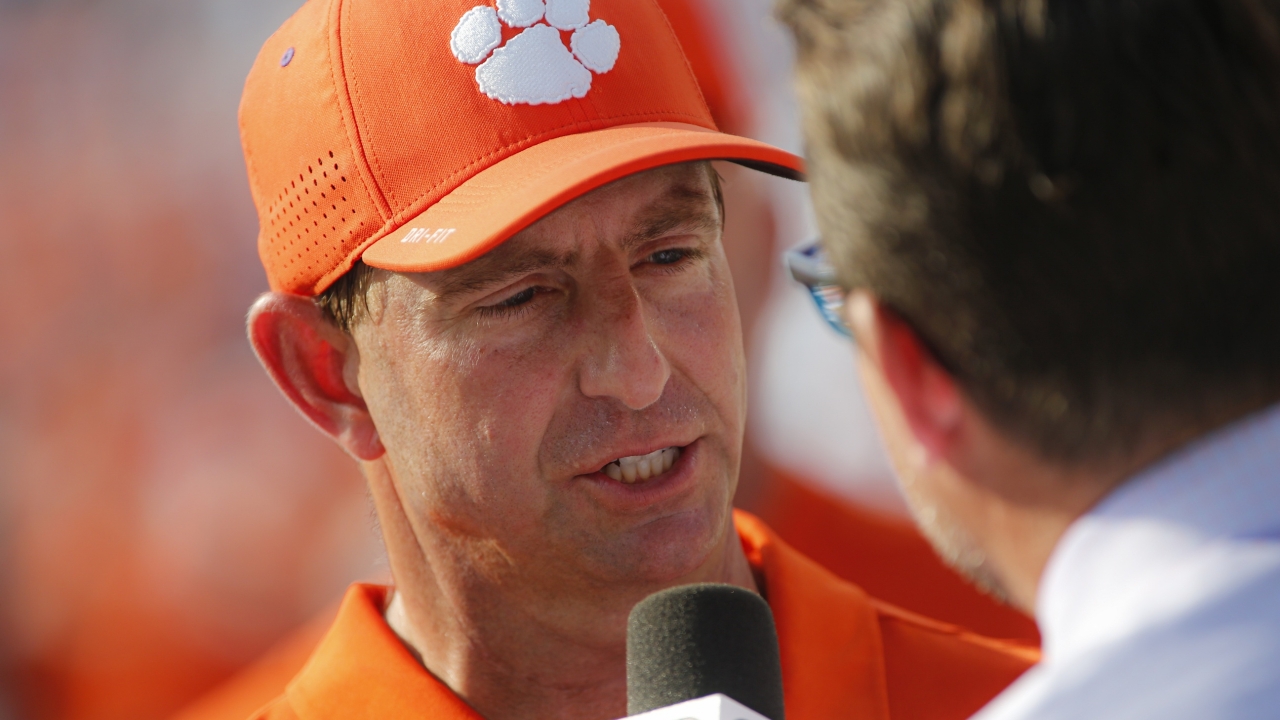 Clemson Football
Swinney responds to SEC commissioner's comments on ACC Championship combatants
---

Feel the difference - The MOST DIGITAL CONTENT covering your CLEMSON TIGERS! Avoid clickbait and sites bloated with advertising!
---
During last night's teleconference with Dabo Swinney, the Tigers' head coach was asked about comments made by SEC commissioner Greg Sankey last week while speaking Dennis Dodd from CBS Sports.
"I was surprised to see the announcement [Tuesday]. It begs one question: If their two most highly ranked teams were, for instance, [ranked] five and six in the CFP Rankings, would this decision have been made?" Sankey asked.
While the Fighting Irish did have a game canceled, Clemson didn't have a game scheduled for December 12 after their matchup with FSU fell through in November.
Sankey's comments insinuated that the Atlantic Coast Conference was trying to protect their top two teams ahead of the ACC Championship Game.
"I mean, if the ACC was trying to really protect Clemson and Notre Dame, why would we even play the game this week?" Swinney asked.
Pushing forward, Swinney dug in on the fact that a 5-0 Ohio State team is still in position to make the playoffs after possibly winning just six games this season.
"I mean, if six wins can get you into the playoffs, shouldn't nine get you there? Shouldn't ten get you there?"
Swinney went on to say that even though not playing this weekend would benefit both teams as Notre Dame is No. 2 in the rankings, while Clemson sits at No. 3, that's not what either of these two teams would want.
"I mean, if the ACC were really trying to protect Clemson-Notre Dame-- we wouldn't even play this game. But that's not what we're about. We want to crown a worthy champion. It's gonna be an awesome game."
Swinney noted that the Tigers would have "loved to play this past weekend," but that was out of his control like most things have been this season.
"I had no problem with that. I didn't make that decision. We wanted to play when we were down in Tallahassee-- about to get on a bus and go play. So things happen, just like it has all over the place, things you don't control. All you can do is control whatever goes on. They [The ACC] made this decision," Swinney continued.
"We've played 10 games, Notre Dame's played 10 games. We're excited to go play a championship, to crown a WORTHY champion of this league, and go from there. I think if the league was trying to protect that, you wouldn't even play the game, to be honest with you. But that's not what Notre Dame wants. That's not what we want. We want to go play the game. So there you go."
Never miss the latest news from Clemson Sports Talk!
Join our free email list