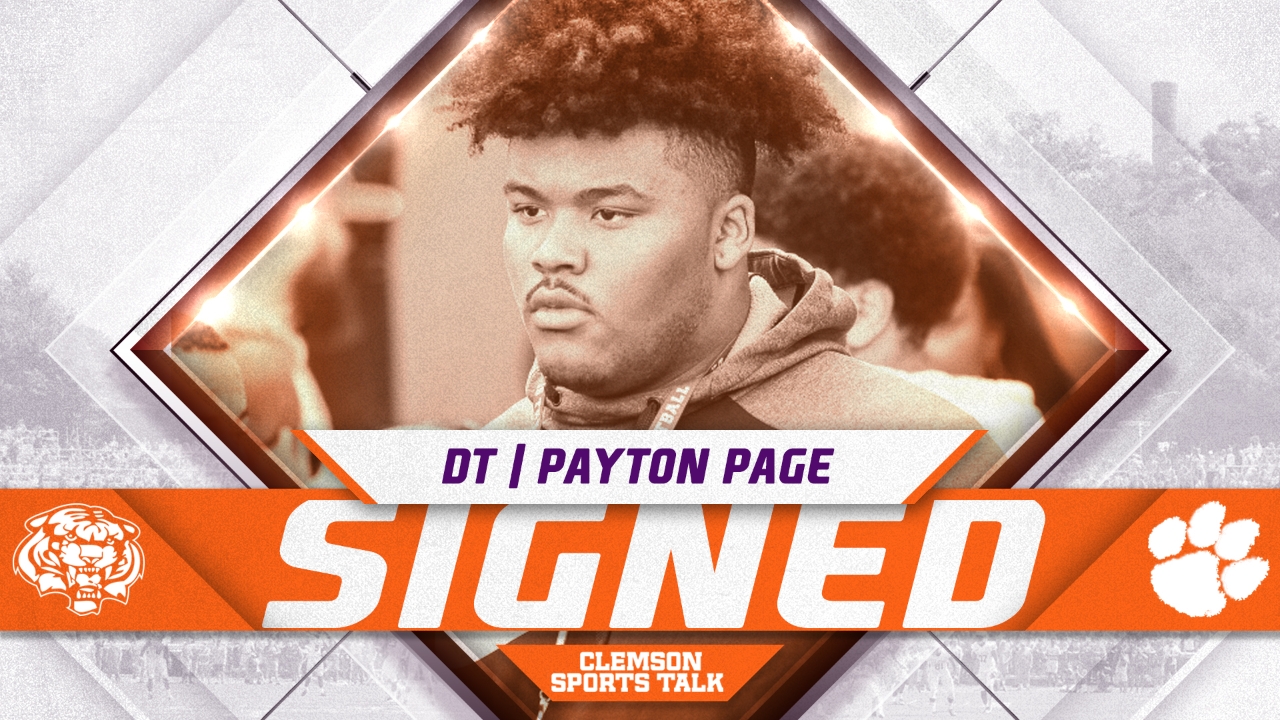 Clemson Football Recruiting
Clemson adds 'Dexter Lawrence' type lineman in Dudley's Payton Page
---

Feel the difference - The MOST DIGITAL CONTENT covering your CLEMSON TIGERS! Avoid clickbait and sites bloated with advertising!
---
★★★★ Payton Page - 6-4, 315 - Dudley High School, Greensboro, NC
Clemson's future on the defensive line continues to look impressive as four-star Payton Page‍ sent in his National Letter of Intent to the Tigers moments ago.
Page, who originally committed to Clemson during an event broadcasted on his Instagram account, adds a monster defensive body in the middle of the Tiger front.
Page, who we've compared to Dexter Lawrence, has a chance to become the next center-piece on the interior defensive line at Clemson. The Greensboro, NC native stands 6'4 while tipping the scales at nearly 340-pounds. Page could also trend towards being a Tyler Davis type player, becoming a force at the line of scrimmage early in his career.
The first time we saw Page, much like Lawrence, you could feel and see the difference in his body composition compared to the rest of the recruits on campus that day.
Much like we were sold on Page, the ambiance in Tiger Town is what he said sold him on Clemson.
"I chose Clemson because Clemson has a great atmosphere, and I always felt at home when I went for my unofficial visits," Page said. "I also like the vibe that Clemson has."
Page told ClemsonSportsTalk.com that the decision between Clemson, Tennessee, and North Carolina was a tough one.
"At the end of the day, this was a hard decision because all three schools had things I liked. Unfortunately, I can only choose one. I felt more at home at Clemson."
The Tigers' recent success was also a big deal for Page, but equally as important is the education that he will get during his time at Clemson.
"Clemson has a winning history, but I know I will get a good education at Clemson and this was very important to my parents."
The Dudley High School star has a great relationship with Todd Bates, who led the recruitment of Brent Venables next "stuffer" on the defensive front.
"Coach Bates is the one I have the closest relationship with. He is very encouraging and motivating. He answered any questions that I [had] and he really cares about me and my family," Page stated.
As for his future head coach, Page said it was nice to know that Dabo Swinney was invested in more than just the football prospect, but the entire person as we noted earlier today.
"I have built great relationships with the coaches. Coach Dabo has always been down to earth and when we talked it was hardly about football," Page said. "It [is always] about life stuff and I really liked that."
Page also recognizes the effort that Venables puts in as defensive coordinator, and the mammoth defensive tackle is ready to get started.
"Coach Venables is all energy every time we talk. Fast-paced, but says good motivating stuff too. Coach Swinney, Coach Venables, and Coach Bates are a great winning combination."
When you combine Clemson's program with Page's motivation, good things are going to continue to happen on the Tigers' defensive line.
"I am ready to be someone who is loyal, hardworking, and committed to being a good team player both on and off the field for [the] Clemson Tigers.
Overview: National top 40 player according to ESPN.com … four-star recruit by all services … ranked No. 30 in the nation by ESPN.com, the third-highest-ranked Clemson player in the class … Rivals.com ranked him the No. 50 player in the nation … ESPN.com listed Page as the fourth-best defensive tackle in the nation and third-best player in North Carolina … Rivals.com listed Page as the fourth-best defensive tackle and second-best player in North Carolina … invited to play in the Under Armour All-America Game … did not have a 2020 high school season due to the COVID-19 pandemic … three-year starter … had 191 career tackles, including 55 tackles for loss … had at least one tackle for loss in every game his sophomore and junior seasons, a streak of 27 straight games … had 71 tackles, including 26 tackles for loss, in 2019 … had 80 tackles as a sophomore in 2018, including 26 tackles for loss and 10 sacks in the 14 games … model of consistency who had a sack in 10 different games that year … as a freshman in 2017, posted 40 tackles, including three tackles for loss, in 11 games … Dudley posted a 30-10 record over his three years on the team … plans to enroll at Clemson in January 2021 … committed to Clemson on July 28, 2020 … recruited by Robbie Caldwell and Todd Bates … played for Steven Davis at Dudley High School … graduate of the same high school as College Football Hall of Famer and current Clemson Assistant Athletic Director for Player Relations Jeff Davis … selected Clemson over Tennessee and North Carolina … born Sept. 27, 2002.
Reminds us of:
Dexter Lawrence
Never miss the latest news from Clemson Sports Talk!
Join our free email list