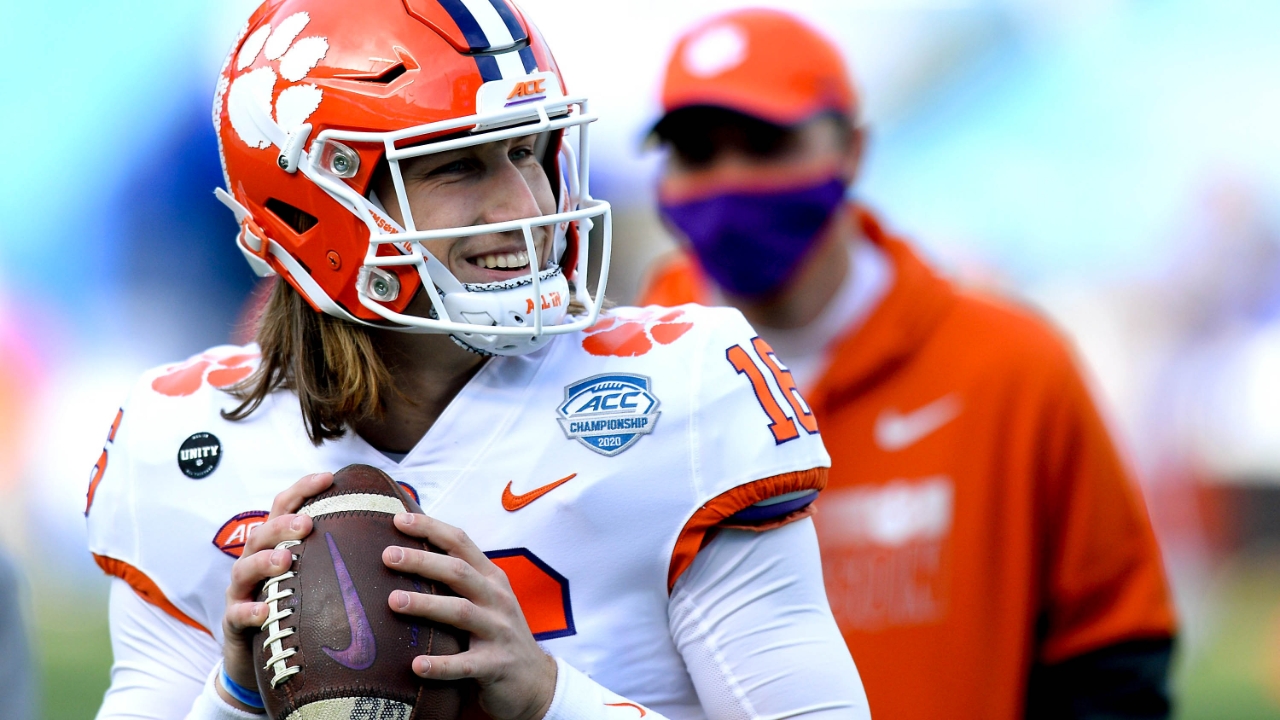 Photo by jsiner@charlotteobserver.com
Clemson Football
Clemson's Trevor Lawrence named Heisman Finalist
---

Feel the difference - The MOST DIGITAL CONTENT covering your CLEMSON TIGERS! Avoid clickbait and sites bloated with advertising!
---
Clemson's Trevor Lawrence is a Heisman Finalist in 2020, joining Mac Jones (Alabama - QB), DeVonta Smith (Alabama - WR), and Kyle Trask (Florida - QB) as the Top 4 players for the most prestigious individual award in college football.
Most recently for Clemson Deshaun Watson was a finalist for the award in both 2015 and 2016 finishing third behind Derrick Henry (winner) and Christian McCaffery in 2015. In 2016 Watson was second behind Lamar Jackson who won that year.
---
A look at the numbers:
Trevor Lawrence - Clemson
Passing: 198-286, 69.2%, 2,753 yards, 22 TDs, 4 Int.
Rushing: 58 attempts, 211 yards, 7 TDs
Mac Jones - Alabama
Passing: 250-327, 76.5%, 3,739 yards, 32 TDs, 4 Int.
Rushing: 26 attempts, -9, 1 TD
DeVonta Smith - Alabama
Receiving: 98 rec, 1,511 yards, 17 TDs
Punt Return: 8 attempts, 199 yards, 1 TD
Kick Return: 3 attempts, 46 yards, 0 TD
Kyle Trask - Florida
Passing: 285-409, 69.7%, 4,125 yards, 43 TDs, 5 Int.
Rushing: 61 attempts, 50 yards, 3 TDs
The best of the rest: No. 5 Najee Harris (Alabama - RB) No. 6 Breece Hall (Iowa State - RB), No. 7 Justin Fields (QB - Ohio State), No. 8 Zach Wilson (QB - BYU), No. 9 Ian Book (QB - Notre Dame), and No. 10 Kyle Pitts (TE - Florida).
---
Clemson has never had a Heisman Trophy winner, but John Heisman, the trophy's namesake, coached the Tigers from 1900-1903 before leaving for Georgia Tech. Heisman still has the highest winning percentage in school history in both football and baseball.
On the gridiron, Heiman's teams went 19-3-2 (.833) at Clemson. Impressively Dabo Swinney is just behind that mark going 140-32 (.814) since taking over in 2008.
The Heisman Memorial Trophy annually recognizes the outstanding college football player whose performance best exhibits the pursuit of excellence with integrity. The winners of the trophy epitomize great ability combined with diligence, perseverance, and hard work. The Heisman Trophy Trust's mission is to ensure the continuation and integrity of this award.
The Trust also has a charitable mission to support amateur athletics and to provide greater opportunities to the youth of our country. Our goal through these charitable endeavors is for the Heisman Trophy to symbolize the fostering of a sense of community responsibility and service to our youth, especially those disadvantaged or with special needs.
All assets of the Trust beyond the expense of maintaining the annual presentation of the Heisman Memorial Trophy are reserved for such charitable causes. The Trustees, who all serve pro bono, are guided by a devotion to college football and are committed to community service and the valued tradition which the Trophy represents.
The Heisman Trophy will be awarded on January 5, 2021 at 7:00 PM.
Never miss the latest news from Clemson Sports Talk!
Join our free email list
PRESENTED BY