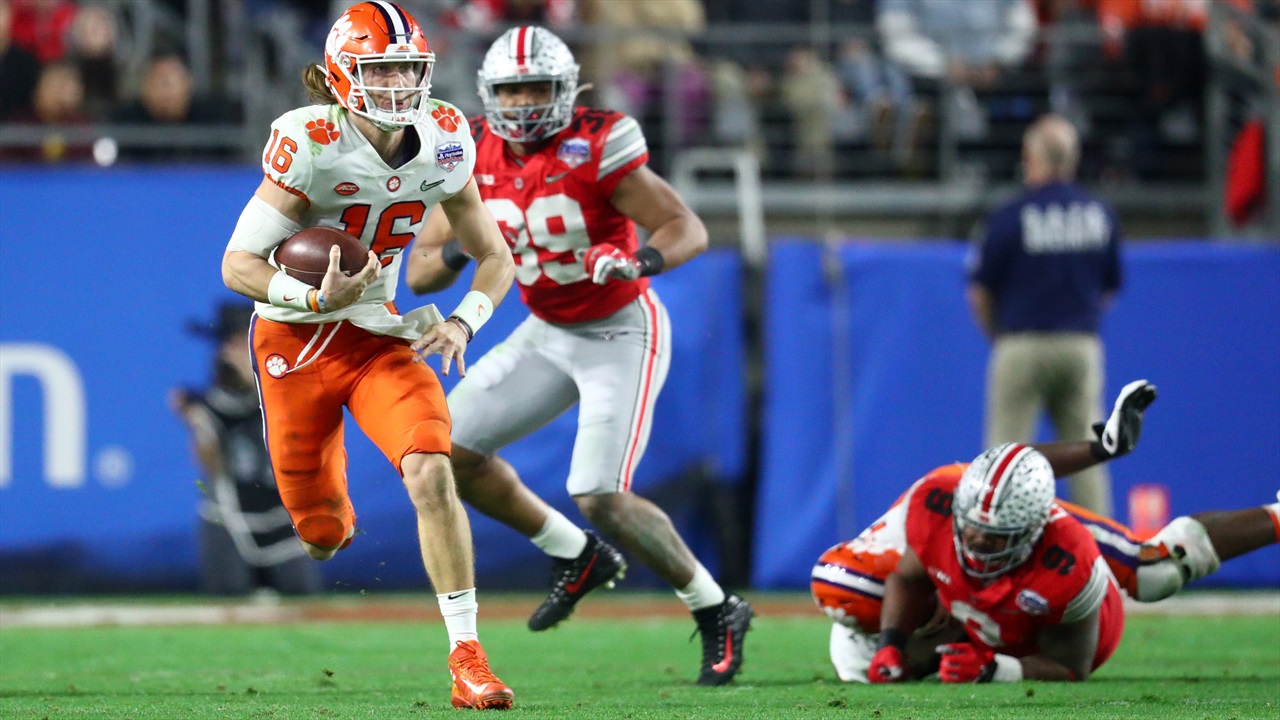 Photo by © Mark J. Rebilas-USA TODAY Sports
Clemson Football
Keys to Victory: 2021 Sugar Bowl
---

Feel the difference - The MOST DIGITAL CONTENT covering your CLEMSON TIGERS! Avoid clickbait and sites bloated with advertising!
Each week we give you a look at the history of the game, three keys to success, plus our official prediction.
The Match-Up:
No. 2 Clemson (10-1, 8-1 ACC) vs. No. 3 Ohio State (6-0, 5-0 Big Ten)
Clemson vs. Ohio State 2019
All-Time Series:
Clemson leads: 4-0
at Clemson: N/A
at Ohio State: N/A
Neutral: 4-0
Last Meeting: Clemson won 29-23 (2019 Fiesta Bowl in the CFP Semifinal)
Last Ohio State win: N/A
Streak: Clemson has won 4 straight in the series
Stat of the Week:
Travis Etienne needs just 118 rushing yards to become the first Clemson player ever to rush for 1,000 yards in three different seasons. He is presently one of six Clemson players ever to reach 1,000 rushing yards in multiple seasons, a list that also includes Raymond Priester (1995-96), Woodrow Dantzler (2000-01), James Davis (2006-07), Andre Ellington (2011-12) and Wayne Gallman (2015-16).
Chasing History:
The Tigers enter this year's College Football Playoff ranked tied for the most CFP appearances (six), CFP wins (six), CFP title game berths (four), and CFP national championships (two) since the inception of the current postseason format in 2014.
Clemson and Ohio State meet in postseason play for the fifth time, moving the Buckeyes past Alabama and LSU (four each) as Clemson's most common bowl opponent.
The Tigers seek an 11th bowl victory under Head Coach Dabo Swinney (10-6), which would tie the ACC head coaching record. Bobby Bowden holds the mark with 11, as an additional 11 of his 22 career bowl victories (including one later vacated) came either at West Virginia or at Florida State before the Seminoles' membership in the ACC.
| | | |
| --- | --- | --- |
| TEAM STATS | Ohio State | Clemson |
| Points Per Game | 42.5 | 44.9 |
| Points Allowed Per Game | 21.0 | 17.5 |
| Total Yards | 529.2 | 507.6 |
| Yards Passing | 253.5 | 343.8 |
| Yards Rushing | 275.7 | 163.8 |
| Yards Allowed | 358.0 | 298.5 |
| Pass Yards Allowed | 261.3 | 198.6 |
| Rush Yards Allowed | 96.7 | 99.8 |
Key 1: Air Fields
Clemson's secondary has playmakers all over the place, but they've been susceptible at times this season.
However, with Justin Fields at quarterback, it feels like there is a lot for the Ohio State quarterback to prove in the downfield passing attack after his performance against Northwestern in the Big Ten Championship.
Fields is an elite athlete, but it feels like keeping him in the pocket and forcing his hand a bit could be a significant advantage for the Tigers. Clemson's defensive front is a strength, and they play smart.
Expect to see the Tiger front four contain the pocket and limit Fields' ability to break it. If Fields has to stand in the pocket and deliver time and time again, it feels like that would play well in Clemson's favor.
Key 2: Homegrown Ground Attack
Were it not for Lawrence's outstanding performance on the ground, Clemson likely would have fallen short in the 2019 Fiesta Bowl against the Buckeyes.
Lawrence finished that game with 16 carries for 107 yards and a dazzling second-quarter touchdown, one that has arguably become the junior's marquee highlight during his tenure at Clemson.
Chalk it up to an OSU defensive line that was littered with NFL prospects. Up in the nation's capital, Washington defensive end and former Buckeye Chase Young is building an impressive case for Defensive Rookie of the Year.
Having to replace several moving parts, Ohio State fans and national analysts expected a major dropoff in efficiency for the Buckeye defensive line against the run. So far this season, however, that drop is yet to arrive. Ohio State ranks sixth nationally in rushing yards allowed per game, allowing just 96 per contest to opponents.
Sure, against the Buckeyes last season, Trevor Lawrence was able to step up in a big way for the Tigers rushing the ball. And if called upon as often on Friday night to do the same, let him loose. But this time around, getting Travis Etienne involved heavily (not just in the passing game) is paramount for Clemson's offensive scheme.
Etienne finished with a season-low 36 yards on 10 carries in last year's Fiesta Bowl. With a Buckeye defensive line playing inspired football following the departure of several stalwarts, it feels paramount that the Louisiana native gets going on the ground tonight.
Key 3: Exploit the Buckeye Secondary
Okay, so this is where the talent dropoff kicked in.
Both of Ohio State's starting cornerbacks last season were selected in the first round of the 2020 NFL Draft. Jeff Okudah went third to the Detroit Lions, while the Raiders took Damon Arnette with pick No. 19.
As a result, Ryan Day and Kerry Coombs have transitioned former nickel back Shaun Wade into a cornerback for this COVID-shortened season. The transition was one both coaches hoped would be smoother, however, as Wade has found himself on the wrong end of some rather unfortunate lowlights throughout the year.
The Buckeye secondary as a whole has been a liability for Kerry Coombs' defense. Last season, coming into the Fiesta Bowl, Ohio State allowed just 156 yards per game to opposing receivers. This year, that number has skyrocketed to 261, good for 105th in the nation.
Last season, top Tiger wideouts Tee Higgins and Justyn Ross combined for just 80 yards against the stout Buckeye back-line. This year, it will be crucial for Trevor Lawrence to stretch the field early and often, exploiting a secondary that's been exposed often by lesser competition throughout its campaign.
Prediction:
Clemson 35, Ohio State 20
| | | | |
| --- | --- | --- | --- |
| Date | 2020 Schedule Predictions | Swanny's Prediction | Actual Score |
| 9-12-2020 | No. 1 Clemson at Wake Forest | 55-17 Clemson | 37-13 Clemson |
| 9-19-2020 | No. 1 Clemson vs. The Citadel | 52-6 Clemson | 49-0 Clemson |
| 10-3-2020 | No. 1 Clemson vs. Virginia | 47-17 Clemson | 41-23 Clemson |
| 10-10-2020 | No. 1 Clemson vs. Miami | 38-20 Clemson | 42-17 Clemson |
| 10-17-2020 | No. 1 Clemson at Georgia Tech | 44-10 Clemson | 73-7 Clemson |
| 10-24-2020 | No. 1 Clemson at Syracuse | 61-10 Clemson | 47-21 Clemson |
| 10-31-2020 | No. 1 Clemson vs. Boston College | 35-17 Clemson | 34-28 Clemson |
| 11-7-2020 | No. 1 Clemson at No. 4 Notre Dame | 31-20 Clemson | 47-40 Notre Dame (2OT) |
| 11-28-2020 | No. 3 Clemson vs. Pittsburgh | 45-17 Clemson | 52-17 Clemson |
| 12-5-2020 | No. 3 Clemson vs. Virginia Tech | 45-14 Clemson | 45-10 Clemson |
| 12-19- 2020 | No. 3 Clemson vs. No. 2 Notre Dame | 38-21 Clemson | 34-10 Clemson |
| 1-1-2021 | No. 2 Clemson vs. No. 3 Ohio State | 35-20 Clemson | ??? |
Never miss the latest news from Clemson Sports Talk!
Join our free email list
PRESENTED BY