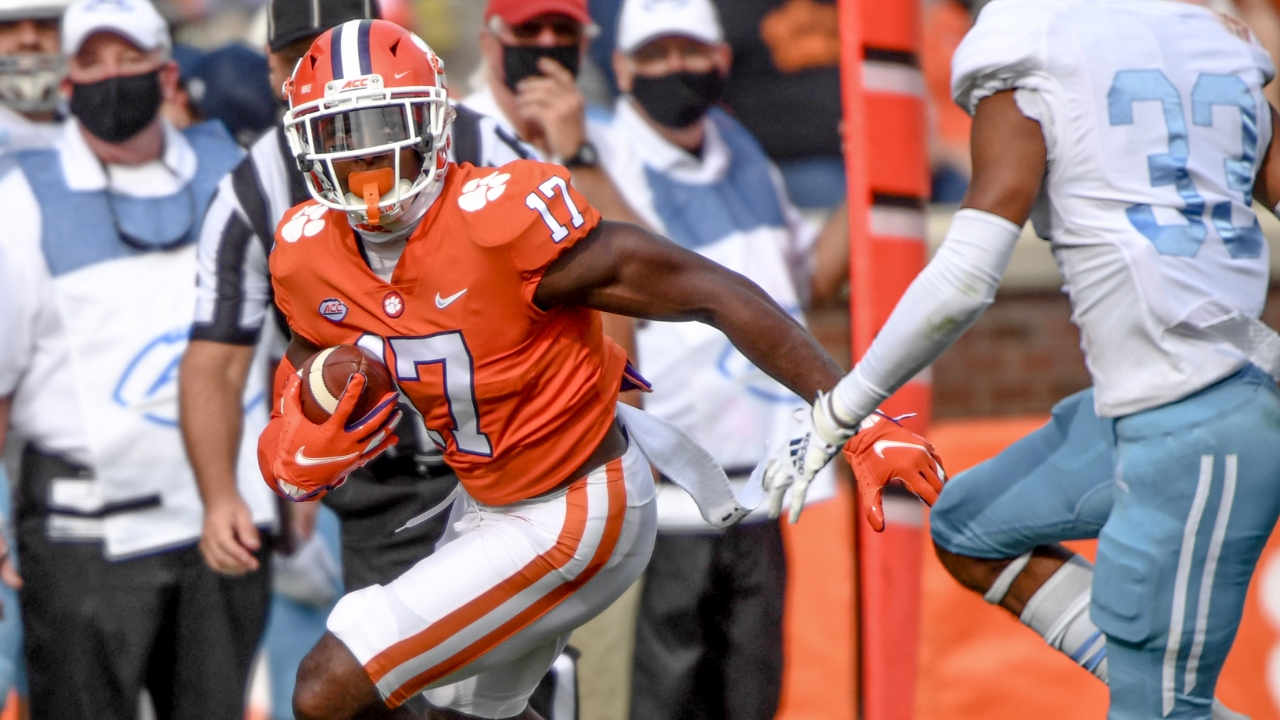 Cornell Powell
Trevor Lawrence
Travis Etienne
Matt Bockhorst
Braden Galloway
Amari Rodgers
Clemson Football
Sugar Bowl Notebook | Clemson's offensive players talk Ohio State
---

Feel the difference - The MOST DIGITAL CONTENT covering your CLEMSON TIGERS! Avoid clickbait and sites bloated with advertising!
---
Here are a few quick notes and all the audio from today's time with Clemson's offensive players.
Cornell Powell
On playing on this stage:
"It means a lot to be able to go out there and do my thing with my brothers. Just to have that weight on my shoulders, that's why you come to Clemson, for games like this, to play Ohio State and Notre Dame and stuff. You've just got to be ready for the moment. It's all about preparation. So when Friday comes, I want to be sure that I did enough to prepare and be ready to go out there and execute our game plan."
On his future:
"As far as the future, you know, just really focused on Ohio State and winning this game and making sure that I play my best four quarters."
On Travis Etienne:
Said that after watching Travis Etienne's first run EVER in a Clemson uniform at fall camp, he looked at a teammate and said, "Man, I thank God he's on our team and not on someone else's."
Trevor Lawrence
On his legacy at Clemson and in college football:
"I haven't necessarily thought about what my legacy would be. I have been trying to live in the moment these past three years and trying to be the best I can be whatever moment I'm in. So, that has been my mindset and I think that helps you leave a legacy if you just try to live and be your best in every moment. At the end of the day, I just want people to say, I want people to speak to my character more than the type of player I am or was. I want to just be a good person, and I think that's the number one goal for me. Obviously, the play and all that stuff, all the accolades, kind of will eventually speak for itself. But, that is really not the main thing for me. It's just being a good person and being a good teammate. I hope that is what people say about me when whenever I leave here [Clemson]."
On his role in and impact of the 'We Want to Play' movement:
"It's cool to be a part of something like that. It wasn't just me. My name just kind of gets thrown on the label and headline, and everything but it definitely was not just me. I probably didn't even do most of the work. It's cool to be a part of it and I think we'll [the players] look back on that as a pretty cool moment and kind of a turning point. Honestly, I think it gave a lot of people some opportunities which was kind of the goal. This game [football] means a lot to a lot of people, and I think that playing this year helped a lot of people. You think about one of our receivers, Cornell Powell, a fifth-year senior who hadn't played a ton up until this point, and this was kind of his year. He had a really good spring and fall camp. He was expecting this year to be the year to prove himself and without a season he's in a whole different situation. He just got invited to the Senior Bowl. He has had a great year, been a great teammate, and again, without a season, that changes a lot for him. That is just one example. So, hopefully, playing this year has helped a lot of people and it's been worth it. I think it's been a success if you look at how 2020 has gone. I think this [season] has been a success."
On how much his one college loss sticks in his mind:
"What could have been. It would have been cool to have the opportunity to not lose a game in college but I think some things are necessary for you to grow. You've got to face a little bit of adversity and sometimes you're a little bit blinded by success if you don't have any hiccups along the way. I think for us [Clemson] and for me personally, it was good for us to not win that [CFP National Championship] game in a lot of ways. Obviously, you want to win a National Championship and it's definitely devastating in the moment. After that, I think we have gotten a lot better. I learned a lot about myself. There's a lot of things I needed to work on to be a better player. I think leading in times when things are harder, when you lose a game is definitely harder than when you're winning. So, it taught me a little about how to lead better. Just all those things. I think we kind of needed that [loss] and at the end of the day we don't want to take winning for granted. We win a lot around here, and it's easy to forget how hard it is to win when you win so much. I think it taught us a lot and I think we [Clemson] took that next step as a program and team because of that. Obviously, you don't choose losing going forward but sometimes it's better for you."
On his time knowing and competing against Ohio State's Justin Fields:
"It's cool. As I've said before, it's a small world. He's from right down the road from me, probably 20-30 minutes and just to be playing each other for the second time. We have kind of been matched up for years going back to high school. I haven't really seen it as that [a competition]. We're just out here [on the field]. We're friends and we have a good relationship. People like to pin it as that; just me against him. At the end of the day, it's just fun getting the opportunity to play a team like Ohio State. Obviously, a huge brand, great team year in and year out and to get the opportunity to play them is what you'd expect in a [College Football Playoff] semifinal. We're playing the best of the best so we're excited for that opportunity. It does make it cooler that the guy on the other sideline is from right down the road from me. It's pretty cool. We played them last year, and it was a crazy game. I'm definitely looking forward to it [the Sugar Bowl]."
On what he's learned about himself from past mistakes:
"That's part of every week. The process is evaluating the game and regardless of how well I played, there's always something I can get better at or there's something that I missed. Whatever it may be. That's the thing I love about Coach [Brandon] Streeter, quarterback coach, is that he's pretty hard on me but in a good way. He wants me to be my best and he's not going to let anything slide. So, he holds me accountable and I also expect a lot from myself. I go in there [my mind] and those are the main things I'm looking at. What I can get better at. Obviously, the good stuff is expected to a certain degree but I'm just looking at what I can get better at. I have obviously had a few turnovers this year and definitely made an improvement from last year. That was one of my main goals. I'm just realizing that nobody's perfect and it's [struggles] going to happen. I'm just focused on playing my game, to play comfortably, and if there's going to be a few turnovers then it's just part of the [quarterback] position. I'm just staying confident and not letting that get in my head and I'll keep playing my game and not really changing. But, learning for sure from some of those ill-advised throws and throws that could've been picked off and ones that were then just learning how do I get better from that. Every week I can do that."
Travis Etienne
On Trevor Lawrence:
"Ain't nothing sneaky about Trevor. He's the best player in the country."
On having never won in the Superdome:
"I mean, it's a great opportunity that I have. Very thankful for it, but I mean, 0-2, so I feel like at this point, I'm tired of talking about what I'm going to do. I'm just grateful -- ready to get to that point and just try to make it right, just ready for the game."
On what they learned after losing at Notre Dame:
"We learned so much from that game, just a lot of great things about ourselves. The heart that we have. The competitiveness that we have. The will to fight. That we are able to overcome things that happened throughout the game. We never got down on ourselves. So we feel like we definitely have that heart of a champion. That 'it' factor, it takes to just get over the hump. I feel like it was necessary for us to have that kind of downfall. It taught us a lot. It just gave us that focus that we needed in order to just push so much harder."
On playing Bingo with the team last night:
He didn't win-- "I think my card was kind of rigged."
Matt Bockhorst
On helping Trevor Lawrence and Travis Etienne be successful:
"I don't know if all their success can be attributed to us. It's amazing to be able to block for two guys like that."
On staying focused:
You can never get bored with the mundane." ... All the little things in life are big.
On the matchup from his hometown's vantage point:
"I have a bunch of friends who go to Ohio State...If I can get some bragging rights over my buddies-- I guess that's a benefit of it all."
On his high school teammate Justin Hilliard who plays for Ohio State:
"I really appreciate Justin, and look up to him, and he's someone that I really respect." Said he thinks Hilliard is a "special athlete" who's finally gotten to show how good a player he is.
Braden Galloway
On Clemson becoming one of the teams people are tired of seeing be successful:
"We don't focus on anything outside of the program, we focus on, you know, trying to be the best version of Clemson that we can be. It's not really about what the media is saying or what outside sources are saying, because we know who we are. We're a tight-knit group it's Clemson Family for a reason. We just continue to try to work on that and continue being ourselves."
On Trevor Lawrence making his way around the locker room after losing to LSU last season in New Orleans:
"I think the story was kind of already written, beforehand. Obviously, this is a great opportunity for us and a team. But it has like the fairy tale kind of story headline. You know, we're going back to the same place we lost, in order to try to get back to where we were last year. I think it's a great opportunity. Trev's a great leader. We have confidence in him. He has confidence in us and I think that's why we're so successful. When he said last year that we will be back, there was nobody on our team that was doubting that. I think we just put our head down we went to work, and then you look up even though the pandemic and all this stuff. We're right where we want to be at this time of the year."
Amari Rodgers
On the noise outside the program:
"Of course we're not gonna look at it and dwell on it too much. But you know, we see it, you know, everybody sees it on the media and stuff like that-- what people say. We use it as motivation. But at the end of the day, we just playing for each other, and we're playing for Clemson and our standard, which is best. So that's what we do every single day we come out, we prepare to our standard. We just go out there on game days and try to play to our standards-- so that's really the only thing we focus on is Clemson."
On Trevor Lawrence:
"Trevor is low-key a dual-threat quarterback. To be honest, he can run past anybody. If you have their own angle, he can definitely run by you. That's something I've felt a lot of people have slept on throughout his career is his running ability and his way to escape the pocket if something's not there and get positive yards out of it. He's just continuing to get better at that and hopefully, he's able to do that more in the playoffs. I'm excited to see how he does."
On Ohio State:
"I feel like they have more beef with us than we do with them. I don't see it as a rivalry."
Never miss the latest news from Clemson Sports Talk!
Join our free email list