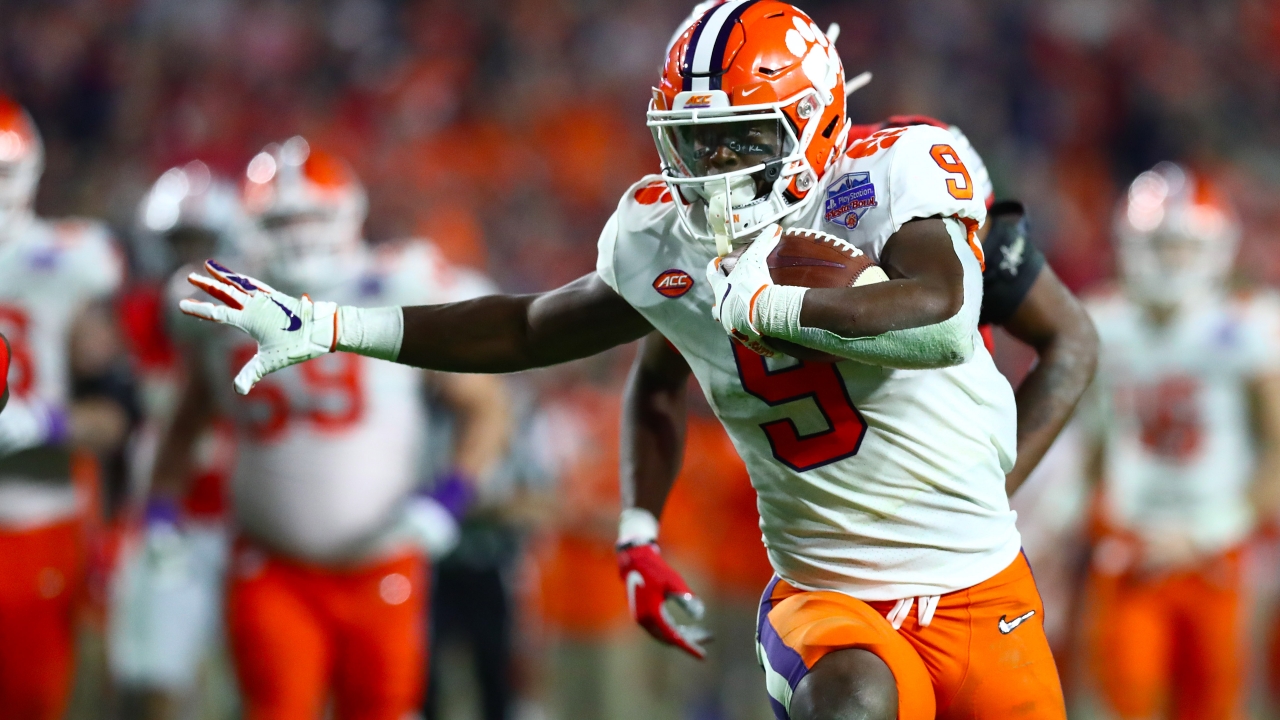 Photo by © Matthew Emmons-USA TODAY Sports
Clemson Football
Paw Predictions: No. 2 Clemson vs. No. 3 Ohio State
---

Feel the difference - The MOST DIGITAL CONTENT covering your CLEMSON TIGERS! Avoid clickbait and sites bloated with advertising!
---
No. 2 Clemson takes on No. 3 Ohio State in the Sugar Bowl in New Orleans, a rematch of last year's Fiesta Bowl. See what the media thinks about his game below.
Game Preview:
https://www.youtube.com/watch?v=5dlAq0Jh1KA
---
247 Sports, 27-24 Clemson/34-24 Clemson
What they said:
Hummer: Ohio State is something Clemson so rarely faces in ACC play: A similarly talented opponent. The issue for the Buckeyes is they aren't strong enough in the areas you can expose this Clemson team: The Tigers' relatively average group of receivers (compared to Clemson units of the past) and along the offensive line, especially the interior. Ohio State's pass defense is an issue, ranking 103rd nationally in yards allowed per game. And while the Buckeyes front four is good, it's not elite like it has been in years past, though defensive tackle Haskell Garrett could be a major problem for the Tigers. I think this game is closer than many expect. But I'm not betting against Trevor Lawrence. … Clemson 27, Ohio State 24.
Crawford: Does Ohio State return the favor and gets it revenge on the Tigers this time around? Sexy storyline, but not the result I expect to happen. Justin Fields said this week he has prepared for this one harder than any other game this season. Therein lines part of the problem — Ohio State hasn't yet been challenged outside of the first half of the Big Ten Championship Game, but Clemson has. The half-point hanger on this line is terrifying and won't be one that I play. I like Clemson to cover, though. ... Clemson 34, Ohio State 24.
---
What they said:
Despite Dabo Swinney providing Ryan Day with flaming hot bulletin board material, I still think this is a bad matchup for the Buckeyes. They're just as talented as Clemson, but they're not battle-tested like Clemson. And the Tigers' receivers may have their way with Ohio State's still-evolving secondary. Clemson 42, Ohio State 30
---
What they said:
Last year's game was a classic in the desert. Will we get another one in the Big Easy this season? Odds favor this matchup being closer than the first semifinal (Alabama-Notre Dame). There's plenty of motivation for Ohio State after how last season's game transpired, and Clemson is hungry to get back to the title game and avenge its loss to LSU. This game boasts two elite quarterbacks and skill talent all over the field. Whichever team can win the trenches, get timely stops on defense and score touchdowns inside of the red zone is likely to come out on top. If Ohio State can keep the pass rush away from Fields, the junior could carry this team to a trip to the title game. However, Clemson's defense will bend a little, but eventually Swinney's team gets enough stops in the second half, and Lawrence gets the deciding score in the fourth quarter to send the Tigers to Miami.
---
Bleacher Report, 34-23 Clemson
What they said:
The Sugar Bowl should be the closer of the two semifinals.
A year ago, Clemson and Ohio State played in one of the few final four clashes to be decided by a single-digit margin.
In the playoff's six years, three semifinals have been decided by seven points or less. Ohio State has been involved in two of those games. The Buckeyes beat Alabama by a touchdown to advance to the 2015 National Championship.
The Big Ten champion can stay within a score of Clemson by keeping the ball out of Lawrence's hands for long stretches.
In its win over the Northwestern Wildcats, Ohio State called on running back Trey Sermon to do the heavy lifting on offense. Sermon finished with 331 rushing yards.
If the Buckeyes put together a few long drives dictated by the run, they could keep Clemson from rattling off scoring drives.
Ryan Day's side had the halftime lead at the 2019 Fiesta Bowl, but Clemson made some adjustments and took control in the second half.
However, a second-half surge may not be needed out of Clemson if it continues to dominate the first half. It scored 24 of its 34 points in the ACC Championship Game before halftime.
---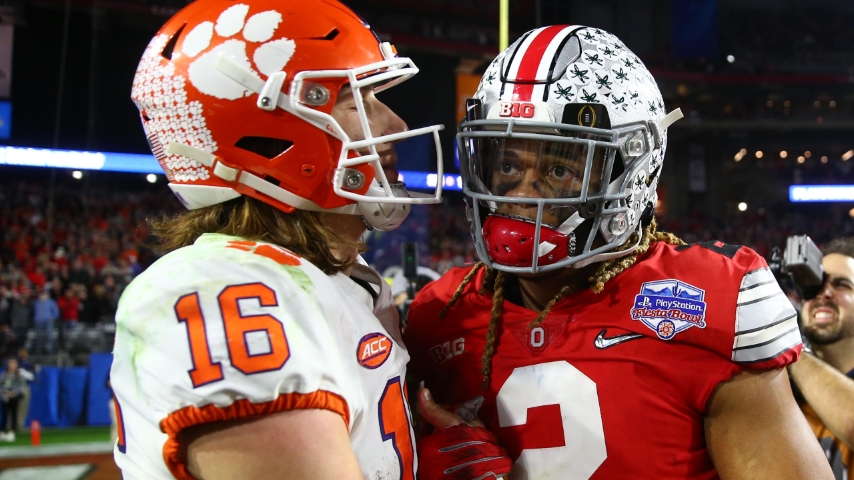 © Mark J. Rebilas-USA TODAY Sports
What they said:
I'm not sure why Clemson coach Dabo Swinney has been so willing to provide Ohio State with bulletin board material the last few weeks, but he's not shy about it. Swinney is adamant about his belief that Ohio State shouldn't have been selected for the College Football Playoff because it only played six games. Now, we all know that if had it been Clemson who had been limited to only six games, Swinney would not be arguing his team didn't belong. Still, it doesn't mean he's wrong. It is advantageous for the Buckeyes to only have to play six games, but I don't think it's enough of an advantage that they win this game. When Clemson has Lawrence, it has looked like the juggernaut we all expected it to be. Ohio State looked terrific in its first three games but has been inconsistent since with Justin Fields especially struggling to find his confidence. Unless Fields reverts to his elite form, it's hard to imagine the Buckeyes keeping this game within a touchdown. Pick: Clemson -7.5 | Clemson 31, Ohio State 21
---
College Football News, 38-27 Clemson
What they said:
The 2015 Clemson Tigers lost the national championship to Alabama in a 45-40 thriller. It wasn't quite as close as the final score might indicate – there was a late Tiger touchdown that royally screwed up the investment types – but Clemson walked off that field knowing it could play with Bama and thinking it could've won that game.
The team was all business from spring of 2016 on, waited all year, and it got what it wanted with a rematch in the 2017 national championship, winning 35-31.
2019 Ohio State walked off the field last year against Clemson knowing it had the win there for the taking.
This entire year has been spent wanting to get that shot at reception. The Buckeyes begged, pleaded, created hashtags, lobbied, argued, and did everything possible use to be able to play to get a chance.
There were protests. There were signs made in permanent marker. There were rule changes and protocol adjustments. And now they're here.
Clemson not having offensive coordinator Tony Elliott after he tested positive for COVID-19 won't help, but the offense will be just fine.
The defense will be better.
Ohio State will play like its hair is on fire for the first ten minutes. It'll be so sharp, and so fired up, and so locked in that it'll all work. And ten the game will settle down, and then Clemson will go to work.
Trevor Lawrence will be methodical – he'll get way too much time to make things happen. The running game won't be great, but moving the chains won't be too hard with Lawrence hitting third down throw after third down throw.
The Clemson defense will get to Fields early and often, but mostly it'll get the job done just enough on third downs to stop Ohio State's momentum time and again.
It'll be a close, good game throughout, and then one last Clemson score will finally put it away.
Never miss the latest news from Clemson Sports Talk!
Join our free email list