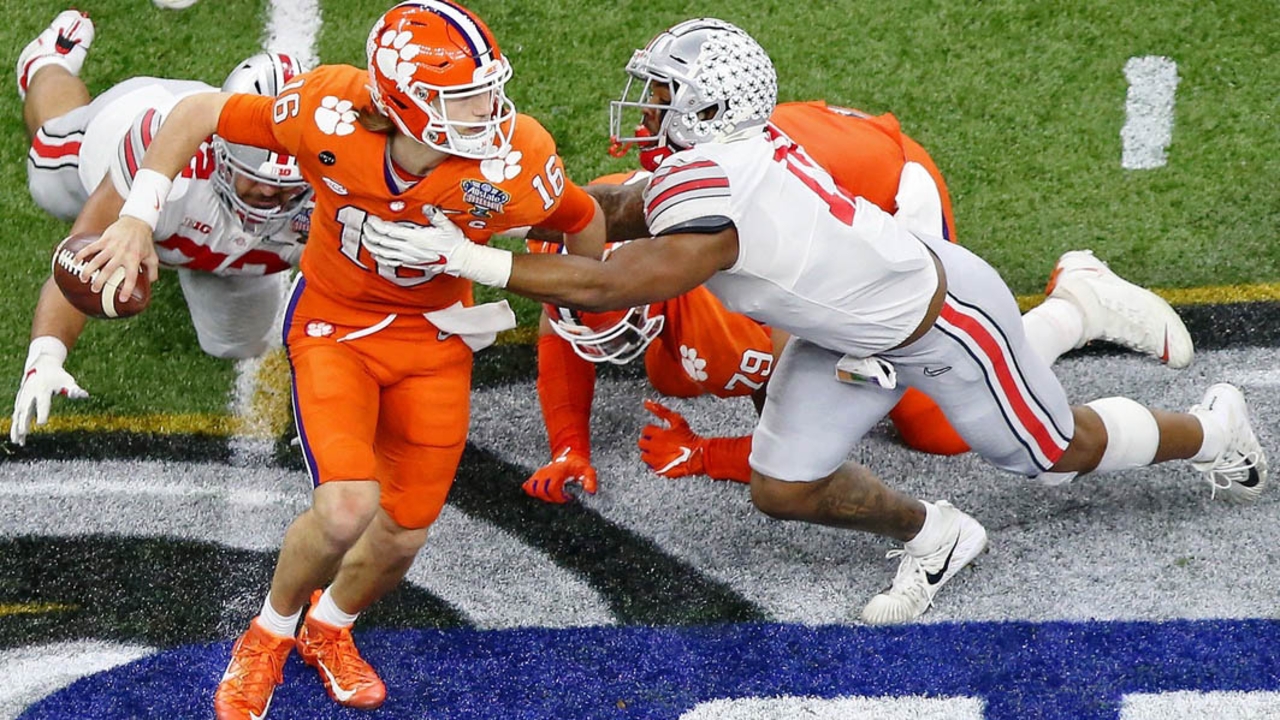 Photo by Russell Costanza-USA TODAY Sports
Clemson Football
Bitter Finale
---

Feel the difference - The MOST DIGITAL CONTENT covering your CLEMSON TIGERS! Avoid clickbait and sites bloated with advertising!
Register for your FREE ACCOUNT today and you are eligible to win a LIMITED EDITION CLEMSON FOOTBALL. ←
---
NEW ORLEANS, L.A. — Early in the fourth quarter, reality reached out and shook Trevor Lawrence's golden right hand.
With just over 14 minutes remaining and trailing by 28 points, Lawrence ran onto the field and glanced up at the Mercedes-Benz Superdome scoreboard. The larger-than-life high-definition screens caught his every expression.
Chuck Cook-USA TODAY Sports
First, he squinted his eyes. He studied all the numbers that were glowing on the board. Fourteen minutes, down 49-21, first-down at the 25-yard line.
Then, his lips rustled softly as he began talking to himself. Lawrence was pondering the math in his head. Could he mount an unprecedented comeback in the most defiled of dying moments?
Lawrence was no stranger to heroic performances, after all. Against Ohio State in the 2019 Fiesta Bowl, he stood tall and ran rampant en route to a 29-23 come-from-behind victory. To even get to Friday's Sugar Bowl against the same Buckeye team, Lawrence had to put the entire college football world on his shoulders back in August and willed the higher-ups to "let them play."
So, overcoming a 28-point deficit in the fourth quarter? Maybe such a feat wasn't unheard of. Perhaps such a steep hill wasn't so impossible to climb. Not for Trevor Lawrence, at least.
Or maybe, despite how much a player and man of Lawrence's stature may have deserved it, he simply wasn't due a happy ending.
"Obviously, tonight didn't go well," Lawrence admitted. "But I know that the way I prepared, the way this team prepared, and the way we've carried ourselves, I'm proud of it."
After Clemson's 49-28 loss became finalized, Lawrence hung around on the Superdome turf for as long as he could. He dapped up safety Lannden Zanders. He patted tight end Braden Galloway on the top of his head and lifted his chin. Lawrence wrapped his arm around the shoulders of a teary-eyed Darien Rencher, his fellow senior and closest friend. In his final moments as a Clemson Tiger, Lawrence stayed true to who he'd always been: a bonafide leader and world-class human being.
"Trevor Lawrence, I know we didn't win the game, but you saw everything you need to know about that guy tonight," said Dabo Swinney. "I mean, he wanted to play until the last second and give it everything he had. And that's just who he is as a person."
Lawrence's swan song — his bid of adieu from college football's downstage — was unexpectedly anticlimactic. His final pass as a Tiger was a hopeful heave into the end zone, a pass intercepted by Ohio State cornerback Sevyn Banks.
Lawrence finished the game with 400 yards passing on a 33-48 completion clip, racking up two touchdowns through the air and another on the ground. His interception in the fading minutes of the game stood alone.
"This is what I do; I'm not going to quit. I believe we had a chance to win it until the very end. Even fourth down in the red zone at the end of the game. I was just going to keep believing no matter what."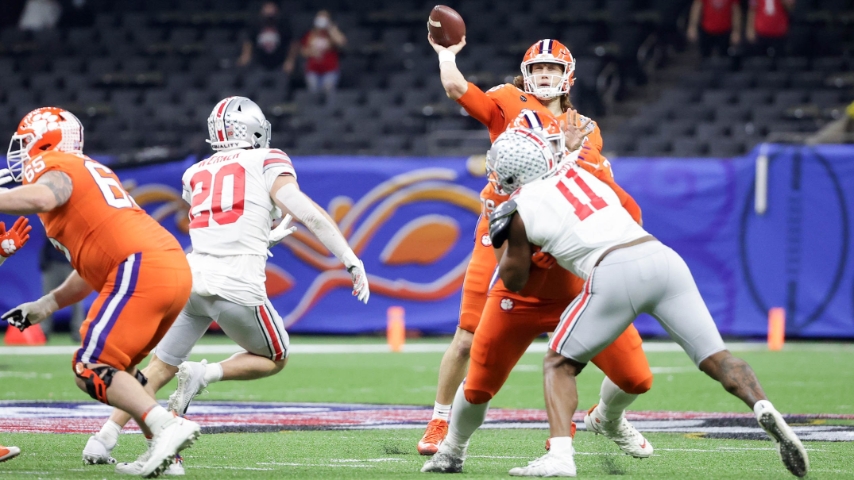 Derick E. Hingle-USA TODAY Sports
The gap between Clemson and Ohio State on Friday night was one no excuse could close. Sure, Nolan Turner's first-half absence was detrimental. James Skalski's second-quarter targeting ejection was calamitous to the same degree.
But for a program that has made six consecutive College Football Playoff appearances and won two national titles in the process, it's indescribably essential to accept defeat at the hands of a superior opponent when it arrives.
And on Friday night — clad in white, scarlet and grey — it arrived.
"The credit goes to Ohio State," said Dabo Swinney. They just absolutely dominated the game. You've got to give them credit for that. They were the better team, and they earned it."
The bitter taste of humiliation was hand-delivered from Columbus and signed in cursive by a program full of players and coaches itching to make a statement.
Justin Fields with his six touchdown passes. Trey Sermon and his 193 yards on the ground. Ryan Day and his desire to prove valid his etching on the current Mount Rushmore of coaches.
It was all too much for the Tigers. Overwhelmed and dispirited, nothing went right in a venue known for having that effect on Dabo Swinney's team. After Clemson went up 14-7 on a 2-yard Travis Etienne rushing touchdown in the opening frame, the Buckeyes didn't look back. Justin Fields staked a tent in the Tiger secondary. He threw four straight touchdown passes to open up a 35-14 halftime lead.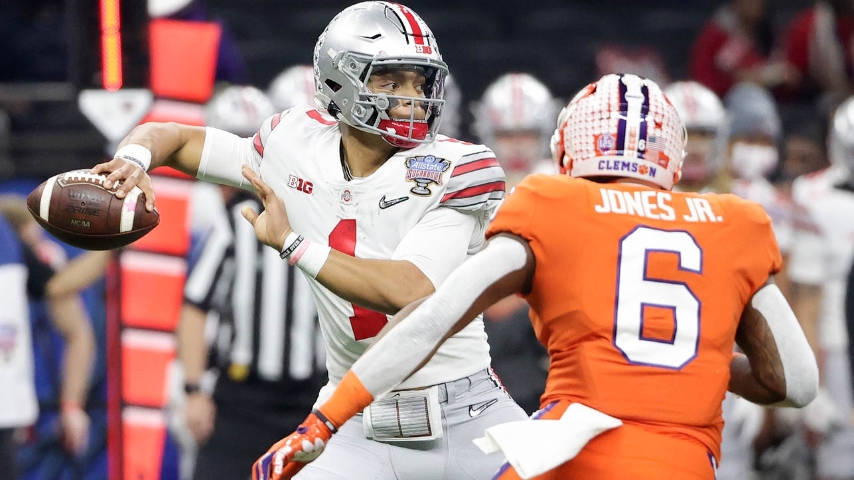 Derick E. Hingle-USA TODAY Sports
"We just got in a hole," said Swinney. "In games like this, that's not the position you want to be in. I thought we would be in a little better-balanced game there, but it just got away. Momentum in games like this is huge."
"But on a positive note, I will say this, we win and lose as a team around here and we'll grow from it. It's a hurting locker room in there. It's a hurting locker room. We haven't lost many games around here in a long time, and this one hurt."
Swinney offered a parting reflection on his two superstar graduating seniors, Trevor Lawrence and Travis Etienne. As both came off the field, Swinney brought them over in a sentimental embrace.
"It was a very painful moment in there hugging both of them and just telling them how much I love them, how much I appreciate them. And both of those guys just laid it on the line tonight. I mean, they absolutely laid it on the line, not just tonight but their whole careers."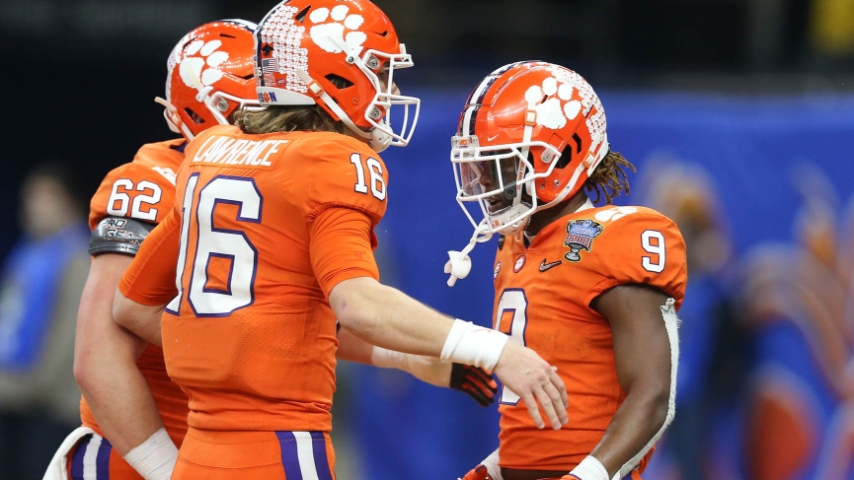 Chuck Cook-USA TODAY Sports
"I love those guys, and I'm so thankful for all those seniors. But Travis and Trevor, man, just incredible legacies. And they set the standard, I mean, not just their performance but how they worked, their commitment, their toughness. They didn't ever expect anything more from their teammates than they were willing to give. And just their appreciation of the opportunity. Both of them are graduates and have very bright futures ahead.
"And I look forward to following their journey."
Never miss the latest news from Clemson Sports Talk!
Join our free email list