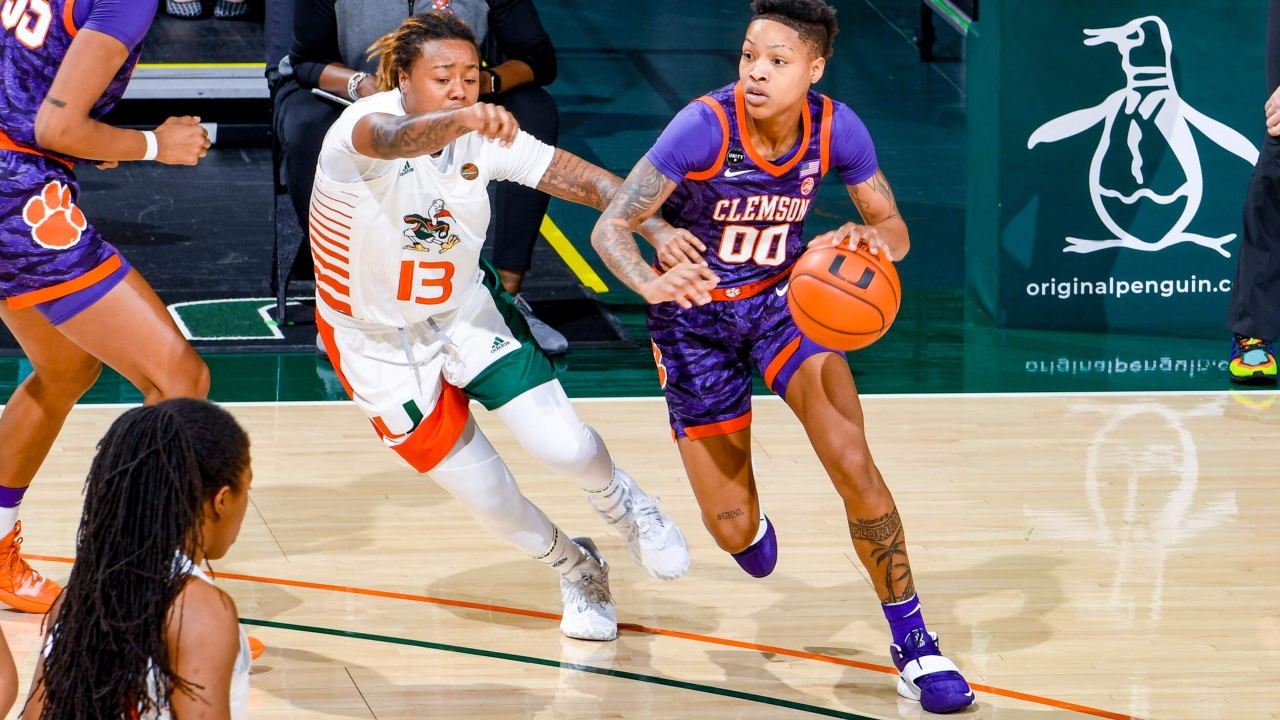 Photo by JC Ridley/jcridley.work
Clemson Women's Basketball
Clemson Falls at Miami
---
CORAL GABLES, Fla. — Clemson fell to Miami at the Watsco Center on Sunday, with the Hurricanes leading for the majority of the game and defeating the Tigers. Gabby Elliott and Delicia Washington scored in double figures for Clemson, but Miami won by a final tally of 80-71.
Clemson (8-2, 3-2) shot 42.6 from the floor, and Miami (5-3, 2-3) registered a field goal percentage of 46.5. The Tigers made 18 free throws, and the Hurricanes knocked down six 3-pointers. The Hurricanes won the rebounding battle 45-32 and scored 44 points in the paint. Also of note, Clemson forced 17 turnovers, scored 16 fast break points and tabbed 14 assists.
Playing in her home state of Florida, Washington, who connected on seven field goals and eight free throws, led all players with 22 points, 17 of which were scored in the second half. She also garnered eight rebounds and four assists, both of which were team highs. Elliott went 7-for-12 from the field and finished with 17 points and five boards. Amari Robinson chipped in eight points, and Nique Cherry, who made all three of her shot attempts, tallied seven points. Miami's offense was commandeered by Endia Banks and Kelsey Marshall, who dropped 20 and 19, respectively.
After receiving a no-look pass from Washington, Robinson knocked down a jumper for the first basket of the game. Destiny Thomas put Clemson ahead 6-4 with a 3-pointer not long after that, but Miami went on to lead 20-14 through one quarter of play. Elliott made multiple layups out of the fast break in the first half, and, in the second quarter, Washington sank jumpers on consecutive possessions, including a pull-up jumper that banked in.
The 'Canes used a 13-0 run to gain control of the game in the second quarter, and Miami led 41-27 at halftime. The Hurricanes' advantage grew to 16 points early in the third quarter, but a 6-0 Clemson run trimmed the Tigers' deficit to 10 points. Later in the third period, Kendall Spray pulled off a 3-point play after netting a jump shot while being fouled and making the ensuing free throw. Entering the fourth quarter, the Tigers trailed 58-44. Another 6-0 run by the Tigers decreased Miami's advantage to 10 points, but the Hurricanes maintained their lead for the entirety of the final period and secured an 80-71 victory.
Next up for Clemson is a matchup at Littlejohn Coliseum versus Georgia Tech (4-2, 2-1) on Thursday, Jan. 7. The Tigers and the Yellow Jackets will face off in Clemson, S.C., beginning at 7 p.m. The contest is scheduled to be broadcast on ACC Network Extra.
Head Coach Amanda Butler
Opening statement:
"We played really poorly. Things didn't go our way in the shooting column, but we played a bad defensive game. We're not a team that's built to score a bunch of points just on our own offensive skill and talent. We're built to guard, disrupt and make it difficult to score. And we try to put an exclamation mark on the end of the every possession by boxing out, but we didn't do that. Our decision making reflected offensive frustration, but we really needed to be frustrated by our play on defense."
On the keys to the game:
"Miami did a fantastic job defensively. We started the game with players who don't usually shoot threes shooting threes. We let too many threes go on a day when we weren't knocking them down, and we didn't do a good job of chasing down rebounds."
Never miss the latest news from Clemson Sports Talk!
Join our free email list