Clemson Football
THE ROAR: Lightning in a Bottle, New Homes, and Top 12
---

Feel the difference - The MOST DIGITAL CONTENT covering your CLEMSON TIGERS! Avoid clickbait and sites bloated with advertising!
Register for your FREE ACCOUNT today, and you are eligible to win a LIMITED EDITION CLEMSON FOOTBALL. ←
---
It's not fun having to watch the national championship, but fortunately, in the CFB Playoff era, Clemson fans haven't had to do that very often, playing in four of the seven title games.
Last night, Heisman Trophy winner DeVonta Smith put together an incredible performance against Ohio State in Alabama's 52-24 win in Miami. Smith, who was injured early in the second half but set multiple records in the CFB National Championship with 12 catches for 215 yards and 3 touchdowns-- all in the first half.
As for quarterback Mac Jones, he set title game records for most passing yards in a game with 36-45 for 464 yards passing, surpassing Joe Burrow's performance last year, along with 5 touchdowns through the air.
Jones also reset the first-half record book passing for 25-30, for 342 yards, and 4 touchdowns in the first thirty minutes.
But enough about the past. I've taken notes, and I've got a windshield mentality-- always looking towards the future.
Mark your calendars-- Clemson and Georgia are set to kick off on September 4, just 235 days from today.
Let the countdown begin!!
LIGHTNING IN A BOTTLE.
Yesterday afternoon, when the news came down that CJ Spiller had been selected for induction into the College Football Hall of Fame, I couldn't help but think back to so many incredible moments during his time at Clemson. From day one, Spiller's electric plays captivated Tiger fans from coast to coast.
As I said on the show last night, 'he was literally the first Clemson player that I remember thinking that dude looks like the dudes that Florida State normally brings to play us-- except we're playing against Florida State, and that's our dude, that's so electric.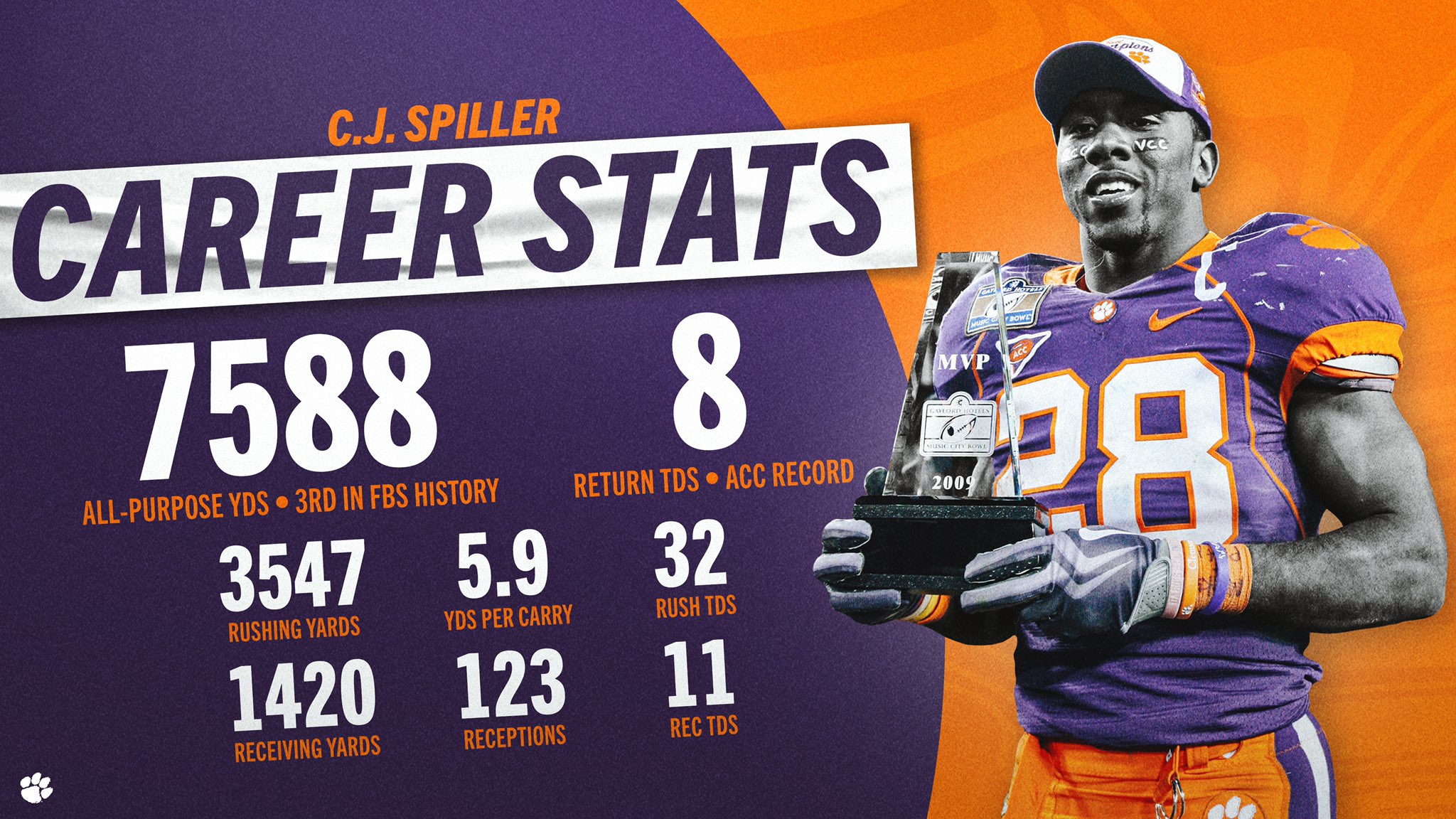 Spiller's career would be a veritable highlight reel. While Clemson never achieved the level of success that they've had recently, you can't help but think back to Spiller's decision to return for his senior year here in 2009, helping lead Clemson and first-year head coach Dabo Swinney, to the ACC Championship Game for the first time-- that season along with Spiller's impact is still felt inside the program today.
"For me personally, he was my first five-star, my first first-rounder, my first Pro Bowler, and now my first College Football Hall of Famer," Dabo Swinney said in a statement. "Hopefully, there will be some more to come down the years, but it's only fitting that C.J. was the first. I'm really just super proud of him and happy for him and look forward to the celebration later this year."
NEW HOMES.
Both Clemson defensive linemen who were in the transfer portal announced their landing spots on Monday. DT Nyles Pinkney will finish his playing career in Minnesota with head coach P.J. Fleck and the Golden Gophers after four productive seasons in Tiger Town.
Jordan Williams, a product of Virginia Beach, Virginia, returns to the Commonwealth and will finish his playing days as a Hokie in Blacksburg.
Good luck, fellas!
TOP 12.
While COVID-19 forced Clemson to press pause on the basketball season, the Tigers vaulted up seven spots in the polls to No. 12 and will face No. 18 Virginia on Saturday in Littlejohn Coliseum. The Cavaliers, winners of the last national championship (2019), will give the Tigers a great measuring stick game at this point in the calendar year.
We heard from Brad Brownell yesterday. During his conference call with the media, here's what Coach Brownell had to say about the recent break.
On the COVID-19 situation:
"We've taken a pause here for three or four days to really assess what's going on. We're testing every day. We're hopeful that if we continue to get negative tests, which we've gotten-- mostly, the last couple days and again today-- that possibly Tuesday or Wednesday we could get back to practice."
On what they've been able to do and the plan moving forward:
"We haven't had too much time. We basically kind of called the guys off the practice floor, getting ready to start practice on Friday. We really didn't do much Saturday, Sunday-- we've had a couple of days of good testing, so I think if everything goes well again today, they're gonna let the guys go into the gym and shoot a little bit. But just one guy at a time. Then obviously, we'll get our test back the next day and if things are good, then hopefully guys are gonna be able to practice."
Hopefully, the Tigers and Cavaliers will tipoff on Saturday at 6:00 PM.
SONG OF THE DAY.
- "Hall of Fame" - The Script ft. will.i.am -
A BIT OFF THE PATH.
Sometimes I find great news blurbs, and then there is this one about the Ugly Side Effects of Eating French Fries. Based on my love of McDonald's fries, I'd say I've got at least another good week left to live.
Speaking of food, did you know that there are currently four easy bedtime snacks that can help you sleep better? Yeah, me either, but given how I feel in the morning some days, perhaps these will be on my bedtime menu.
And finally, this news story about an FM signal being broadcast from one of Jupiter's moons. I mean, I asked the guys at the radio station to pump up the signal for my daily show to hit a few more homes, but I didn't think it would be that extreme. 😃
CST is interstellar, baby!
Let us know what you think about THE ROAR! If you liked it, make sure you SHARE!
Never miss the latest news from Clemson Sports Talk!
Join our free email list