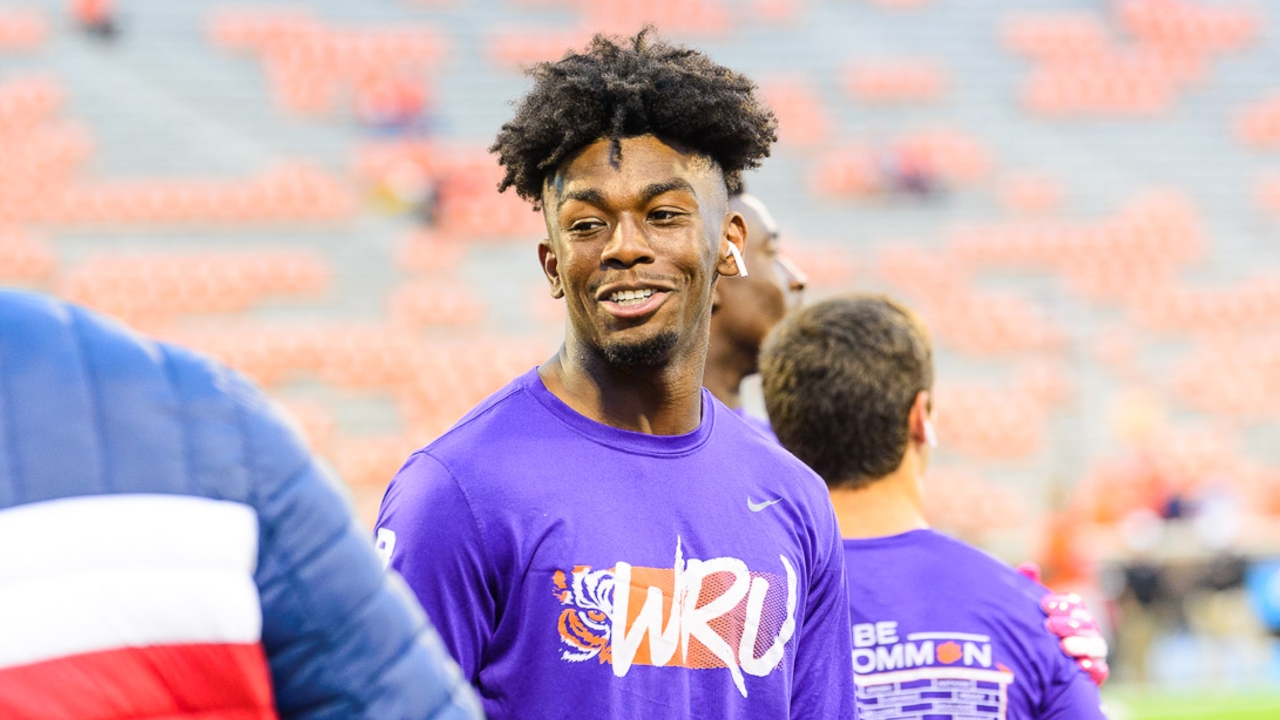 THE ROAR: Home, Sweet Home | Legend Retiring | We've Got Spirit
---

Feel the difference - The MOST DIGITAL CONTENT covering your CLEMSON TIGERS! Avoid clickbait and sites bloated with advertising!
Register for your FREE ACCOUNT today, and you are eligible to win a LIMITED EDITION CLEMSON FOOTBALL. ←
Last night, Clemson fans got some great news as wideout Justyn Ross announced he will return to Clemson after sitting out last season to deal with a congenital spinal issue.
Ross' return for Clemson is a huge pickup-- but one I expected-- but it's still exciting news, especially for presumptive starting quarterback D.J. Uiagalelei.
HOME, SWEET HOME.
In addition to Ross's return, Tiger fans also got some good news about Tony Elliott as the 41-year-old rising star in the coaching ranks continues to find his name as one of the most sought after in football.
Recently, Elliott's name has been rumored with multiple offensive coordinator jobs in the NFL, including the Seattle Seahawks, Tennesee Titans, and Miami Dolphins.
However, ESPN's Josina Anderson reported Thursday that Elliott has informed teams in the NFL that he plans to stay at Clemson.
During his time as offensive coordinator, the Tigers are 80-5 with two national titles and four title game appearances. Elliott was out due to COVID-19 from the Tigers' most recent loss against Ohio State in the College Football Playoff, a 42-28 loss.
Elliott played at Clemson from 2000-2003 and has been a part of Dabo Swinney's staff since 2011. In December 2017, Elliott was the Broyles Award recipient, presented to the top assistant coach in college football.
LEGEND TO RETIRE.
Yesterday, the news came out that Hall of Fame Men's Golf Coach Larry Penley will retire at the conclusion of the 2021 spring season. Penley has been the Tigers' head coach since the 1983-84 academic year, with this year marking his 38th leading the program, the longest tenure by a Clemson head coach in any sport.
During Thursday's show, I spent some time with Tim Bourret, and we talked about his good friend and long-time Clemson golf head coach. You can find that interview above.
Back in 2019, I interviewed Coach Penley about the upcoming NCAA Tournament. It is a wonderful interview with the legendary head coach.
WE'VE GOT SPIRIT, YES WE DO.
Senior forward Mariana Speckmaier joined the list of Tigers to be drafted into the National Women's Soccer League after being selected by the Washington Spirit with the 39th overall pick on Wednesday night.
"So many emotions," said Speckmaier. "Mostly excited to be in a great city, with a great organization, and to be back with Sam [Staab]. We played so well together while she was here, and I am excited to get to play with her again at a professional level."
Speckmaier's selection comes after a fall campaign where she earned her third All-ACC honor in four years. While donning the Clemson Orange and Regalia, Speckmaier has helped lead the Tigers to three straight NCAA Tournament appearances. To date, the Miami, Fla. native has recorded 25 goals and six assists for a total of 56 career points.
With the Spirit's pick, Speckmaier joins former Tiger teammate, Sam Staab, who was drafted by the Spirit fourth overall in the 2019 NWSL College Draft.
SONG OF THE DAY.
- "Home Sweet Home" - Mötley Crüe -
A BIT OFF THE PATH.
Urban Meyer is back in football, as the Jacksonville Jaguars have hired the former collegiate coach. The 56-year-old coach has never been in the NFL, but racked up an impressive 187-32 record with three national titles (shown in parenthesis) while coaching at Ohio State (2014), Florida (2006, 2008), Utah, and Bowling Green.
As expected, the Alabama Crimson Tide lost a ton of talent to the NFL Draft yesterday a redshirt junior quarterback Mac Jones, a 2020 Heisman Trophy finalist, wide receiver Jaylen Waddle, defensive back Patrick Surtain II and defensive lineman Christian Barmore are all headed to the league.
Heisman Trophy winner DeVonta Smith is also expected to turn pro but can return if he chooses to because of the COVID-19 rules.
Finally, I'm admittedly a tech guy, and I've been thinking about adding more gadgets to my smart home, but this device solves an issue that smart lights have with wall switches. I'm digging in on these as soon as I can!
Let us know what you think about THE ROAR! If you liked it, make sure you SHARE!
Never miss the latest news from Clemson Sports Talk!
Join our free email list