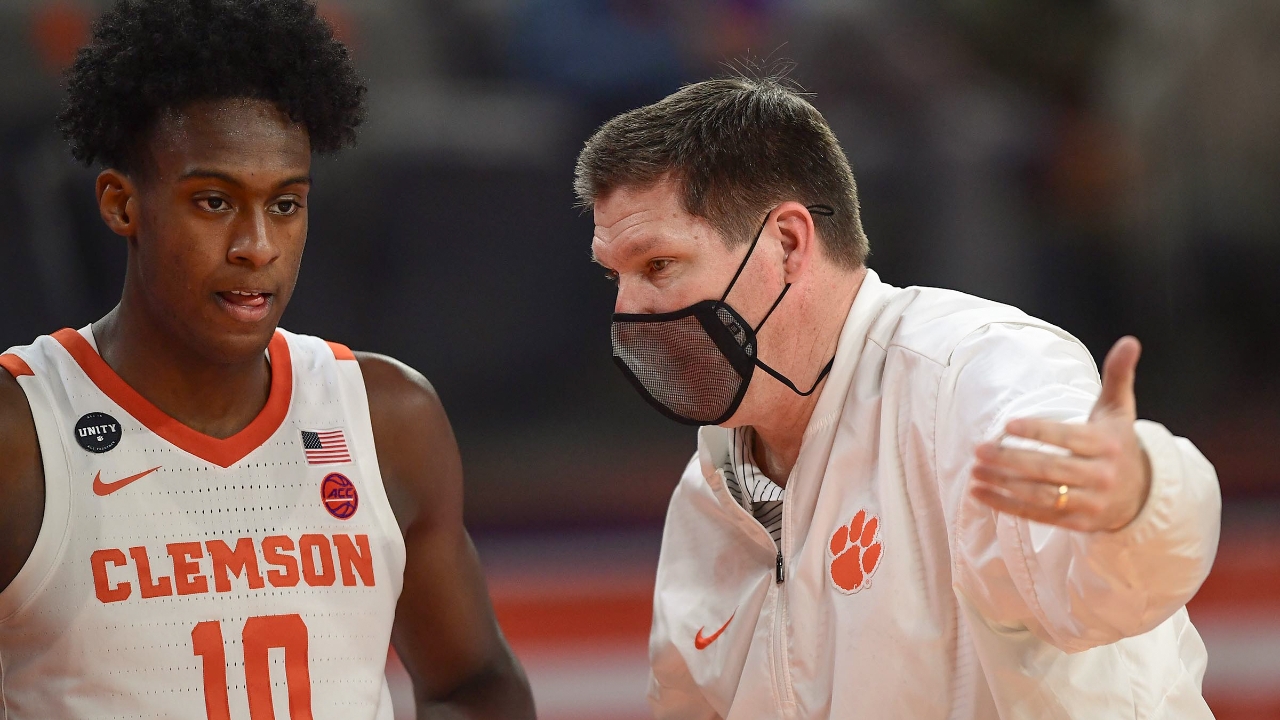 Photo by Ken Ruinard-USA TODAY Sports
Clemson Basketball
THE ROAR: Ugly Run | Get Sprayed | Not So Fast
---

Feel the difference - The MOST DIGITAL CONTENT covering your CLEMSON TIGERS! Avoid clickbait and sites bloated with advertising!
Register for your FREE ACCOUNT today, and you are eligible to win a LIMITED EDITION CLEMSON FOOTBALL. ←
Before we get into THE ROAR, I wanted to take a moment to thank each of you for your support. It's been an incredible few months for the site, and that is 100% because of your willingness to share our work.
Thanks so much-- Let's get into it...
UGLY RUN.
Clemson basketball is in the middle of an ugly stretch right now. The Tigers dropped their third consecutive game this weekend at FSU, and it was another blowout loss losing 80-61, but it could have been so much worse.
Now, Brad Brownell will try to regroup and turn things around for a team, that up until a COVID-19 issue forced them to break for 11 days, had played really well with one of the better resumes for Clemson hoops in recent memory.
The Tigers will face off with Boston College Louisville on Wednesday in Littlejohn Coliseum at 9:00 PM, but the bigger matchup might be between their ears as they try to get things back to good.
This team had been excellent defensively, but lapses against Virginia, Georgia Tech, and FSU have been crushing. The Tigers have given up 82.6 points on average in those three games while scoring just 58.7 points per game, a difference of 23.9 points per game.
GET SPRAYED.
On the flip side, the women's team was cooking on Sunday, even though the Lady Tigers had to hang on for a victory over No. 23 Syracuse in overtime, winning 86-77 at Littlejohn Coliseum. The Tigers were led by Kendall Spray's 24 points, while Amari Robinson chipped in 23 for Amanda Butler's squad.
I'm not sure there is a more appropriate name in basketball right now than Spray's-- I'm telling you she can flat out shoot it.
Here's another bomb from Spray.
Spray was on fire, hitting on 7-of-12 from beyond the three-point line.
She reminds me of Terrence Oglesby-- from WAY downtown!
NOT SO FAST.
You have to love the rumor mill, I know I do, but we felt compelled yesterday to straighten out a few things about what we knew about the Tony Elliott to Tennessee situation.
Look, Tennessee is a great job, but there are way too many questions about the situation right now, in our opinion.
We certainly believe that Elliott will have a chance to be a Power Five head coach, there seems to be no doubt about that, but he's in the catbird seat and can be very selective given his resume-- regardless of what some armchair coaches think.
As we noted yesterday, we will continue to keep you updated moving forward.
SONG OF THE DAY.
- "Super Bowl Shuffle" - The Chicago Bears -
Two stars of the video and standouts for the Bears in 1985 were former Clemson quarterback #4 Steve Fuller (1984-86) and rookie defensive tackle #72 William "The Refrigerator" Perry (1985-93). Fuller played with the Tigers from 1975-78 and Perry from 1981-84. Both are in the Clemson Athletic Hall of Fame.
A BIT OFF THE PATH.
I was a denier for as long as anyone. Still, after the Tampa Bay Buccaneers won yesterday against Green Bay, it's almost impossible not to recognize Tom Brady as the greatest quarterback of all time. Brady will also rack up a cool $500,000 if Tampa Bay wins it all. (Not that it matters, his wife, Gisele Bundchen, is worth over $400 million, double Brady's net worth.)
In addition to the win, the Buccaneers become the first team to play the Super Bowl in their own stadium as Raymond James will host the big game on February 7 when they face the reigning champion Kansas City Chiefs.
Speaking of the Super Bowl, here's everything you need to know about the game.
Most of you spend hours a day on your phone, but do you keep up with it? And what does it mean for us, but more importantly, our children during this pandemic?
Let us know what you think about THE ROAR! If you liked it, make sure you SHARE!
Never miss the latest news from Clemson Sports Talk!
Join our free email list